It's Not Easy Being Green: How Businesses Can Reduce Their Environmental Impact through Their Software Choices
As consumers, I think we are aware of the necessity to change the way we produce and consume things – from food and clothing to transit and buildings – to be more environmentally friendly.
And no matter where we fall on the "green" spectrum, I'd wager that we all make some personal efforts to reduce waste and conserve energy.
In the world of business, however, many companies are just beginning to realize the benefits of reducing their environmental impact. It's true that a number of companies have already implemented recycling programs, introduced more efficient heating and cooling systems, and effectively reduced electricity use. But there are still additional ways to conserve, and in fact, some industries have business objectives tied to "greening" their operations.
My point is better illustrated by the recent review one of our clients conducted on how Intralinks eliminated waste in their business. The results are tangible: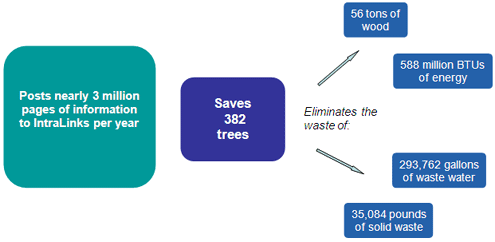 Given the large-scale savings in raw materials and waste by simply deploying software to improve business processes, now is the time to start thinking about how companies can reduce their environmental impact. For a great primer on intelligent design, I recommend reading a book called "Cradle to Cradle".
What does "green computing" mean to you? In future posts, I'll address how to start the conversation at your company.
Although "it's not easy being green," it is worth the effort and exploration.