SaaS: Crossing the Canyon of Lost Momentum
The concept of business momentum may be one of the most compelling reasons to adopt Software-as-a-Service (SaaS) technology over traditional IT or even buying Commercial off the Shelf (COTS) solutions.
Momentum: A Brief Lesson in Physics
Momentum=mass x velocity is a fundamental concept of physics that has applications in everyday life. For instance, athletes gaining speed in a race are said to be gaining momentum. Outside scientific applications, of course, there are other types of momentum that are equally important. Take the momentum generated from executing forward-moving ideas in business.Growing momentum in the business realm is visible in employee energy and enthusiasm to tackle an opportunity, contagious idea generation, camaraderie around a solution, and a drive to implement a solution or take hold of an opportunity. The concept of business momentum may be one of the most compelling reasons to adopt Software-as-a-Service (SaaS) technology over traditional IT or even buying Commercial off the Shelf (COTS) solutions. (More on that later.)
Let's use the trajectory of a sales process as an example: A problem is identified, the solution is specified, and the Request for Proposal (RFP) and vendor selection process is undertaken. After this process, consensus is gained through this upward momentum builder and the finalist is chosen. All parties "high-five" and the project is predicted to be a huge success. This leads up to a large amount of momentum that is required to gain "buy-in" across the organization.
The graph below represents a typical development curve of this and many other kinds of business projects, from solving business problems, making a sale or buying IT solutions. The x-axis represents time and the y-axis represents productive momentum. The momentum is the key driving factor of gaining support and driving results, which produce positive business scenarios. Most approved projects gain the forward momentum up to the buy-in pinnacle, and then reality hits and the project staggers through a time period of declining momentum. These projects eventually hit a critical juncture which can either lead to success of failure depending upon many factors, which includes luck.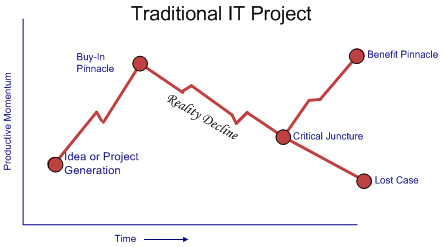 Crossing the Canyon of Lost Momentum
One of the aspects of business and software solutions that I've been thinking about lately—from my personal experience with them—is how to cross the "Canyon of Lost Momentum." What do you do when you need a solution to maintain human momentum, not allowing velocity to slow and mass to stop?
The main difference between the SaaS model versus the traditional IT software project or COTS purchasing model is that given the long list of SaaS benefits, we can "Cross the Canyon of Lost Momentum." The reasons are many: Try before you buy, faster release cycle, crowd sourcing innovation, faster release cycles of new functionality, and no capital expenditures (CapEx). CapEx usually has the additional headaches (and cost) of ordering, installing, provisioning, configuring, and paying for hardware (CapEx + OpEx).
This is true with both physical environments and virtualized environments. Virtualized environments may contain hidden costs in 3rd party software, which ties back to per-CPU pricing models and per-Core pricing models for all of the software installed. SaaS avoids the many momentum distractions and allows us to solve our business problems quickly with a faster time to value.
The Critical Juncture: Which Way Will You Turn?
Let's say you've chosen a commercial off-the-shelf software solution for your business problem. In that case, we enter the "reality decline" phase of the project in which the painful process of figuring out how to deploy the solution takes place. The internal IT staff gets involved, resources get planned, hardware gets purchased, images get burned and rollouts get planned. This is the part of the process in which weekly checkpoints are scheduled, consultants are lined up at the right time, vacations are scheduled into the plan and conflicting priorities must be managed from within an organization. All of these project management aspects can stall the project momentum and contributes to the variability of success of IT projects.
During this decline of productive momentum, there is always a point in time that you hit a "critical juncture." This is the point where stars are born or scapegoats are created. The project can either be a success or failure depending on a combination of personnel, software capabilities and timing. Given that a CIO.com study last year stated that about 60% of all IT projects fail, this critical juncture point has about an equal chance of gaining momentum as it does of losing momentum to become a "lost case."
However, SaaS provides the unique ability to maintain this positive momentum throughout the lifecycle of the project. By trying before you buy, reducing CapEx, and operational costs of each projects, SaaS projects can allow business to solve business problems without the risk of maintaining the steam required to move a large freight train of conflicting priorities. A SaaS solution allows the "benefit pinnacle" to be reached and the momentum from earlier in the project would have been realized. (See graph below.) It is important to note that the benefit pinnacle can far surpass the momentum promised during the buy-in pinnacle.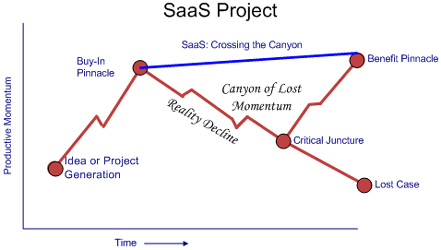 Business Momentum: Lessons Learned
Through my years of experience in developing products and working on IT projects, I've come to learn that most projects have to go through the internal marketing, consensus-building and scope realization as well as missed requirements, battles between release dates and priority setting. This decline of momentum can be enough to sink a project, but with heroic deeds and actions, it can be brought to fulfill the benefit pinnacle. The project has a chance to scale up to exceed initial expectations or end up as a lost case. SaaS provides the lifeline across the time delays caused by this lost momentum. If only we could find a similar lifeline across the Canyon of Lost Momentum for our personal training regimens!
John Landy
John Landy is the chief security officer at Intralinks. Having served as chief technology officer at Intralinks for the past 5 years, he utilizes his technical background to work with clients to understand their security needs in sharing and storing sensitive information. John has been working on internal Intralinks controls for enterprise security and corporate risk and oversees a function comprising Customer Engagement, Security Architecture and a Security Operations Center.