What's on the M&A horizon in Spain?
Director of European Investment Banking at Santander and Juan Muro-Lara, Business Development Manager of Acciona, both predicted that we will see an increase in M&A in 2010.
I recently attended mergermarket's Iberian M&A and Restructuring Forum in Madrid, joining the region's 'movers and shakers' in financial services and other industry experts to discuss current trends in the Spanish and Portuguese markets and do quite a lot of crystal ball gazing.
Throughout the day, three main themes permeated discussion and debate - deal financing, real estate and speculation around when and how M&A would make a comeback. The general consensus was that although deal financing and the global nature of the recession created a challenging environment for M&A, it has re-started but in a reduced form.
Alex Wagenberg, Director General of the private equity firm Carlyle, stated in the last panel of the day that the traditional way of using leverage to fund deals is 'dead', which has made it hard to do larger deals and compete in auctions. Mergermarket deal volume figures published in the post-conference report show that of the announced deals with a value in the first half of 2009 (around half), two-thirds were between €0 and €100 million. Tellingly, 16% of these deals were valued at less than €15 million.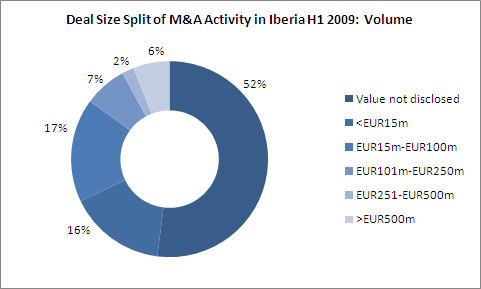 Source: Mergermarket Iberian M&A and Restructuring Forum Post Event Briefing
Although the low interest rates and banking confidence of recent years may be a distant memory, the majority of speakers and panelists were confident that business was beginning to find ways around the challenges posed. Alejandro Paya, Partner at Spanish law firm Cuatrecasas, observed that the firm was seeing mainly restructuring deals, with little M&A and less leverage compared to previous years. Their clients' M&A deals have been focused on one-to-one deals and fewer auctions. Also, although observing that the traditional method of leveraging was 'dead', Mr. Wagenburg was confident that recovery in debt and high-yield markets would shortly lead to market recovery, although in a different form than before.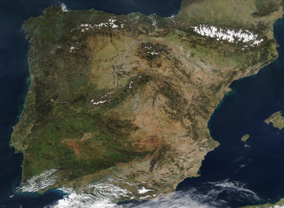 At the conference, real estate was highlighted as one of the hardest hit industries in Spain. Jaime Pascual-Sanchiz de la Sernam, Managing Director of Aguirre, said that at the peak of the Spanish real estate boom there were 60,000 players in the market. He predicted that the property market was presently 'touching bottom' and that as a result the number of players would dramatically decrease over the next couple of months as many disappear or merge with others to consolidate portfolios. Juan Calvera of Gila & Co. added that banks and administrators were fast becoming major players in the real estate market due to this movement.
In terms of the big question of when M&A would be 'back', 2010 seemed to be the magic year. Georg Orssich, Director of European Investment Banking at Santander and Juan Muro-Lara, Business Development Manager of Acciona, both predicted that we will see an increase in M&A in 2010. This trend has already been observed in the Intralinks Deal Flow Indicator which is showing signs of a recovery in higher global deal volumes utilizing Intralinks virtual data rooms.
The forum was a great opportunity to meet M&A professionals and hear their views, insights and expectations of the M&A market in Spain, Portugal, Europe and globally. It will be interesting to see if panelists, speakers and delegates at the next events in Milan (Italian M&A Forum on 6th October), London (Debtwire European Forum on 27th October) and Amsterdam (Benelux M&A and PE Forum on 28th October) will echo similar feelings as in Madrid. I will be attending both, so watch this space!