German Event Reveals Cautious M&A Outlook
According to Mergermarket the volume of German deals dropped from 560 in 2008 to 360 deals in 2009 and deal value from $80 billion to $27.5 billion in 2009, so it was with great interest that I listened to the first panel discussion of the day on the forecast for M&A in Germany in 2010.
At the end of last month I flew to Düsseldorf to attend the first of this year's Intralinks sponsored Mergermarket M&A, Private Equity and Restructuring forums. Attended by over 200 delegates from across Germany, the event provided a fine array of speakers from some of the leading firms specializing in M&A and Private Equity.
As you would expect from the city that boasts the world's largest digital clock, the conference started on time, with a short welcome from Prof. Dr. Gerhard Wegen, a Senior Partner and Chairman of the Partnership at Gleiss Lutz.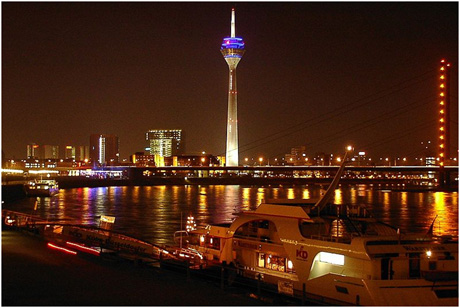 The first speaker up on stage was Markus Brune from the Bundeskartellamt, the German independent competition authority, who gave an enlightening keynote presentation on German M&A from a national competition authority perspective, the modified scope of German merger control and best practices to obtain quick clearance in merger procedures, which without doubt was useful information for all those attending.
According to mergermarket the volume of German deals dropped from 560 in 2008 to 360 deals in 2009 and deal value from $80 billion to $27.5 billion in 2009, so it was with great interest that I listened to the first panel discussion of the day on the forecast for M&A in Germany in 2010.
In terms of the economy, the overriding message was one of stabilization and slow pick up, with most companies adapting well to the lower business levels in the post economic-crisis environment. However, it was clear that it will be a long while before the German economy returns to its former strength. The real concern was that if there is a further shock to the global economy,  companies would be less likely to survive, having already taken all the measures possible to remain profitable during the global crisis.
In their outlook for M&A, all panelists were similarly cautious. They suggested that levels may well be low in 2010 because investors are wary of the unpredictability of the global markets and the most likely activity in the region for 2010 would come from continued M&A restructurings/divestments and distressed M&A, with plenty of refinancing activity. In terms of sectors, the panel suggested that there is plenty of scope for consolidation across all industries and there is activity waiting to happen, but due to the market unpredictability many deals may have to wait for a while. However, the panel mentioned the most likely areas of deal flow to come from the automobile sector and industrials, with retail and healthcare also mentioned.
In the panel discussion titled "Getting a deal done in 2010", it was interesting to hear that due diligence was seen to be a more lengthy process in the current climate. This was seen to be a result of the number of questions now being asked, coupled with the need to tailor the process to individual buyers and conduct a more in-depth process. The deal preparation phase was seen to be vital, with a real focus on understanding why different bidders would buy an asset, to help avoid any negative surprises and run through the potential stumbling blocks for each buyer. It was even suggested that the workload on a transaction from the sell-side is up to 3-4 times what it was a couple of years ago, with no guarantee of a successful deal!
Intralinks' own Matt Porzio gave a presentation highlighting how technology should be used across the entire M&A lifecycle to ensure internal resources are productive, buyers fulfill commitments and assets achieve best value. Porzio also presented the Intralinks Q4 2009 Deal Flow Indicator results, Intralinks' unique inside view of global M&A data room activity, which highlighted double digit increases in global deal activity for Q4 over Q3, led by Europe.
The next session started with an interesting restructuring case study about Honsel, a manufacturing company closely tied to the automotive industry. The case study demonstrated how complex the restructuring process can become, how vital communication is in these situations and the need to ensure that a diverse set of stakeholders are kept constantly up to date at all times, in order to reach a successful conclusion for all concerned.
The day's events drew to a close with a look at the German Private Equity market. Hanns Ostmeier from the BVK (the German Private Equity and Venture Capital Association) gave a keynote speech in which he outlined how the successive financial crises have impacted Private Equity firms over the past 18 months. He ended with some encouraging figures showing buyout numbers stabilizing in Germany and painted an optimistic picture of the future and predicted a continuing upward trend.  This sentiment was broadly echoed by the final panel of experts drawn from German private equity firms, whilst they revealed their insights into fundraising, private equity deals and financing in what remains a difficult climate.
Overall, this was another useful conference from mergermarket and I would recommend attending these to any M&A practitioner. The quality of the speakers and their thoughts on current trends and deal making in the markets is invaluable.