How are Companies Collaborating Across the Web Today?
Businesses that deliver quality and innovation, increase revenue, satisfy customers, and gain market share advantage over their competitors are the ones that thrive in today's hyper-competitive global marketplace. It only makes sense then that as managers, we focus a lot of our attention on measuring these key success factors and identifying ways to improve.
In today's working environment, companies are geographically dispersed in multiple locations, often separated from customers, colleagues and partners. To avoid the need to travel hundreds or even thousands of miles to meet in person, collaborative tools could be the answer. Companies are increasingly seeing the benefit of these technologies and with the introduction of methods such as VoIP, instant messaging and web conferencing, individuals can communicate in a virtual environment, creating increased productivity and improved business process workflow.
Intralinks is well ahead of the game and has provided collaborative technology in the form of Intralinks Exchanges for over a decade, enabling the secure exchange of critical information. We recently exhibited at Solutions Intranet et Travail Collaboratif, a conference focused on collaborative work solutions in Paris, to showcase our solutions and to meet with customers. To understand more about the impact collaboration tools have on the market, I attended a workshop called 'Collaboration in business, real cure for the crisis' presented by Patrick Schambel, Managing Director from Silverpeas.
This session focused on a study produced by Frost & Sullivan entitled 'Meetings Around the World II: Charting the Course of Advanced Collaboration'. It examined the role collaboration solutions play in enabling high levels of organizational performance. Unsurprisingly organizations using IP-enabled, advanced collaboration tools, were shown to perform better in business critical activities and realize a higher return on collaboration (ROC).
Mr. Schambel stated that to achieve ROC then it is imperative to create a climate conducive to collaboration. He explained that before putting in place a collaborative platform, it is important to ensure that colleagues and partners can, and more importantly wish to, work together through these methods. Some people will be willing to work this way, while some individuals won't and this can be damaging to the company's strategy.
Therefore, if companies want to increase business performance, they must instill a culture of openness and put in place a structure that would encourage virtual relationships. Only then can organizations achieve an optimal and fertile environment for adoption amongst employees and external partners, reaping the benefits that collaboration has to offer.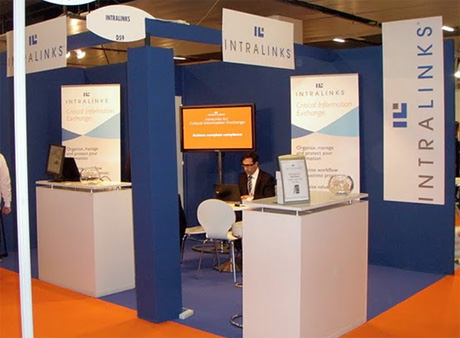 Intralinks' booth at Solutions Intranet et Travail Collaboratif in Paris.