Insights from the Business Cloud Summit, London
An unseasonably wintery and very cold London played host on the 30th November to the Business Cloud Summit 2010, sponsored this year by, amongst others, Intralinks, Microsoft, CSC, NetSuite, RightNow and Success Factors and attended by several hundred senior IT professionals, analysts and commentators drawn from a broad base of industries, the public sector, media and professional bodies.
This is the second year of the summit, one of the largest vendor independent cloud gatherings in the UK, a forum that serves the purpose of inter-industry networking as much as it reports out trends and discusses issues and, of course, provides a showcase for the propositions of the leading software authors and service providers in the space.
Notable by their absence this year, unlike during the inaugural event in 2009 at which they headlined, were Salesforce.com. This year they evidently preferred to dedicate efforts to their own community through Dreamforce 2010. Salesforce.com aside, the event has grown and now represents a comprehensive view of the market, a who's who of the service providers. It has the opportunity to grow further in scale and importance as the cloud matures and its adoption increases.

The event, hosted by Stuart Lauchlan, the Head of Editorial at SIFT Media, the publisher of Business Cloud 9, was streamed at times through the day with separate agendas for public and private sectors.
Highlights of the private sector stream was a keynote given by Professor Leslie Willcocks from the London School of Economics, an industry perspective from Greg Gianforte, CEO of RightNow and Gordon Frazer, GM of Microsoft UK and a CIO panel discussion that included Charles Newhouse of BAE Systems and David Jack of The Trainline.
The public sessions were hosted by Dr. Katy Ring, Principal Analyst at K2 Advisory and focused on the UK Government Comprehensive Spending Review and the applicability and advantages of the use of cloud services by the UK public sector to provide better value for money during an economic downturn. Very good contributions were made to the argument by Chris Middleton, editor of Professional Outsourcing, Andy Burton, Chairman of the Cloud Industry Forum, Dr Richard Sykes, independent advisor and The Earl of Erroll, Merlin Hay from The House of Lords.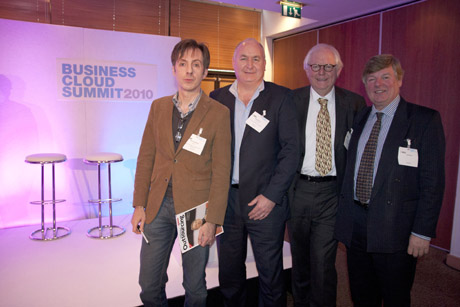 Chris Middleton, Andy Burton, Dr Richard Sykes and The Earl on Erroll.
Both streams converged ahead of lunch and an excellent case study of cloud adoption and the accruing benefits was delivered by Adrian Steel, Head of Infrastructure Management at The Royal Mail.
Lunch provided a networking opportunity in the exhibition arena where Intralinks was prominent with both a substantial and well attended booth and the sponsorship of a significant section of the catering area.
The private stream following lunch was divided into sections covering cloud application to business needs in CRM, HR and Finance, Intralinks is promised a similar session in 2011 covering collaboration, content management and secure information exchange.
The afternoon's public sector stream focused on health, education and the third sector, discussing the use by charitable organizations of value rich cloud applications, an interesting contribution being made by representatives of the Royal National Lifeboat Institute, Voluntary Service Overseas and The Salvation Army.
The event culminated with a session, presented by Jürgen Strahwald, VP of Corporate IT Governance at Siemens, detailing the use of cloud computing in large enterprises and presentations from Greg Gianforte, CEO of RightNow and Zach Nelson, CEO of NetSuite, giving their views of the industry and their vision of its future.
So, an excellent event, good content, good attendance and plenty to take away and consider. Yes, it's a cloud love-in. Yes, it struggles to satisfy competing interests but it will do so more easily as the event matures and extends, this will allow increased streaming and more opportunity for special interest groups.
The value is in the sessions but also in the networking opportunities the event affords. In such a dynamic environment, it is important to recognize changes, changes in who attends, the trends apparent from year to year. For Intralinks, a company that is so well established and well known within the financial services and life sciences communities, it is vital as our platform is increasingly adopted across large enterprises to satisfy a plethora of secure information exchange applications for us to make ourselves better known to our industry peers and commentators within the IT community to ensure that our capability and reputation is acknowledged by organizations, private and public alike, that need to solve complex problems simply and quickly.
This is a very serious conference that attracts a very senior delegate audience and generates great support from across the cloud community. Well done Stuart Lauchlan, you have instigated an impressive event on the conference calendar, can we now move it back to the West End in 2011 to avoid commuting issues and forward in the year to avoid the snow please?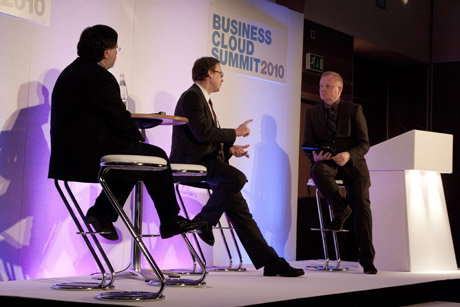 Tom Fisher, CIO and VP at Success Factors, Jürgen Strahwald, VP of Corporate IT Governance at Siemens and Stuart Lauchlan, Head of Editorial at Sift Media.