Seven Steps to Secure Enterprise Collaboration
Having a strategy for secure enterprise collaboration will ensure greater productivity and efficiency, while guarding against security and regulatory risks.
How do you give busy professionals the tools they need to collaborate effectively, yet prevent information leakage and data loss? This is the question we get asked most often by organizations, especially in regulated industries, and it was the question that motivated us to conduct research earlier this year, which has been published by the Hurwitz & Associates.
In our whitepaper, "Enterprise Collaboration: Avoiding the Productivity and Control Trade-Off" we found that 49% of organizations we surveyed currently block consumer file sharing applications like Dropbox, Box or YouSendIt, and over half believe they don't have the tools to safely share information outside their firewall.
Having a strategy for secure enterprise collaboration will ensure greater productivity and efficiency, while guarding against security and regulatory risks. Here are the seven steps Hurwitz & Associates recommends: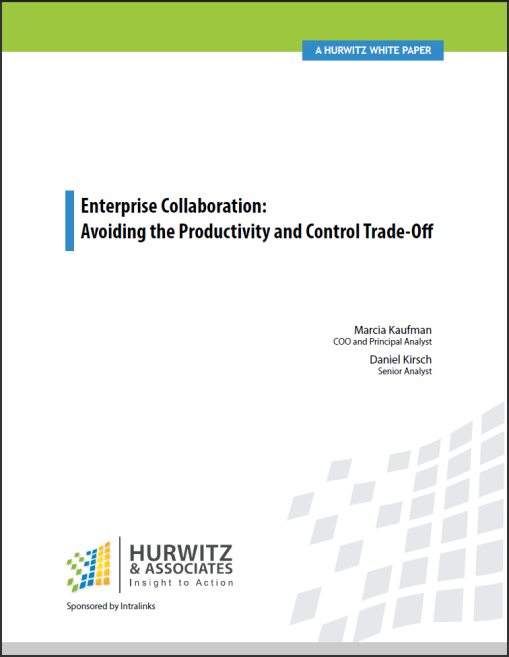 Understand what collaboration tools are already being used. You should assume that consumer-grade file sharing tools are in current use in your organization. Conduct an audit to understand what tools are being used, including what features are valued and why.
Identify specific use-cases and user requirements to ensure your collaboration solution will be effective in meeting the needs of your organization. Understand which environments are most likely to require the sharing of sensitive data. Make sure your solution will address these security requirements.
Give employees a solution that meets their needs and satisfies the organization's requirements for security and control. Once you've understood the organization's current collaboration requirements and what tools are already in place, deploy an acceptable solution that gives users the freedom to share while providing the business with visibility and control.
Put the end-user first. You need to gain enterprise-wide adoption of your collaboration solution or you will not achieve the desired level of security and control. In order to achieve acceptance, your solution needs to be easy-to-use and simple to provision and deploy.
Don't compromise on security and control. There doesn't need to be a compromise between pleasing end-users with a simple and elegant product and ensuring that you can support the most rigorous use-case for security and level of control. Features like digital rights management (DRM) and the ability to control access at the individual file level can be found in solutions that have the same ease-of-use as consumer products.
Keep lifetime control of documents. Make sure that even if a file is shared outside the firewall, it always remains inside your control. Having lifetime control, so that a file can be revoked at will, or at a predetermined time, is a critical requirement.
Move beyond sharing. Effective collaboration requires far more than the sharing of documents. Your enterprise teams need to be able to work collaboratively on information in simple work streams, while easily managing tasks and roles.
Let us know what steps you've taken to ensure secure enterprise collaboration.