Secure Enterprise Collaboration Requires Visibility, Governance and Control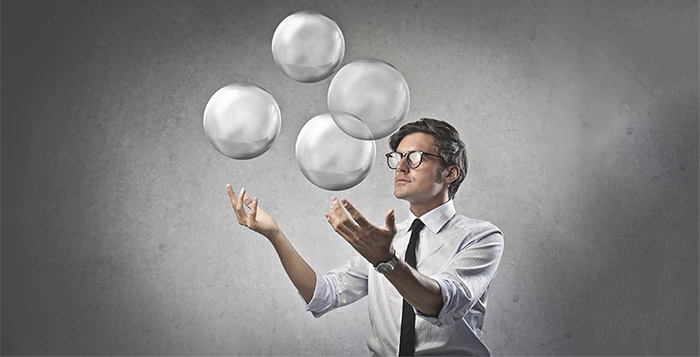 Enterprises want a collaboration solution they can trust, and for many this equates to three things: visibility, governance and control.
Visibility - CIOs need visibility into what information is being shared, and with whom. In many regulated industries they need records for auditing purposes.
Governance - IT managers want to be able to manage and provision users, enforce policies on how and what information is shared, and regulate what devices can be used for sharing and collaboration.
Control - Organizations need to know that they have lifetime control of their information, even after it's been shared outside the firewall. They need to be able prevent careless behavior, such as sharing data in a public folder, or recall a document on-demand.
This was the consistent message we heard when we talked with CIOs and IT management at large organizations, and this helped guide and inform the development of the latest release of Intralinks VIA, our secure enterprise collaboration solution, which became available this week.
The latest release of Intralinks VIA™ directly addresses these concerns:
Setting policies for sharing work streams: Limit a business group's ability to create specific types of work streams, providing a standard for security on documents. By disabling business group users' ability to share documents with public work streams and enforcing work streams with digital rights management enabled by default, administrators can help avoid inadvertent data leakage issues.
Defining work stream archive dates: Enable administrators to easily comply with corporate archiving policies and manage the complete lifecycle of files.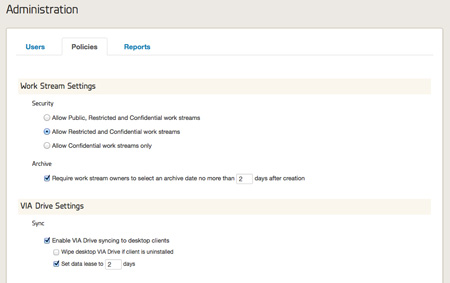 Determining on which desktop devices users can access their Intralinks VIA Drive: Administrators can track on which devices a business group member logs in and, and either allow or disallow access. Administrators will also be able to disallow devices that were previously allowed – like if someone loses a laptop.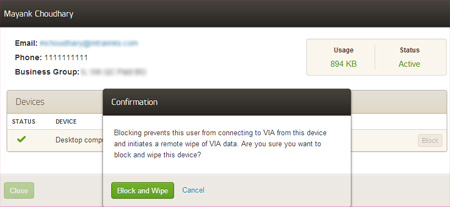 Remote Wipe: Administrators can remotely wipe all content from all synchronized devices that are no longer trusted or that fall outside of their control. This can be done whether the device is online or offline.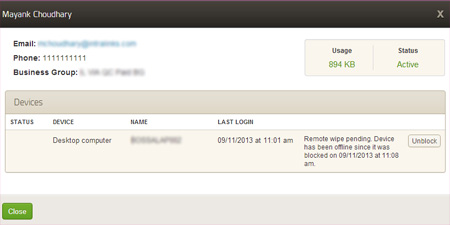 Enhanced reports – Administrators can generate granular audit and usage reports that provide a holistic view of the Intralinks VIA environment. This enables IT teams to comply with audit requirements and analyze the usage of the application.
Create trial accounts for new users: Administrators can easily self-manage accounts and add users for free trials or paid accounts for members of their business groups without needing to go back to an account team for service.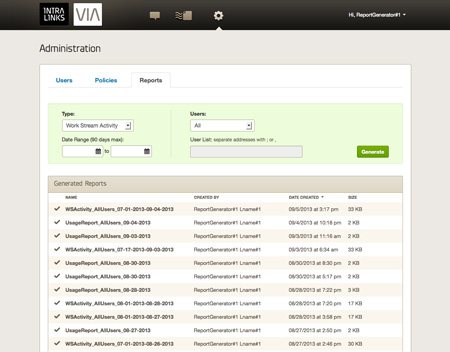 We're confident that these new features will offer a better experience for our users, one that will also ensure the proper level of visibility, governance and control. Let us know what you think!
Ian Bruce
Ian Bruce is the VP of Corporate Communications at Intralinks. He has 20 years of international marketing experience across software, hardware, consulting, and financial services at both VC-backed start-ups and large multinationals. Prior to joining Intralinks, Ian held various marketing and communications roles at Avid Technology, HP, Novell, Systinet, and CSC.