Favorable Market Conditions Provide Tailwinds for Private Equity Fundraising
Private equity fundraising activity has seen a steady pickup since the financial crisis five years ago.
Private equity fundraising activity has seen a steady pickup since the financial crisis five years ago. From a low point of $288 Bn raised in 2010, there's already been over $201 Bn raised in the first half of 2013 alone, according to the Preqin Q2 2013 Private Equity Fundraising report. This report also shows an 18.9% increase over the same period from last year.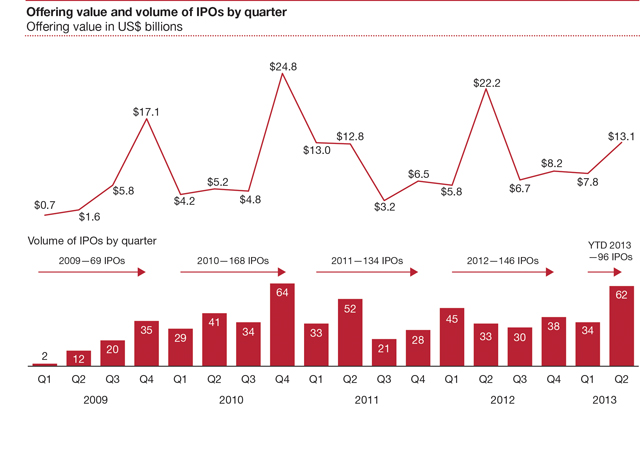 Source: PwC's IPO Watch
There have been a number of structural tailwinds supporting fundraising: low interest rates, a steady M&A and IPO market, continued interest from large sovereign wealth funds and the need for large institutional investors to rebalance portfolios given relative outperformance in the public markets.
When we looked at our own clients' fundraising activity, it became clear that the Intralinks Fundspace platform has played a key role in supporting fundraising efforts across the globe. In fact, 7 out of the top 10 funds and 10 out of the top 15 funds that had a final close in the first half of 2013 were completed on the Intralinks platform. Indeed, almost half of all worldwide fundraising activity in H1 2013 was completed using Intralinks Fundspace, with over $93.7 Bn raised globally on the platform. Check out our latest infographic to see the completed fundraising activity in Q1 & Q2 2013.



Perhaps what we are most proud of is the fact that not only has our platform been the communications standard for the majority of the world's largest private equity and real estate managers, but fund managers of all sizes, strategies and regions have successfully met their fundraising targets using Intralinks Fundspace.
Looking forward, investors have a generally favorable outlook toward the private equity asset class, with 36% of investors and 47% of consultants planning to increase their private equity allocation over the next 12 months according to SEI. We expect Intralinks Fundspace to continue to play an important role in helping GPs communicate effectively with investors in future fundraising activity.