IT Managers Blame File Sync and Share Software for Widespread Data Leaks
Intralinks worked with Harris Interactive to better understand the impact of a freemium file sync and share (FSS) business model on enterprise IT.
The file sync and share (FSS) market continues to heat up. With an estimated 300 million users worldwide, enterprises are joining in. And the reason is simple. FSS fills a basic need — it makes files available anytime you need them, from any device.

However, mixing consumer-grade technologies in the enterprise hasn't always offered the best results. The rapid growth of FSS users was enabled by the "freemium" business model which has been adopted by some of today's popular vendors. By taking the approach of encouraging millions of consumers to subscribe to their services, these vendors introduced a new problem — the unsanctioned and unregulated use of consumer-grade file sync and share applications. The use of free file sync and share software services by employees is a new avenue for potential information leaks that enterprises currently do not (or cannot) manage. Enterprises are starting to put consumer FSS services on their "black list" of forbidden applications.

In April, Intralinks worked with Harris Interactive on a survey to better understand the impact of a freemium FSS business model on enterprise IT departments. We surveyed 308 IT professionals who are either the sole IT decision makers in their organizations, or hold major influence over IT decision making. The results were pretty surprising:
31 percent of IT decision-makers trust using FSS apps (such as those provided by Box and Dropbox) for sharing personal financial information
38 percent trust FSS apps for sharing work files outside the firewall
46 percent agreed that data leaks in their companies were due to the unmanaged use of file-sharing products
84 percent agreed that the adoption of free FSS products by employees creates a potential security problem

Are you an IT manager? Have you considered the threats that freemium FSS applications can pose to your security? Then you might be interested in checking out this report and supplemental infographic to understand organizations' concerns about data privacy and how they can use FSS products in the enterprise.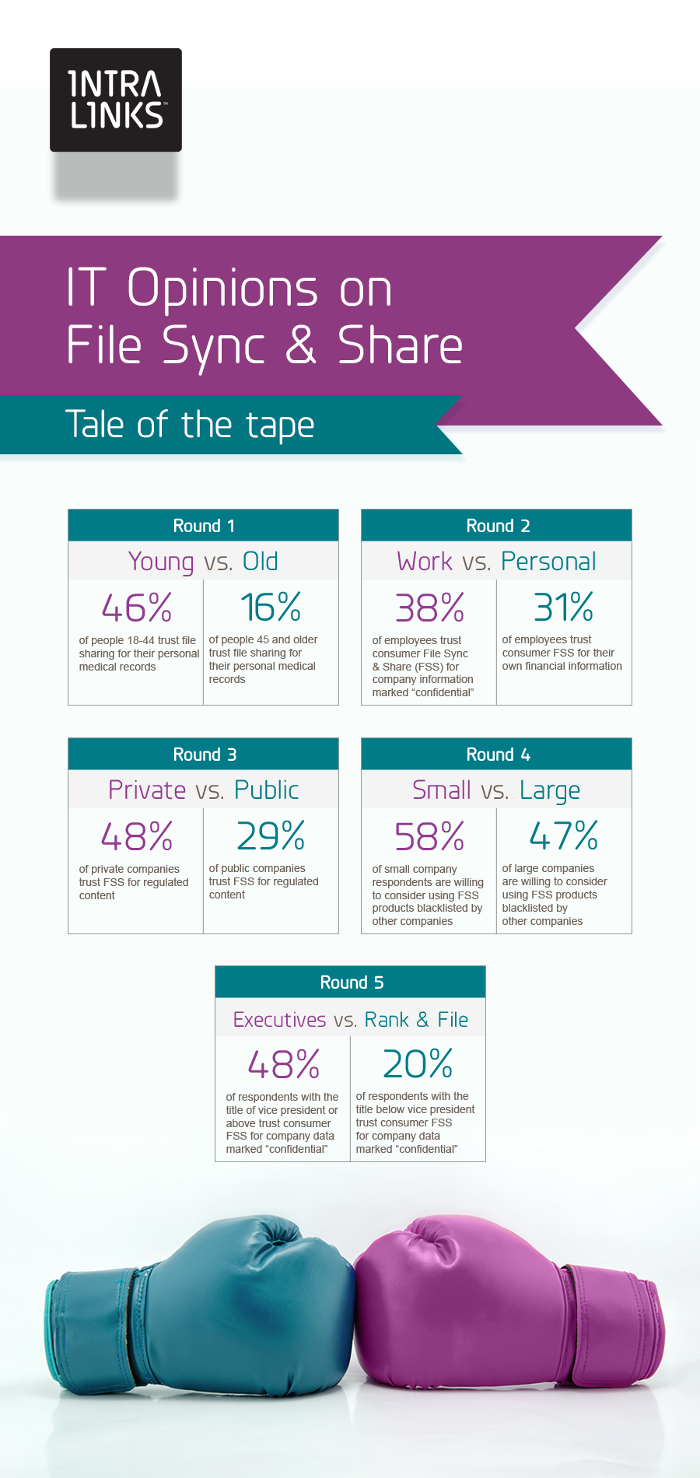 Esther Hollander
Esther is a senior corporate communications manager at Intralinks. She provides content for internal and external communications activity as well as general corporate positioning in order to support overall company objectives. Esther has been creating communications materials for a variety of organizations and companies for more than 10 years. She graduated from Rutgers University with a degree in English Literature.