#ContentCollab Insights: Trends in Business Content Collaboration and Security
Gain insights about the future of secure sharing and content collaboration from guest Forrester Research senior analyst TJ Keitt after a #ContentCollab Q&A.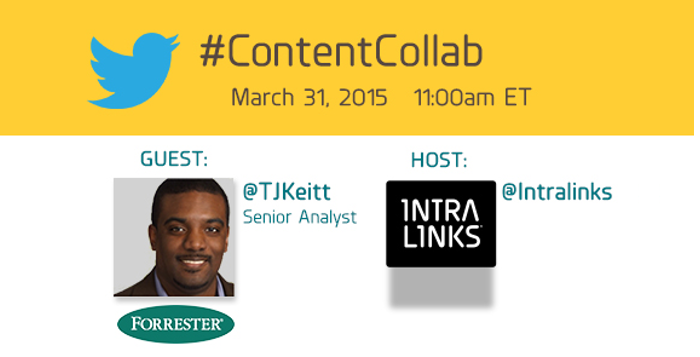 On March 31, 2015, Intralinks had the chance to moderate a lively #ContentCollab Twitter Chat about the future of secure content sharing and collaboration with our guest Forrester Research senior analyst TJ Keitt.

We received a lot of great questions and comments from #ContentCollab participants and viewers, met some new folks, and had a fun exchange of perspectives on file sharing and collaboration in the enterprise.

Content Sharing and Collaboration Landscape and Trends 

During the chat, TJ talked about how the current landscape of the document collaboration market has evolved considerably over the years. For instance, there's been a move from MFT and extranets to environments that enable team collaboration and content sync and share across platforms. Further, the market has seen a shift from an on-premise focus to a business environment that includes cloud delivery.

Some of the trends TJ highlighted that are shaping the future of the collaboration market include: proliferation of vendors, specialization of vendors around verticals and use cases, and enterprise file sync and share (EFSS) in cloud collaboration portfolios. Employee behavior is also impacting the current landscape of the file sharing and collaboration market. For example, the need for easy-to-use tools by employees that meet their specific needs is forcing vendors to focus on simple UX, mobility, access control, and less-intrusive security management.

Speaking to the mobile workforce specifically, organizations now work in a world where collaborating on-the-go has become the new norm. Keitt discussed that employees need greater freedom to access data, people and expertise – regardless of location. This shift has resulted in companies turning to cloud solutions which provide collaboration capabilities for the mobile world.

How to Begin Defining Collaboration Needs and Requirements

When it comes to defining your organization's collaboration needs, it's key to first consider the main stakeholders and processes. "It starts with the people," tweeted Keitt in the #ContentCollab chat. It's key to think through all of the things you need your organization to do and what's blocking them from achieving their goals. To enable teams to collaborate on information in a digital environment, Keitt says that you must first uncover what people are trying to do, understand what's preventing them from doing it, and finally map a strategy to bridge the gap. Find out how your employees intend to interact with each other, their partners, customers and other third parties.

Some of the biggest barriers to adopting a collaboration tool in the enterprise can be employee apathy itself, says Keitt. Employees may come into the organization with their own way of executing something and may not be open to changing course. The way companies can overcome this hurdle is to provide teams, including business leaders, with the right tools to become more productive – ultimately making the business more collaborative.

Aligning Collaboration with Information Security 

Collaboration is key in business to get work done, but just as important as the need for collaboration is the requirement for all data shared to be secure and controlled.

If employees in your organization are already using ungoverned file sync and share or file sharing services in the organization, don't lose hope. If you find out why employees are using these tools under the IT radar, you can solve the problem with a solution that will work, simply by mapping your vendor selection process to address the needs of your employees.

When choosing a secure collaboration solution the type of permissions and security controls needed may depend on the use case and what information is being shared. Sensitive and heavily regulated information will require strict controls on access, viewing, editing and downloads. For security conscious organizations, Keitt recommends that companies get to know their vendors' operations, service admin console, and internal ability to manage information. To validate that a cloud provider is secure enough for your specific collaboration needs, in his tweet, Keitt said to consider the following: consultant audits of vendors; review of vendor docs; conversations with vendor security personnel; pilot programs; peer conversations.

You can view the full Twitter #ContentCollab conversation here to see the questions our audiences asked and the answers Keitt provided. If you'd like to learn more best practices for secure content collaboration, you can also check out the webinar we hosted with guest TJ Keitt, entitled "Content is Still King – How to Choose a Secure Collaboration Castle."

Thanks to everyone who participated and watched our #ContentCollab chat. Until next time!
Meagan Parrish
Meagan Parrish is the Senior Manager of Social Media at Intralinks. She is responsible for social media strategy development and the communications for Intralinks' online communities. Meagan has been creating social media strategies for a variety of companies across verticals for the past several years. She holds Bachelor degrees in Marketing and Finance, with a minor in English Literature.