We're Partnering with Leading VDR Intralinks to Provide a Complete Due Diligence Solution
The Intralinks Dealspace® and Kira Diligence Engine partnership will help ensure high-stakes transactions are brought to a fast close.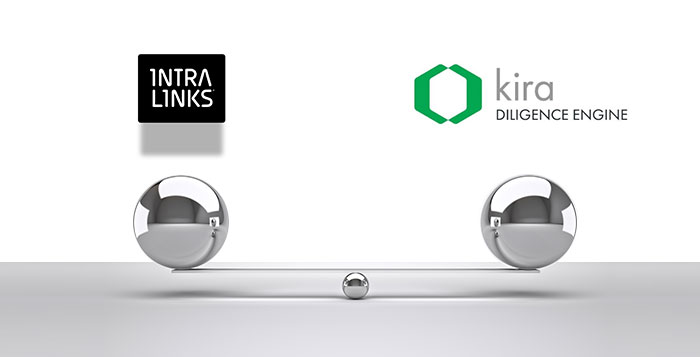 As an M&A lawyer, I did due diligence and supervised it.
From that experience, I know that virtual data rooms (VDRs) are central to the M&A process. An early step in a company putting itself up for sale is loading documents into a VDR, so that deal teams can learn what they need to about the target.
While there are a lot of companies that offer VDR functionality, Intralinks stands out; it is a dominant player for a good reason. Intralinks is a pioneer of the VDR market and has stayed at the leading edge of it technologically. Intralinks is heavily focused on M&A, and knows it deeply. Intralinks is also a core part of being a junior M&A professional: I suspect that many lawyers and bankers have learned they were staffed on a new deal from receiving an automated message from Intralinks informing them they have been added to a new Dealspace.
Today, we're ecstatic to announce that we're partnering with Intralinks to provide a better due diligence experience. Intralinks is the leading platform for due diligence; Kira Diligence Engine is the fastest and most accurate way to review and analyze diligence documents. Together, M&A professionals can do better reviews in less time, and with less pain. This complete storage to review offering is great for users. In the words of Matt Porzio, vice president of strategy and product marketing at Intralinks, "Together, Intralinks Dealspace® and Kira Diligence Engine help ensure high-stakes transactions are brought to a fast close. The partnership will save our customers time and expense and help prevent costly human error during due diligence."
We couldn't be happier about this combined offering. Click here to learn more about it.
Noah Waisberg
Noah Waisberg is the CEO and Co-Founder of Kira. Prior to founding Kira Systems, Noah practiced at the law firm Weil, Gotshal & Manges in New York, where he focused on private equity, M&A and securities law. Noah is an expert on contract analysis, legal technology and artificial intelligence, has spoken at conferences including SXSW Interactive, ILTACON and ReInvent Law; and was named 2016 ILTA Innovative Thought Leader of the Year. Noah holds a J.D. from the NYU School of Law, an A.M. from Brown University and a B.A. (honors) from McGill University.