The Deal Pipeline Panel:  Building Private Equity Portfolios
The Deal Pipeline panel discussion led by Intralinks' Tony Hill spoke about the spike in bolt-on deal activity in 2014, and why 2015 may be even better.
A couple of weeks ago, I had the pleasure of moderating a lively video roundtable discussion with three distinguished private equity professionals about add-on acquisitions.

Organized by The Deal Pipeline, the subject of the presentation was 'Building Private Equity Portfolios Through Bolt-Ons' and joining me on the panel were:
Jim Andersen, Co-Founder, Managing Partner, Clearview Capital, LLC
Richard Prestegaard, Partner, Business Development, High Road Capital
Robert Landis, Partner, Origination, Riverside Company

If you'd like to access the video replay of the panel discussion, please see the following video. And, for those of you who missed it or simply prefer the Cliff's Notes version, below I've summarized some of the key talking points from the discussion.



Factors Driving the Rise in Bolt-On M&A Activity

Underpinning the panel was a report by Preqin which found that the number of private equity-backed bolt-on deals last year was the highest since 2006, totaling 1,139 transactions globally and 738 in the U.S. The aggregate deal value was $49.2 billion globally and $25.8 billion in the U.S. — the largest and second largest, respectively, since 2006.

When I polled our PE professionals on what was driving the surge in bolt-on activity, their reaction was unanimous: with valuations for platform acquisitions at record levels multiple-wise, add-on acquisitions — which are inherently smaller in nature and, therefore, typically valued at a lower multiple of EBITDA — naturally begin to appear like a more sensible growth strategy. Add to that a world awash in liquidity, plus increased competition from strategic acquirers and large PE funds moving downstream to do smaller deals, and add-ons are all the more compelling.

Bob Landis of the Riverside Company summarized the perils of the current environment nicely: "With multiples as high as they are, private equity firms must have a strategy to address that. Otherwise, this vintage could be disastrous in five to six years."

Best Practices in Doing Add-On Deals

When asked how many add-on acquisitions Clearview Capital does on average for a platform company, he replied, between three to five typically, but up to as many as 14! This begs the question of what the best practices are when executing these types of deals and measuring their success, to which Jim shared two interesting strategies: First, he emphasized the importance of having the right information technology (IT) backbone in place as soon as possible, since smaller, add-on-caliber acquisitions generally lack the IT infrastructure of larger platform acquisitions. Second, Jim mentioned that generally speaking, they like to incubate their newly-acquired platform companies for a year or so before undertaking any add-on M&A activity. The reason is simple: add-ons, especially larger ones, can be risky, and you want to make sure the platform's management and systems are ready and up to the task before straining them with M&A.

Interestingly, this was one of the few areas in which our panelists disagreed. Bob Landis submitted that, at Riverside, platform companies that do an add-on acquisition within the first year tend to sell for an additional 1.0x to 1.5x EBITDA. The key point to be cognizant of, Bob adds, is to manage expectations properly so that you can prevent losing managers and or customers. Communication should be consistent internally and externally. The last thing you want is "management voting with their feet" (and leaving).

Deal Sourcing / Origination

Rich Prestegaard of High Road Capital called deal sourcing "the lifeblood of what we do." Whereas, once upon a time, technology and dedicated deal sourcing personnel were the exception, today they are increasingly becoming the rule. Less than ten years ago, Excel sufficed to manage the deal sourcing effort. Today, it would be impossible, especially given the fact that it is not just the intermediaries PE firms that are tracking these days, but also accountants and lawyers (especially out of the U.S.), and the business owners directly.

Unsurprisingly, then, Rich, Jim and Bob all agreed that the trend of PE firms continuing to invest more heavily in dedicated deal origination resources — both human and IT — will continue. Additionally, on the human side, origination professionals will increasingly get more industry-focused. Not only is this extended reach and competency set necessary to effectively canvas a larger, more competitive deal landscape, but as Bob points out, it's become an expectation as early as the fundraising stage. If a PE firm does not have a good strategy for deal sourcing, limited partners (LPs) want to know why.

On the subject of how technology is evolving to support deal origination, Rich mentioned the importance of online deal sourcing platforms such as Intralinks Dealnexus. "As a deal sourcing person, that's something that helps make everyone else more efficient, so I'm not always in love with those platforms … sorry!" quips Rich, "but I recognize that they are going to be a part of the market, and we use them. We view it, at a minimum, as a safety net and, in a very positive way, as a potential source of new platforms." Rich added that online deal sourcing platforms are particularly adept at efficiently locating good add-on opportunities.

In the end, though, Bob Landis outdid everyone with a radical new technology he's personally deploying: "we're starting to use a new technology — I think it's working really well — we're using the telephone!"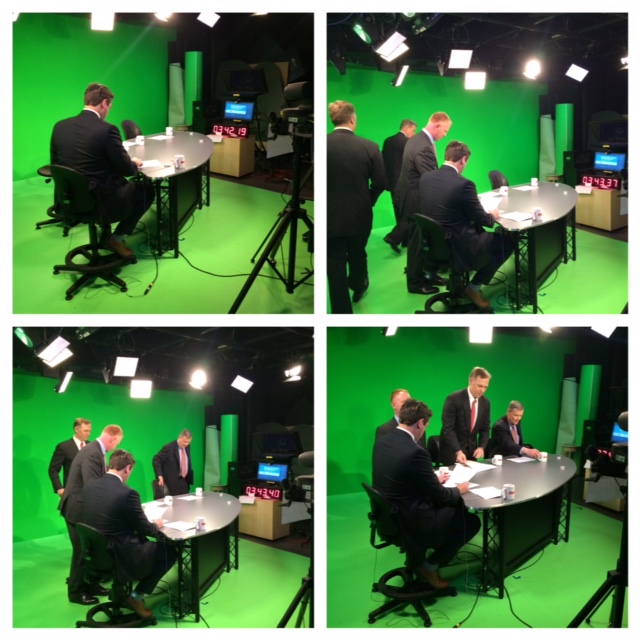 Download your copy of Building PE Portfolios Through Bolt-Ons here. 
Tony Hill
Tony Hill is the Director of Intralinks Dealnexus. Prior to its acquisition by Intralinks in early 2013 along with MergerID, Tony was the CEO and co-founder of PE-Nexus, the leading private market network for mergers & acquisitions professionals. The two platforms have been combined to form the largest global deal marketplace and professional network for qualified M&A professionals.