Learning from the Experts: M&A Strategy Tips from Google, Yahoo, Cisco, and Visa
M&A professionals from Google, Yahoo, Cisco, and Visa came together for a panel to discuss M&A strategy, market trends and corporate dealmaking challenges.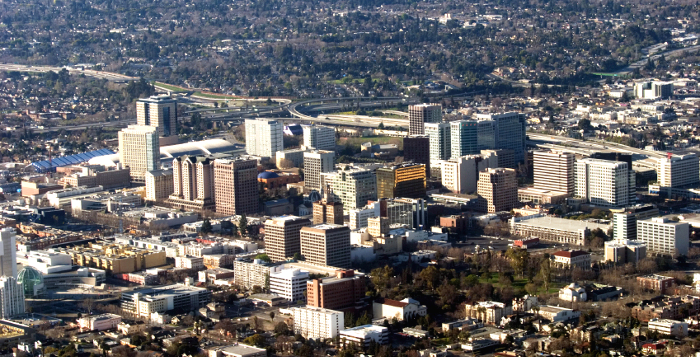 Recently, I had the opportunity to moderate a panel discussion about dealmaking trends, shared characteristics of M&A outperformers — defined in our study as Excellent Corporate Portfolio Managers ("ECPMs") — and challenges facing corporate dealmakers today. Accompanying me on the panel were four noted M&A professionals: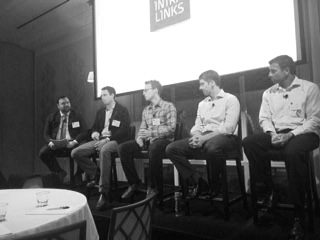 Dave Sobota, Director of Corporate Development at Google
Aaron Crum, Vice President and Head of Corporate Development at Yahoo
Dan Menge, Director of Acquisition Integration and Corporate Development at Cisco
Don Yakulis, Vice President of Corporate Development Operations and Integration at Visa

Excellent Corporate Portfolio Management — How they achieved it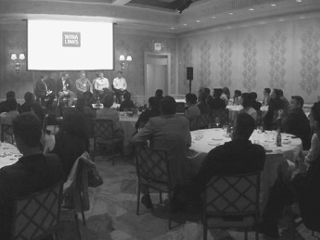 Anchoring the discussion was a study conducted by City University London's M&A Research Center at Cass Business School and Intralinks. This global study of more than 25,000 firms and 265,000 transactions occurring over a 20-year timeframe, uncovered the unique M&A strategy attributes that ECPMs employ to create sustained, above-average shareholder returns, compared to their peers. We kicked off the evening presenting some of the shared characteristics of these outperformers. You can read the report here.
Some of the key takeaways from the research:
ECPMs achieve faster deal completion than other firms. Thirty-four percent of the value of all acquisitions and 39% of all divestments by other firms are found to be slow to complete versus 33% and 33% respectively for deals executed by ECPMs. The panelists pointed out that calculated speed is a competitive advantage. Aaron spoke about the importance of having a team that has previously worked together: "Muscles tend to develop over time." Dave supported this, sharing that Google's own corporate development team has experience across many functional areas — legal, real estate, engineering, human resources, finance, and more — which balances the need to pull in external subject matter experts.

ECPMs undertake smaller acquisitions, relative to their own size, than other firms, avoiding large acquisitions that could pose significant execution or integration risk. The average value of acquisitions by ECPMs is .18 times their own sales versus .26 times their own size by other firms. The panellists talked about the importance of marrying your growth strategy with your M&A strategy. It was telling that, in our discussion, no one could reference any large transformational transactions. One panelist commented that even the biggest deal his company had done was in line with their existing strategy, supporting the research findings that increased shareholder value is driven by strategic transactions that are smaller in relative size.

ECPMs have bolder M&A strategies with greater execution risk. When I introduced the panel discussion, I shared that cross-border deals account for 38% of the value of all acquisitions by ECPMs compared to 28% of the value of all acquisitions by other firms. This data tells us that companies looking to maximize their value to shareholders should not be afraid to be bold by considering cross-border and even hostile acquisitions. Even though these types of deals may have greater execution risk, they could yield strong returns. The panel's advice regarding risk: "Have an appetite for risk, but find a balance."

ECPMs exploit a wider range of strategic options when selling assets. ECPMs sell more to foreign buyers — cross-border deals account for 35% of the value of all their divestments, versus 26% of non-ECPMs. Compared to other firms, ECPMs also sell more to private equity buyers, with financial sponsors on the buy side accounting for 12% of the value of divestments, compared to 9% for non-ECPMs. ECPMs also sell more to public companies, with public buyers purchasing 50% of their divestments when measured by value, compared to 47% for other firms. These results highlight the ECPMs' ability to exploit a range of strategic options when selling assets. The panelists discussed the challenges of knowing when and what to sell. One selection criteria of determining what to sell is how well the asset is able to meet the strategic goals of their own company. Aaron expressed the view that Yahoo often looks to spin out businesses that are not aligned with their strategic objectives
Identifying Targets
One of the questions posed to the group was, "When is it about seeking 'fit' over pure size/scale/scope/accretion?" Aaron and Dave explained that, when it comes to acquisitions, cultural fit is just as important as financial value. In their own experiences, there is an extensive process for interviewing and evaluating targets, and often a deal is as much about the talent acquisition as it is about accretion.
When determining whether an acquisition target is truly complementary, the consensus of the panel was that it's both an art and a science. Some of the panelists indicated that they have consulted with third parties, but often the expertise can be sourced internally. Dan commented that some of his main areas of focus include risk, security, compliance, and technology. Dave opined that some deals are "like fine wine…" — they age better over time. Even large deals can be considered failures at first. He referred to Google's acquisition of YouTube, pointing out that some deals cannot be accurately assessed until at least five or more years post-closing.
Earn-Outs
All of the panelists commented that their companies are in the process of moving, or have moved away, from earn-outs. The consensus among the crowd was that earn-outs present challenges because they are hard to implement and tend to lead to blame games, which can sour relationships and create mistrust.
Post-merger Integration (PMI)
When asked about corporate development's role in PMI, Dan and Don both touched on how the responsibility of the integration teams has shifted over time. PMI teams and deal teams today are acting in tandem, both helping to identify and focus on the overall acquisition strategy. "Integration teams are being involved as much as six months in advance of an announced deal," which aids in identifying any potential pitfalls, Dan pointed out.
While all four panelists agreed on the importance of having a sponsor or "captain" who is responsible for the deal, Don suggested that it is even more important to have "lieutenants" who can help guide the process when the captain "returns to his/her day job." Each panelist said they leveraged quarterly meetings with defined metrics to measure integration progress and success. Don added that, in some cases, it makes sense to hold off on the deal review process for a quarter or two in order to let things settle down. Sometimes, however, course correction is necessary due to changing competitive landscapes. PMI may be is a misleading term because integration is a consideration throughout the deal process.
I hope you find these insights useful. Thank you again to the panelists who participated and to everyone who made it to our event. We are already looking forward to the next one in early 2016. 
Trademarks and Copyright
"Intralinks" and the Intralinks' stylized logo are the registered trademarks of Intralinks, Inc. This blog post may also refer to trade names and trademarks of other organizations without reference to their status as registered trademarks. © 2015 Intralinks, Inc.