Audit Management: How to Save Time, Money, and Be More Secure
Audits are inevitable and finance departments must manage this process efficiently. Here's how a secure enterprise collaboration solution can help.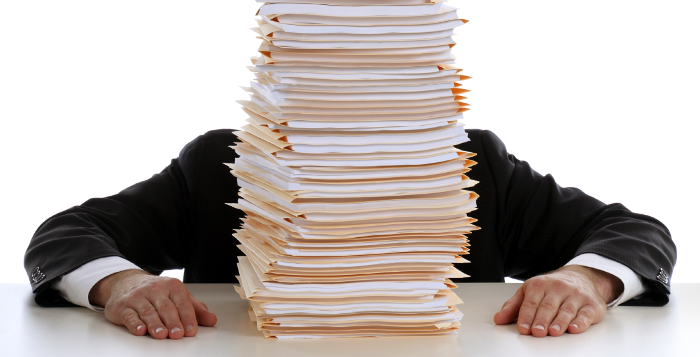 Audits are inevitable and finance departments must manage this process on an annual or quarterly basis. Maintaining the organization of the audit management process, meeting information request deadlines, and protecting the company's sensitive financial information is a momentous (and expensive) task. CFOs and Financial Controllers need to know how to support these audits most efficiently — as this can make the difference between a complicated, expensive process and an organized, cost-effective one.
Finance Departments are too often relying on manual processes to gather and distribute all required materials for an audit which can be an extremely time-consuming process; by doing so, valuable time and resource are being lost that could be spent on more strategic financial initiatives. For instance, information may be dispersed in different locations across the organization which may make it very difficult and arduous to locate all required documents by the requested deadline. If information is misclassified or a deadline is missed, an organization may be vulnerable to fines and penalties that could ruin their credibility with auditors. Additional costs to the organization could include the auditors' travel expenses such as airfare, accommodations, and food, as the auditors need to come on-site to review the paper-based documentation and materials. A significant risk to be aware of is potentially having hard-copies of sensitive documents exposed. Imagine if a copy of a financial report was accidentally left behind in a room after an audit closed only for an unauthorized individual or third party to find. 
Can you imagine a scenario where you could actually cut costs and save time during your quarterly or annual audit? Could you imagine a world where you could protect the sensitive financial information that you are required to share with external auditors? This is entirely possible with a secure enterprise collaboration solution that allows you to keep all auditable information stored in a single, secure repository all year round and simply permission auditors to the content upon request. With remote access, auditors could access this content from any location, on any device and perform the entire audit without ever having to come on site — and thus the travel & expense of that is eliminated. Additionally, by storing documents in this repository all year this eliminates the time to gather all the documents from different places. After the audit is over, the best part is being able to retract all documentation so that the auditors are denied any further access (even if they downloaded the materials).
Finance departments can find good use in an enterprise collaboration solution that allows them to quickly gather the internal information requested, create a clear audit trail, and provide the security needed to protect the company's sensitive financial information. If you want to learn more, drop us a note!
Britany DiCicco
Britany DiCicco supports the enterprise product marketing team at Intralinks focusing on market analysis, positioning, messaging and go-to-market initiatives. Britany's previous experience at Intralinks included analyst relations, competitive intelligence, and marketing. She graduated from Northeastern University with a degree in Economics.