Becoming a Clinical Trial Investigator: Setting Up Your First Research Clinic for Success
The Becoming a Clinical Trial Investigator Series authored by Dan Sfera is created to help you successfully get a brand-new research site off the ground.
The Becoming a Clinical Trial Investigator Series is a three-part series of articles authored by Dan Sfera, CEO and President of The Clinical Trials Guru, LLC and DSCS Sweat Equity & Investments, LLC. This series was created to help you understand what it takes to successfully get a brand-new research site off the ground. In this article, you'll get insights into the industry in general, as well as what pharmaceutical companies and contract research organizations (CROs) can do to make it easier for clinics to conduct trials.
While it may be true that Pharmaceutical Sponsors and CROs are not in the business of making research necessarily easier for research sites, it is in their best interest to recruit more research-naive physicians and get them interested in participating in clinical research in some form or fashion.
Oftentimes, the physicians who have busy private practices, work at hospital emergency rooms, or are employed by urgent care centers have access to a variety of patients that may be perfect candidates for clinical studies. However, there is a dilemma. The physicians that see many qualified candidates for clinical research studies in their private practices do not have enough time to participate in the clinical research studies, and vice versa. And of those physicians that have the time to participate in clinical research studies, typically they do not have the expansive databases that their counterparts possess. Because of this, the majority of clinical trials are delayed due to lackluster patient enrollment numbers. It is in Pharma's best interest to spread information and create awareness among research-naive physicians in order to make it easier to find and enroll the appropriate patients for clinical studies.
Any research clinic will need a Principal Investigator (PI). Often, most Pharma are relatively hesitant to grant a study to a PI who has no prior research experience. However, the good news is that there are enough pharmaceutical companies conducting studies (mostly phase 4 studies) that are willing to work with PIs with no or limited experience as long as they have the appropriate patient population within their practice. Oftentimes, many inexperienced PI's get their first research experience by participating in the phase 4 studies that experienced PIs turn down.
Next you will need a clinic. You can use an existing physician's office and utilize the equipment that is already there or you can rent a standalone office that will serve as your research clinic. If you chose to rent an office, you will have to furnish it with the appropriate equipment and supplies needed to conduct the studies. Please refer to the following infographic for a detailed list of the basic equipment needed for a research clinic.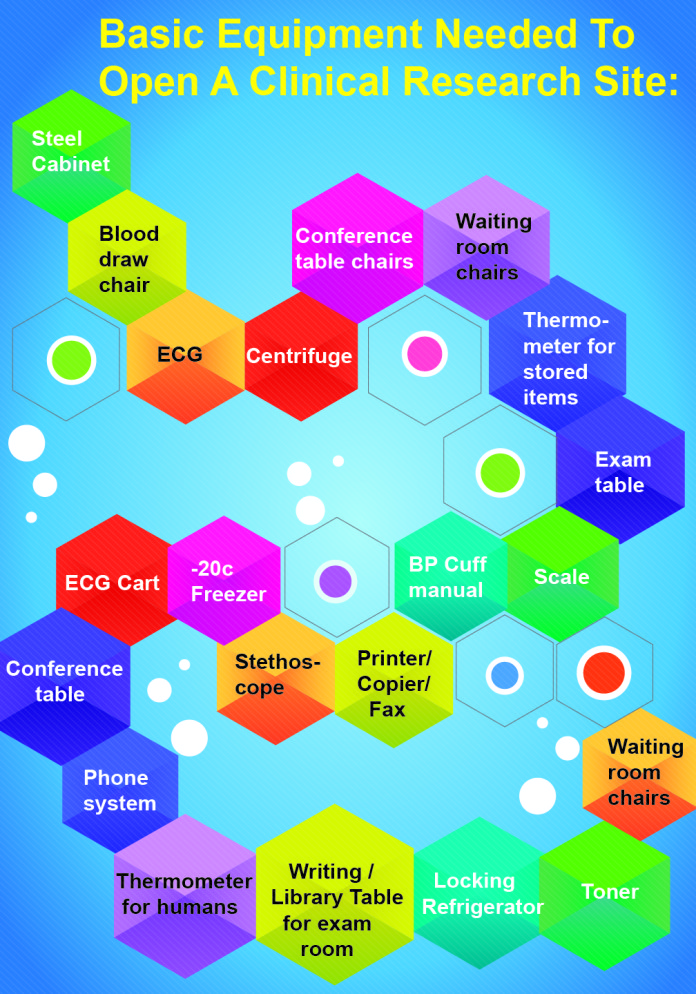 Source: Dan Sfera, The Clinical Trials Guru
As far as the clinical operations are concerned, I will go in depth on this topic in part three of this series, but in a nutshell, here is what a research clinic needs to get going.
First and most importantly, a research clinic will need a study coordinator. This individual will conduct most aspects of the various protocols that the research clinic will undertake. A research clinic can either hire an experienced study coordinator or train a brand new coordinator (perhaps an individual from the physician's existing staff). Of course, someone will actually need to do this training and that individual is rarely the PI. Typically, the research clinic owner or office manager will need to fulfill this task. Keep in mind that the monitors (clinical research associates or CRAs) will occasionally be on site to audit the study and they can serve as an additional resource for protocol training. It is often helpful to be honest with the CRAs and let them know that this is your first study and that you may need extra guidance.
The good news is when you start enrolling patients, the studies payment will start trickling in. It will be small at first, but if you continue to be consistent with enrolling and randomizing patients for the study/studies that you have, revenue will continue to flow. Once you are comfortable with X amount of income, you can hire more experienced study coordinators and PIs.
There are other operational activities to be considered such as how to manage your regulatory binders, how to create source documents, data entry, and the overall workflow of a study based on each particular protocol. I will discuss this in detail in future posts. In my next post, I will focus on what the industry can do to recruit more research-naive physicians in clinical research and become sub investigators or even PIs.
Dan Sfera
Dan Sfera is the CEO and President of The Clinical Trials Guru, LLC and DSCS Sweat Equity & Investments, LLC. Through these two companies Dan assists Sponsors and CRO's with Site Selection, Research Staff Training, Recruitment, Contract and Budget Negotiations and Business Development. Dan is also owner, partner and advisor for dozens of clinical research sites across the United States as well as Internationally. With a focus on marketing, finance and operations, he and his team have helped successfully launch many research organizations in the past 10 years.