Data Security: A Top Concern for Fund Managers
Intralinks held a cybersecurity event following the publication of a 2015 GP Survey which shows that data security is a top concern for fund managers.
Last week, Intralinks held a "Manage the Threat" cybersecurity event in New York, following the publication of a 2015 GP Survey which shows that data safety and security is a top concern for fund managers.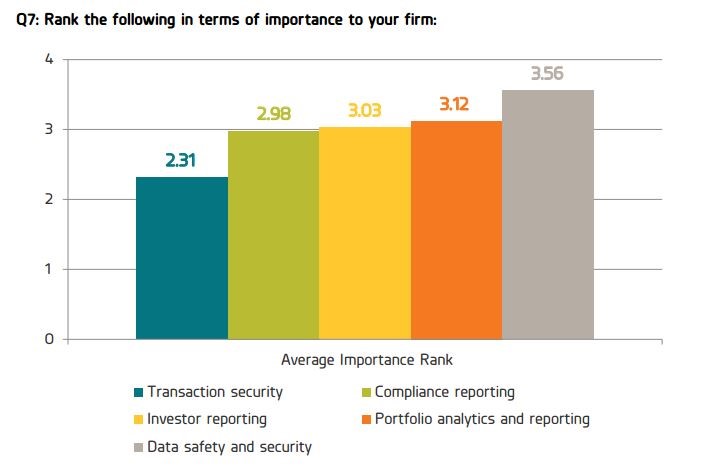 Source: 2015 GP Survey by PitchBook & Intralinks
The panel represented speakers from prominent alternative investments groups, service providers and cyber security functions. The topic of day: Establishing a cyber-program— identify, prevent, detect, and respond. Discussions centered around how fund managers can mitigate cyber security risks related to the sharing of fund information with their external counterparties (e.g. portfolio companies, investors, LPs and target companies). Some of the key areas of focus included:
Data management tactics — alternatives to e-mail when sharing "high value" information such as client information, strategy tactics, and intellectual property (IP)
Demands for transparency from regulators — bigger focus from the SEC's OCIE examination program
Vendor due diligence — service provider assessments (For tips on testing the reliability of a third party vendor, see Intralinks' Guidelines on Assessing Vendor Security.)
On the topic of vendor due diligence, Jamie Hadfield, Managing Director of Technology, Gen II, said: "Our clients' investors are peaking through to look at our controls. If there is a big LP waiting to make a commitment, they want to know if we have the proper certifications and vulnerability tests in place."
Mike Steed, Founder and Managing Partner, Paladin Capital Group, said: "How many of you ask to see a company's cyber policy before they invest? It is a fiduciary duty of managers to have a regime in place before [investors] buy a stock. [Investors] need to ask those questions because IP is so unique."
In light of the trend towards more transparent, frequent investor reporting, Intralinks will continue to explore the topic of data security while working with GPs to provide the most widely adopted, secure communication portal for sharing information externally.
Kylie Horner
Kylie Horner is an Associate in Strategy and Product Marketing at Intralinks. She is part of the team responsible for determining go-to-market strategies for the debt capital markets and alternative investment businesses. Prior to joining Intralinks, Kylie worked in marketing and communications at ACTIV Financial, a financial information technology firm. She graduated from the University of Colorado at Boulder with a degree in Journalism, and a specialization in global media.