Q1 2018 M&A regional snapshot: Latin America poised for positive start to 2018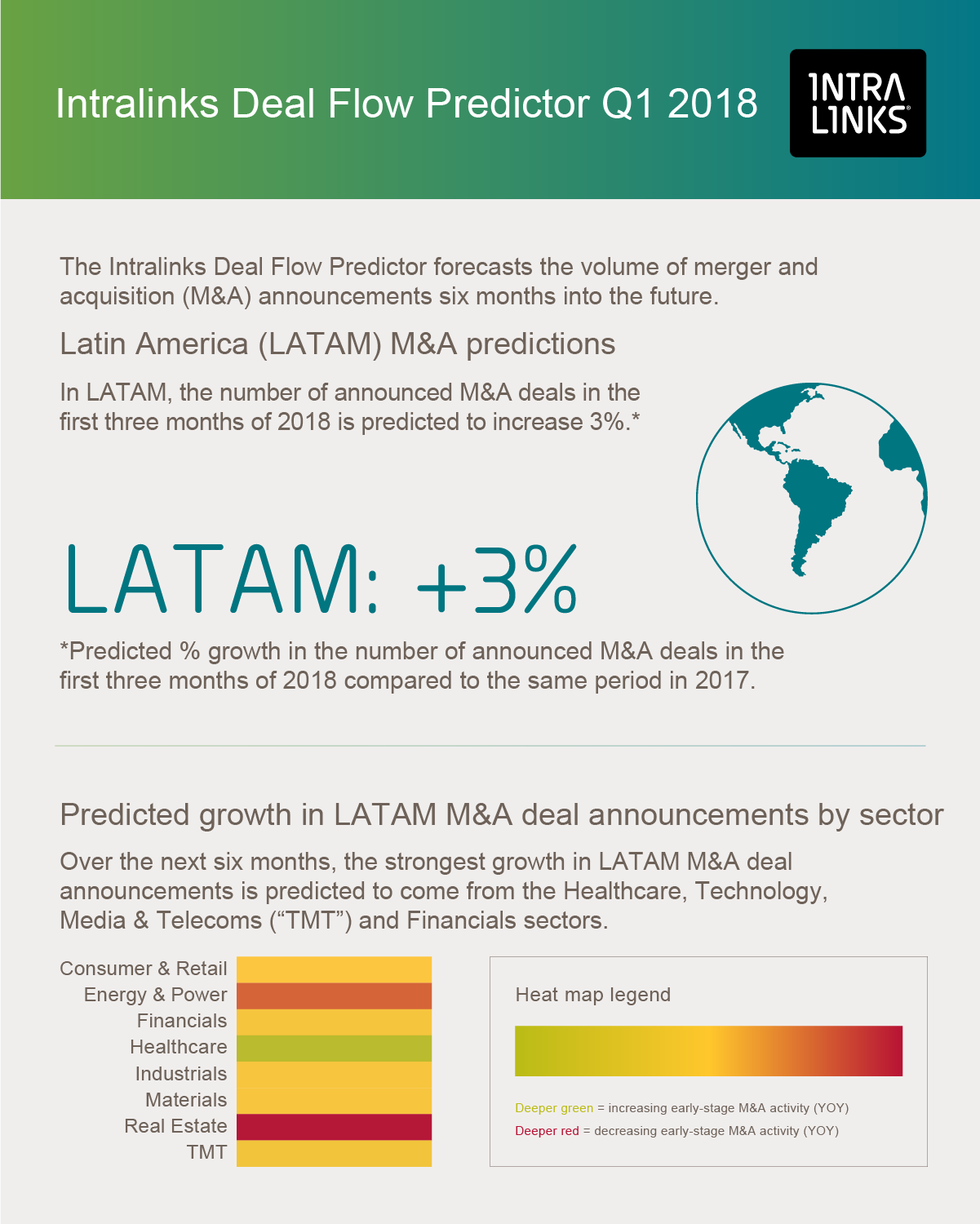 According to the latest Intralinks Deal Flow Predictor report, early-stage M&A activity in Q3 2017 increased by 30 percent year-over-year (YOY) in the Latin America (LATAM) region. At the same time, according to data from Thomson Reuters and Intralinks' own analysis, the number of announced M&A deals in LATAM in Q3 2017 rose by 3 percent YOY. Based on this data, our independently verified predictive model forecasts that the number of announced M&A deals in LATAM in Q1 2018 is expected to increase by up to 5 percent YOY.

Q3 2017 marks the fourth consecutive quarter of increasing early-stage M&A activity in LATAM, confirming the region's return to growth. According to the International Monetary Fund's latest World Economic Outlook report , LATAM's economic activity rebounded in 2017 and is forecast to rise steadily over the next two years, driven by increasing consumption in Brazil and Colombia, economic and monetary reforms in Argentina and energy-sector liberalization in Mexico. These should all prove positive supports for dealmaking activity.

Based on our insights into early-stage M&A activity, the healthcare, technology, media & telecoms and financials sectors in Mexico, Peru and Brazil are predicted to lead the growth in LATAM M&A announcements over the next six months.
Matthew Porzio
Matt Porzio joined Intralinks in 2003. As SVP Marketing & Strategic Business Development, he is responsible for managing and driving the strategic direction for Intralinks Dealspace including virtual data room and full deal lifecycle solutions for the M&A, Private Equity, Advisory, Corporate Development and Restructuring communities. Before joining Intralinks, he was a senior associate at Metzler, a German advisory firm, focused on cross-border M&A transactions.