Can North American M&A Surpass Last Year's Performance?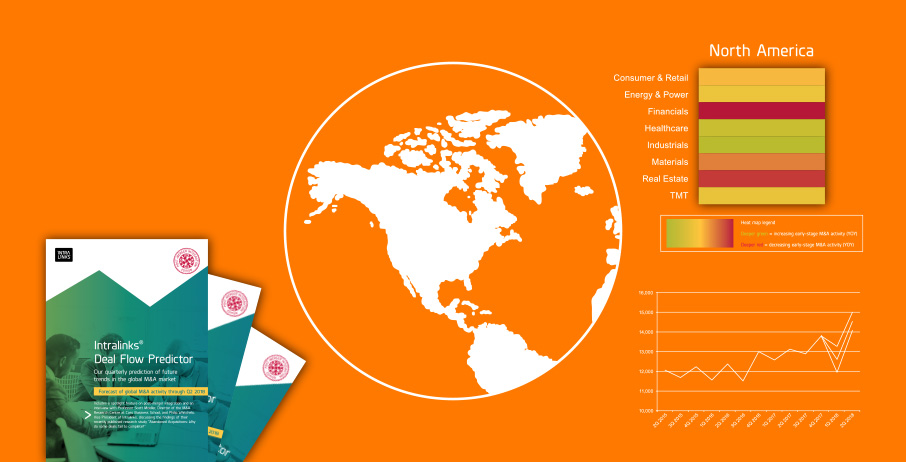 After a record-breaking 2017, M&A dealmakers in North America (NA) could be forgiven for pausing for breath. According to the latest Intralinks Deal Flow Predictor, the number of announced M&A deals in NA is forecast to fall by around 5 percent year-over-year (YOY) in 1H 2018, due mainly to an exceptionally strong 1H 2017 comparison period. While a soaring US equity market, strong business and consumer confidence and low interest rates have supported NA M&A markets in 2017, in 2018 dealmakers may have to deal with the effects of an equity market correction, rising interest rates, uncertainty over the future of the North American Free Trade Agreement and an increase in cross-border protectionism.
Global and regional M&A predictions for 1H 2018, including a heat map on sector activity
A spotlight feature on post-merger integration and deal success
An interview with Professor Scott Moeller, the director and founder of the M&A Research Centre at Cass Business School, and Philip Whitchelo, vice president, strategic business development at Intralinks, on the findings of their recently published study into abandoned acquisitions and how to avoid the deal failure trap

If you want to know the future of global M&A six months ahead of everybody else, download your copy of the Intralinks Deal Flow Predictor here.
Peter Braverman
Peter Braverman is Senior Vice President of sales at Intralinks, a leading financial technology provider for the global banking, deal making and capital markets communities.