Asia Pacific Region Predicted to Dominate Growth in Worldwide M&A Activity Over the Next Six Months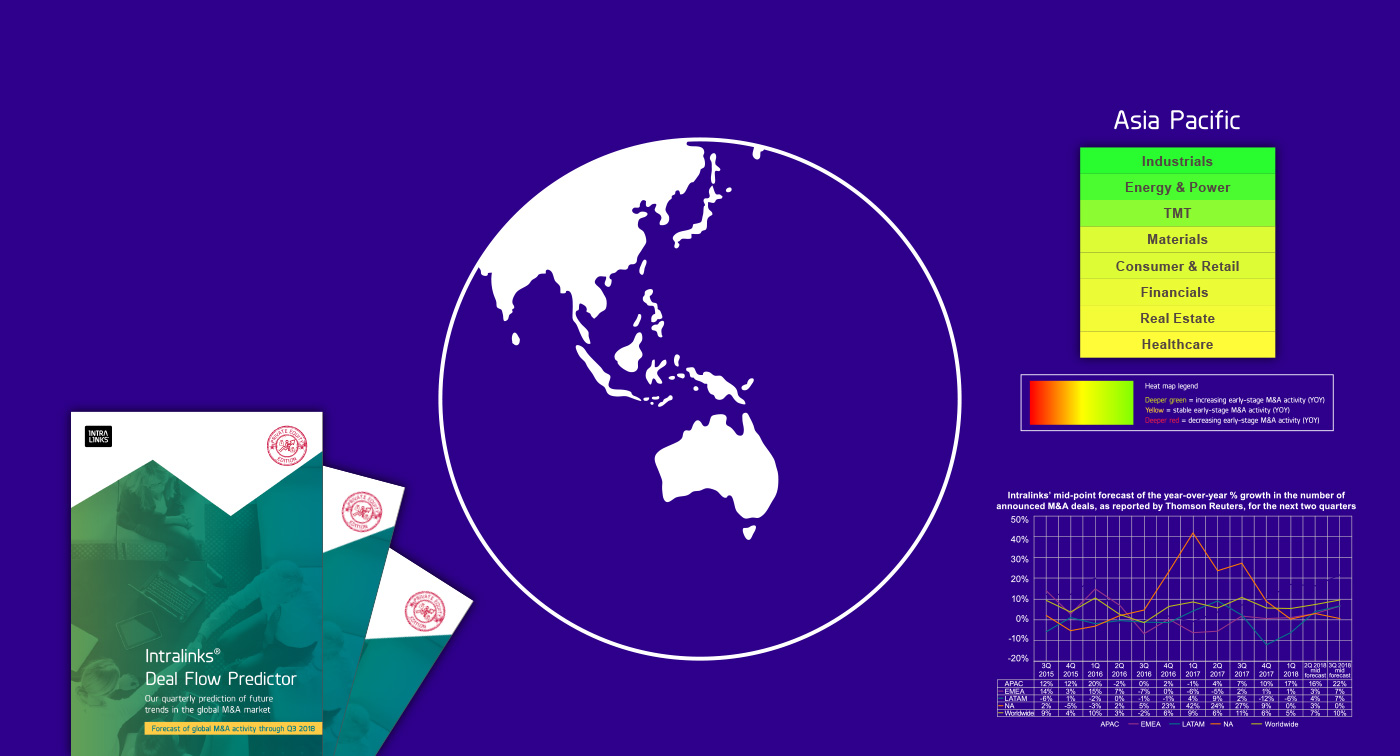 The Intralinks Deal Flow Predictor forecasts the number of future merger and acquisition (M&A) announcements by tracking early-stage M&A activity – new sell-side M&A transactions across the world that are in preparation or have begun their due diligence stage. These early-stage deals are, on average, six months away from their public announcement.

According to the latest Intralinks Deal Flow Predictor report, the number of announced M&A deals in the Asia Pacific (APAC) region is forecast to increase by around 19% year-over-year during the next six months, more than double the predicted growth in worldwide M&A activity, over the same period, of 8%. Over the next two quarters, we expect the strongest growth in APAC M&A announcements to come from the industrials, energy & power and TMT (technology, media and telecoms) sectors in North Asia (China, South Korea), Japan and Australia.

If you want to know the future of global M&A six months ahead of everybody else, download your copy of the Intralinks Deal Flow Predictor here to read:
Global and regional M&A predictions for Q2-Q3 2018 and sector activity heat maps
A spotlight feature on private equity dealmaking
An interview with Philip Thomas, Partner at law firm Reed Smith LLP, on how the GDPR will affect M&A
Allan Robertson
Formerly the Intralinks Chief of Staff, Allan has gained unique insight and broad exposure to the Intralinks business end-to-end, both globally and cross-functionally. Allan joined Intralinks in 2010 as VP, EMEA Sales, and successfully lead teams across all lines of business. He joined Intralinks from Pirean Ltd where he was a Sales Director. Prior to that he held senior sales roles at IBM and Rational Software. Allan has a degree in technology and business from the University of Strathclyde.