Enabling Efficiency in the Fast-Moving M&A Environment
Latest Intralinks M&A product update improves speed, security and efficiency in the deal lifecycle.
In today's fast-paced mergers and acquisitions (M&A) environment efficiency is vital. Miss one email and you could lose the whole deal. That's why we focus on the entire deal lifecycle, consistently improving upon current-state processes by implementing innovative technology into our products to help our clients succeed. In doing so we provide clients with the best virtual data room (VDR) experience in the industry.
In the September release of the Intralinks VDR, we're focused on minimizing speedbumps during the deal preparation phase. This preliminary stage of the M&A dealmaking process is arguably the most important as it lays the groundwork for the rest of the deal lifecycle. Yet it involves complex requirements – the right teams need to be invited, virtual data rooms need to be organized, etc., so features that save time and reduce roadblocks are invaluable to all the parties involved in the deal. 
Faster data room setup
Intralinks helps customers accelerate deal execution by incorporating time-saving features into our products. The latest M&A product launch allows clients to jump-start the creation of the data room using tools such as folder drag and drop. Customers can drag entire folder structures into the VDR instead of manually building the folder hierarchy file by file. This allows dealmakers to be able to focus more on deal execution and less on tedious tasks such as file organization.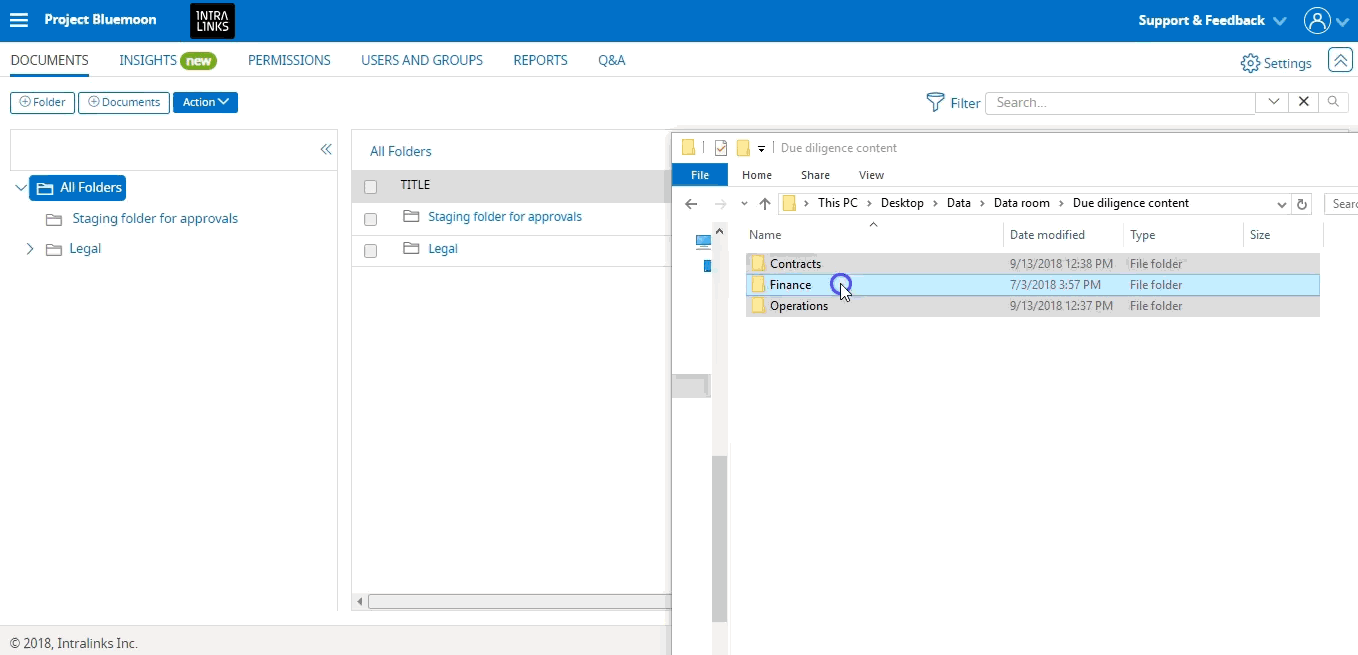 Streamlined user invitations
Adding new users is also significantly easier than before with the new, streamlined user invite function in the Intralinks VDR. The sell-side team no longer has to request details such as phone numbers from the buy-side. Simply type in the invitee's email address and he or she will receive an access notification. Our latest features expedite the onboarding process, allowing more time for collaboration among dealmakers.
Looking ahead, we have ideas incubating on new concepts to simplify processes by leveraging next-generation solutions – blockchain and machine learning, for example – to help users optimize resources and close the deal faster.
M&A is moving at an incredible pace. When it's about improving speed, security and efficiency for the deal lifecycle, we will continue to bring our A-game so that dealmakers can bring theirs.
 
Bryan Mannetta
Bryan Mannetta is director of M&A product management at Intralinks. His tenure at Intralinks includes creating the vision and strategy for Intralinks M&A solutions. His specialty is in collaborating with customers, engineers, and internal stakeholders on ways to provide value in the market, solve customer problems and create technology that will revolutionize the M&A deal process.