M&A Deal Failure: Cash is King
A research study by Cass Business School and Intralinks reveals significant predictors of deal failure.
Intralinks recently published the findings of a long-term, global study into abandoned acquisitions – deals that are announced but which subsequently fail to complete. Together with the M&A Research Centre at the University of London's Cass Business School, we investigated more than 82,500 M&A deals announced over 26 years to identify the significant predictors of failed deals and the strategies that acquirers and targets employ to increase the likelihood of successful deal completion. We also surveyed 40 global mergers & acquisitions (M&A) professionals, and incorporated their insights into our report, Abandoned Acquisitions: Why Do Deals Fail to Complete?
This is my sixth blog post on our study, as I continue to dive deeper into the most significant predictors of deal failure. In this post, I'll discuss our findings on how the type of deal consideration offered by the acquirer for the target affects the likelihood of deal failure or success. If you want to read my other posts on abandoned acquisitions, you can find them on Intralinks' INsights blog. If you want more details about the methodology and data sample behind our study, please download the full report here. 
Our study found that the type of consideration offered was a significant predictor of the probability of deal completion, for both private and public M&A targets. In particular, deals where cash was the only form of consideration were less likely to fail than deals involving equity or cash/equity hybrids as consideration. For private targets, these findings were consistent across all five M&A cycles which were analyzed for this study.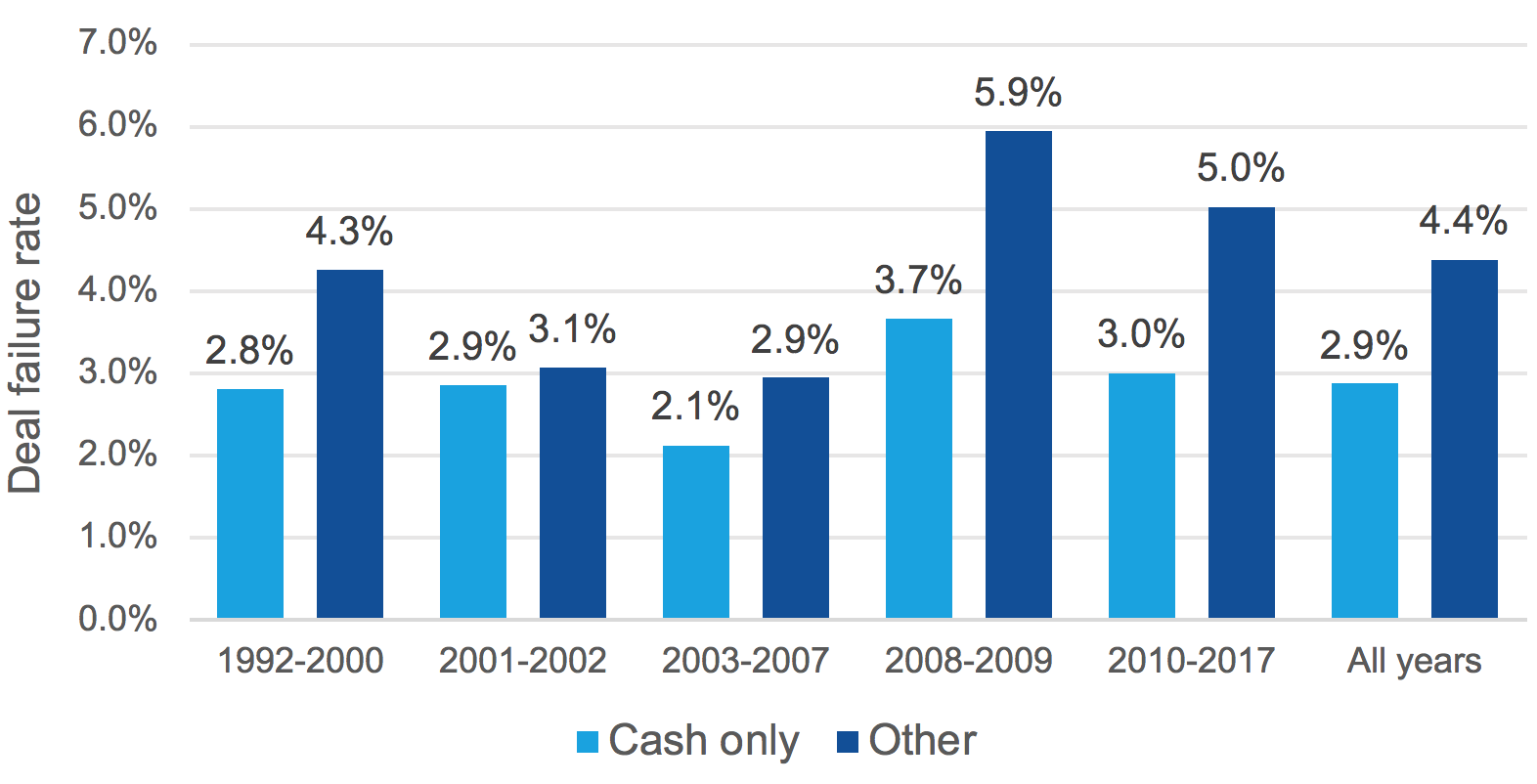 PRIVATE TARGETS worldwide average deal failure rate by consideration type, 1992-2017
For public targets these findings were consistent across four out of the five M&A cycles analyzed for this study, the exception being the 2003-2007 cycle.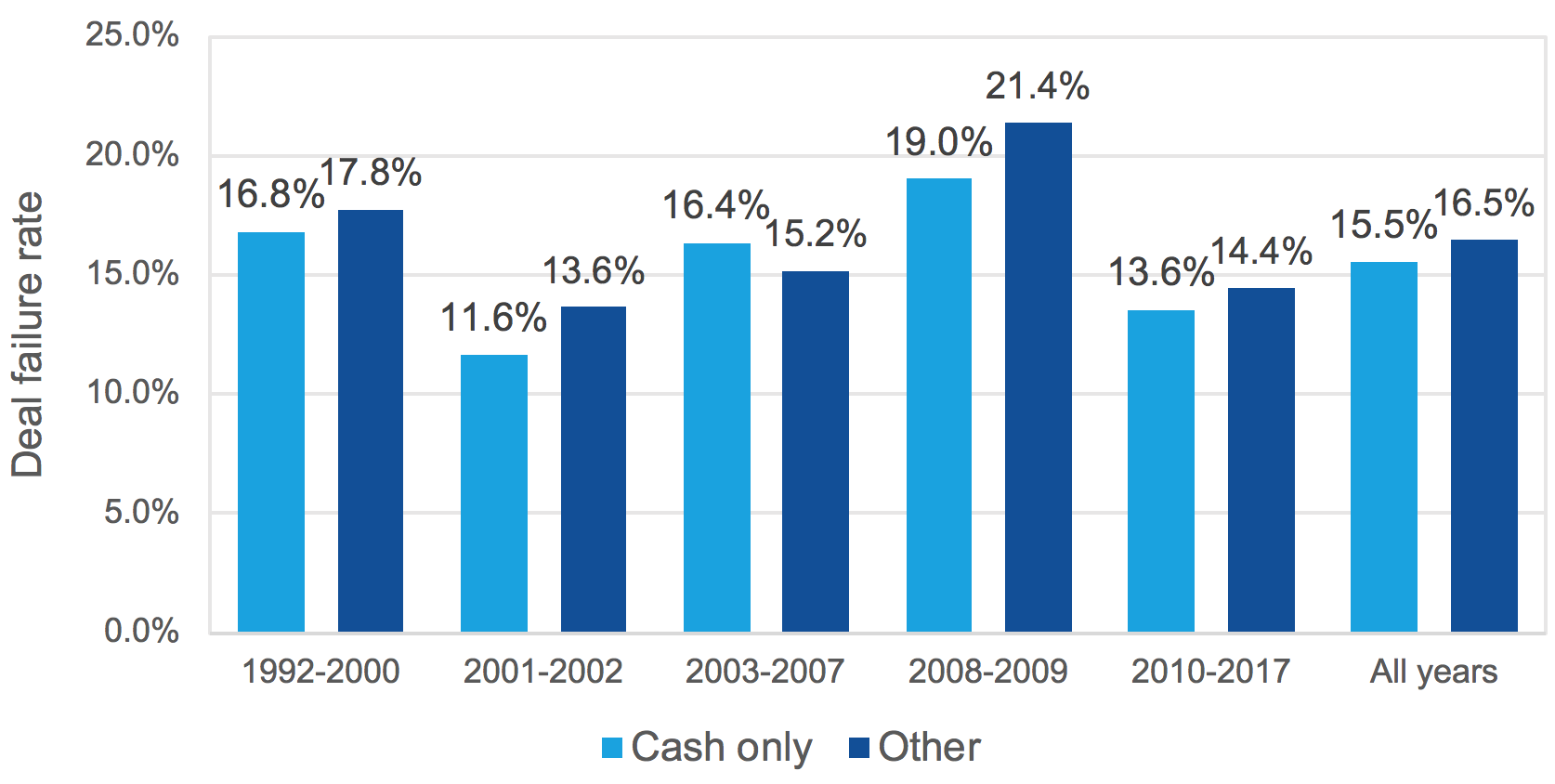 PUBLIC TARGETS worldwide average deal failure rate by consideration type, 1992-2017
Target companies value the certainty that a cash offer brings, both at the time the deal is agreed and on completion. By contrast, a deal financed by equity, or partly by equity, may become more or less valuable depending on movements in the acquirer's share price. When that share price falls between the offer being agreed and the deal completing, the target's valuation effectively falls, too – and that may prompt it to reconsider the transaction. The acquirer's own shareholders, meanwhile, may also have concerns about the potentially dilutive effects on its stock; these fears will also have to be confronted.
"Deals where only cash is involved are always simpler and more straightforward," says the head of corporate development of a U.S. public company. "It is much easier to value the target, and the processes are less complex."

The head of corporate and strategic development of a Japanese public company adds, "An all-cash consideration deal is less likely to fail because it is less complicated than an equity deal."
Many of our interviewees are wary of equity-based transactions, particularly against a backdrop of political, economic and market volatility when share prices can fluctuate during months-long deal negotiations.
"Cash ensures stability in the deal valuation, which can often be the cause of disagreements. Cash is the desired method of payment in M&A and it certainly helps in successful closing of the deal," says the corporate finance director of an Australian public company.
Nevertheless, there will be deals where the buyer feels it is more appropriate to build an element of equity into the transaction structure – or has no choice but to do so. In this case, it will be important to explore deal strategies that offer some mitigation over the risks that are likely to concern target companies.
The first element, says the head of M&A of a Japanese private company, is to work hard to communicate intent and set out the value drivers for a deal in clear and consistent terms to both sets of shareholders. "Top management and key stakeholders need to play an active role throughout the M&A process and ensure proper coordination and communication. Indeed, the entire M&A team needs to communicate the strategy clearly."
More practical mitigation strategies may include building an element of flexibility into the terms of the transaction. For example, the consideration structure agreed may make use of an M&A "collar," which either fixes the consideration to be received by the target within a certain range of the acquirer's share price (fixed price collar) or allows for a minimum valuation floor or maximum valuation ceiling depending on the acquirer's share price (fixed exchange ratio collar).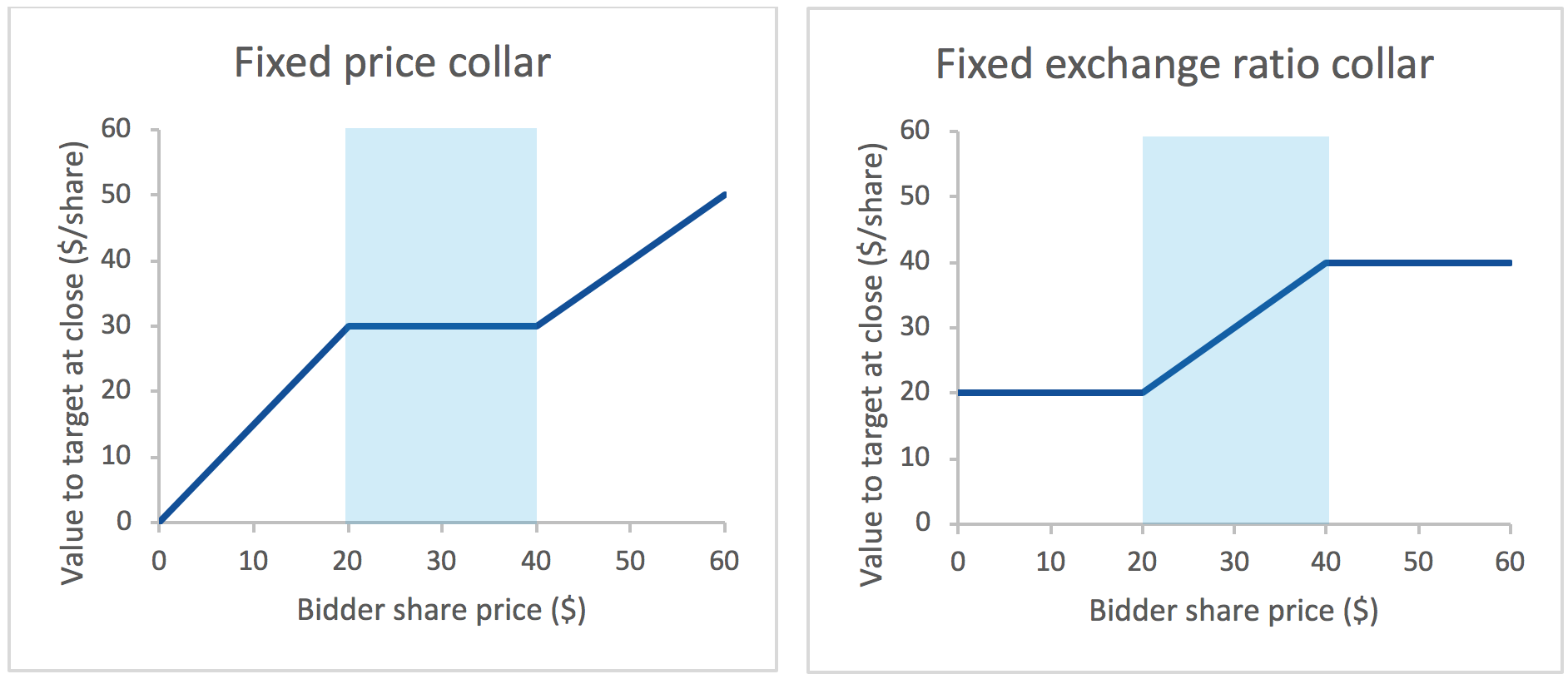 "If you can't make pure cash deals you must be creative and consider the full range of different deal structures to ensure the sellers can get their funds out," says the partner of a Danish private equity firm.
To find out more about the predictors of deal failure, and the strategies acquirers and targets can use to avoid the deal failure trap, download Abandoned Acquisitions: Why Do Deals Fail to Complete?