What We Learned at NYU Stern Fintech Conference 2018
Fintech thought leaders, entrepreneurs and provocative thinkers descended upon the third annual NYU Stern FinTech Conference. Intralinks was a proud sponsor of the event.
After opening remarks from Kathleen DeRose, clinical associate professor, finance, at NYU Stern School of Business, Matt Harris (pictured above), managing director at Bain Capital Ventures, gave an insightful opening keynote.
Picking up from his 2017 address where he related the history of venture capital in fintech, Harris related how Bain Capital thinks about sub-segments of fintech and trends in the marketplace. He also offered thoughts on the future of the industry.
Harris opened his remarks by explaining his company's "framework," an internal tool they leverage when they begin speaking with a new company. He says it serves as a starting point when they're getting to know a company's leadership.
"Our actual work is 'let's find great entrepreneurs and give them capital,' but it turns out the hard part about that is actually winning the deal. This is not necessarily the common view of venture capital, but I would say the critical success factor of all the firms we hold in high regard is that when they want to do a deal they more less get to do it. In this environment that's so fiercely competitive, with so many firms at every stage, that is really not true for the average firm. So the question isn't really so much about discernment: It isn't 'Of all the companies I've met which one is the winner?' It's about "Can I get into that deal?'"   
The conference included a pair of research sessions — "Financial Innovation via Machine Learning and Blockchains" and "ICOs and Crypto-assets" — as well as product demos presented by several startups, lunchtime table topics, and more.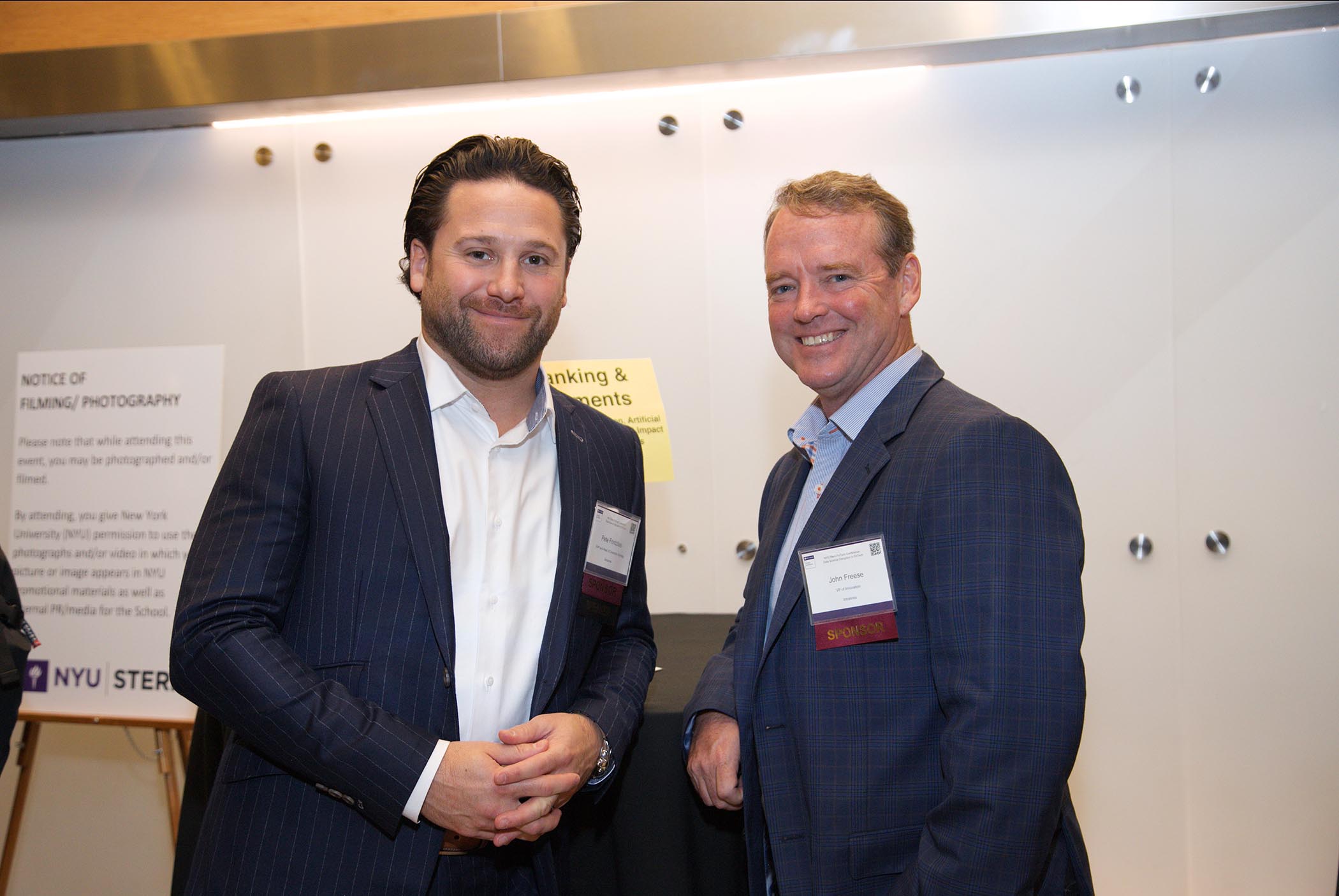 Intralinks' Peter Frintzilas and John Freese at NYU Stern FinTech Conference 2018
The evening's keynote address was presented by Adrienne Harris, chief business officer at States Title, Inc. and former special assistant to President Obama for economic policy at the National Economic Council.
"It was great to see the growing success that NYU Stern is having in this, their third annual fintech conference," concluded Peter Frintzilas, senior vice president, head of corporate strategy at Intralinks, an NYU Stern Business School alum who attended the event. "The wide mix of academia, entrepreneurial, professional and financial participants is validation of both the growing importance of this technology sector, and New York City as one of its epicenters."