What Does the Future Data Economy Look Like?
Successfully monetizing data and product management requires navigating critical social, political and ethical issues.
As more companies transition from products to knowledge services to unlock the promise of the future data economy, a growing spectrum of buyers and sellers of data are asking the same question: What does the future look like?  
Developing new opportunities in data monetization and commercialization was the topic of the day at Outsell DataMoney Conference, a networking event for senior execs and innovators held on February 7 in New York City.
John Matchette, managing director at Accenture Digital, spoke about the paradigm shift during his opening keynote, "Creating Value in the Digital Economy."
In a compelling talk that explored the drivers of innovation today, Matchette said that information has become the new basis of competition, surpassing how physical product innovation was previously viewed. 
To underline his point, Matchette surfaced a staggering (but not surprising) statistic: In 2018, 8 of the top 10 public companies were data driven. It's a huge leap from the pre-FAANG (Facebook, Apple, Amazon, Netflix, and Alphabet's Google) era. Only a decade ago the largest public firms were a mix of market-leading industrials, conglomerates and telecoms. Matchette also talked in depth about the susceptibility of companies to future disruption, ways to respond and the path to accelerating growth.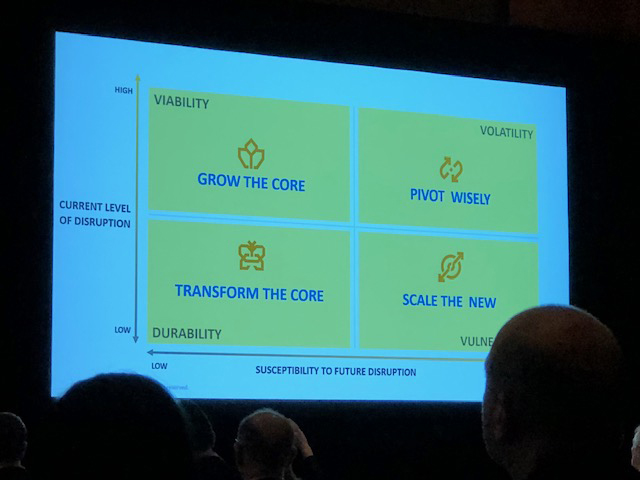 During "Cultivating Talent for the Data & Product Mindset" Dan Olley, global EVP & CTO at Elsevier, discussed how the digital revolution is blurring the line between the human and digital worlds. Machine learning algorithms are able to look at voice, vision and facial recognition, and it's already making a profound impact. Olley said data is the new currency, and we have to act responsibly with information that is collected.
His sentiment dovetailed with "Future-Proofing With Data Ethics" by Sheila Colclasure, SVP, global chief data ethics officer & public policy executive at LiveRamp, who gave a thought-provoking closing keynote.
A renowned leader in data ethics, Colclasure spoke about the ethical importance of data protection and data management. She pointed to the confluence of connected cars, smart cities, wearable tech and smart homes to show that data-driven technology is more than a fleeting trend — it's already embedded in our lives. Billions of interconnected interactions between people, businesses and devices/things will only make the playing field more complex.
Data, which The Economist dubbed in 2017 as the oil of the digital era, is fueling the digital revolution. Methodologies are needed to prevent misuse and potential harm to individuals and organizations.
Colclasure, who is working closely with politicians, regulators, policymakers and ethical boards to craft public policy to get data policy right, shed light on potential threats and risks. The fact that artificial intelligence can consume and manipulate data to tell any story or run prediction models to determine when you're most vulnerable brings to light the sobering reality that technology has both solved problems and created new ones.
The takeaway from Outsell DataMoney is that data is driving change in a fast-paced, borderless world. Those at the forefront of the seismic shift in the business of data and information are positioned to obtain growth. If they do so correctly and ethically, then they will have a competitive advantage, according to Colclasure. They'll be seen by customers as a trusted and transparent partner, enabling innovation, speed, durability and enterprise success.
Image by Pete Frintzilas