What We Learned at Private Placements Industry Forum 2019
Despite predictions of potential headwinds, the consensus at PPIF is the private market remains resilient. 
The Intralinks team attended the Private Placements Industry Forum 2019 (PPIF) in Hollywood, FL. This year I was fortunate enough to have conversations with banks and investors alike regarding the state of the economy and the U.S. Private Placement (USPP) market. Hearing what is important at the first conference of the year helps set the tone for 2019.
The big question: Will there be a recession?
I attended the keynote address presented by Megan Greene, chief economist of Manulife Asset Management, who provided insight into the various narratives circulating about where we are in the business cycle. No matter how they story is told, the data predicts a U.S. recession; opinions only differ about when and how severe. 
Will a slowdown come in the next 6, 12 or 24 months? Greene cited these variables impacting that prediction:
Brexit was top of mind during the PPIF 2019. In the video interview below filmed on the final day of the conference, I spoke with my colleague Dan McKenna, sales manager, debt capital markets, about how global clients are preparing for Britain's separation from the European Union on March 29.
2018 was another strong year for the USPP market  
At "The State of the Industry Debrief," presented by Bank of America Merrill Lynch (BAML), I learned that, because 2017 was a record year for the private placement market, no one thought that 2018 would be the second largest year by issuance volume at $67 billion. There was a continued trend of mega-deals, with 14 deals above $750 million and eight deals above $1 billion. Mega-deals above $750 million accounted for 24 percent of all deal volume. 
Additional noteworthy topics the panel discussed were:
USPP market was more active and resilient than other markets during the volatility experienced in Q4 2018
Credit spreads widened slightly in 2018, with NAIC-1 deals at 8 bps wider and NAIC-2 deals at 3 bps wider
Deal count decreased by 30 percent YoY, but deal sizes grew
Utilities, infrastructure and real estate issuers were 50 percent of market issuance
The average deal maturity was ~13 years
M&A environment drove volumes
Rate volatility meant fewer long deferrals
Non-USD issuance remained important for issuers
Conclusion
PPIF 2019 confirmed the private placement market's resilience. Even in the current environment with speculation of an impending recession, the outlook is still generally optimistic in terms of issuance relative to the public markets.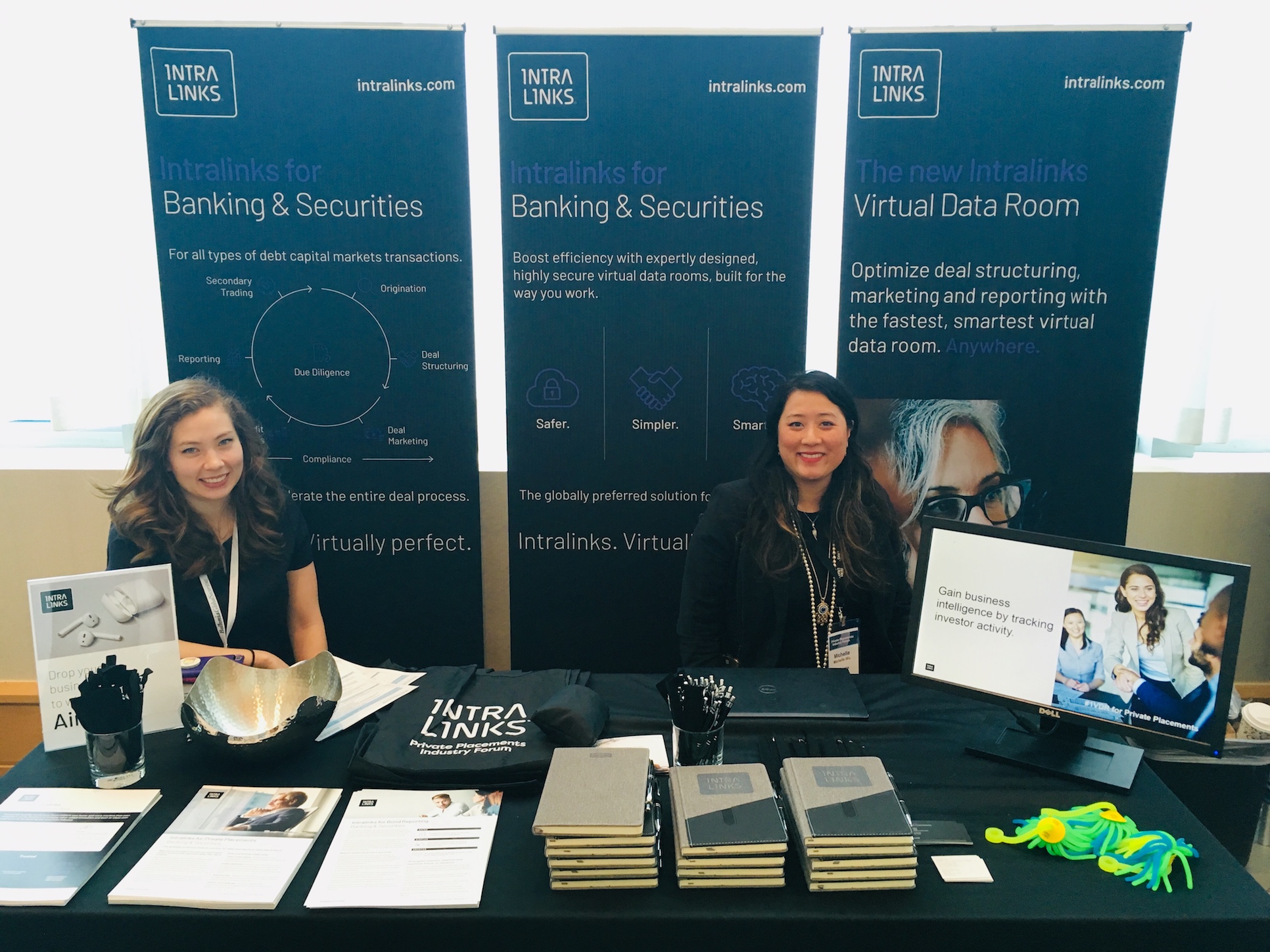 (L-R) Aiko Suyemoto, senior Associate, product marketing, and the author holding court at Intralinks' booth at PPIF 2019. Image by Dan McKenna.