ACG SF M&A Conference Panel Recap: "M&A Deal Execution: Friend or Foe – Strategic and Financial Buyers"
Veteran practitioners with strategic buy- and sell-side experience provide insight into doing M&A deals involving private equity.
At the ACG M&A Conference held earlier this month in San Francisco I had the pleasure of moderating "M&A Deal Execution: Friend or Foe – Strategic and Financial Buyers," a panel discussing the activity of private equity (PE) firms. The panel consisted of Tom Carhart, former SVP of strategy and corporate business development at Polycom; Veena Avadhanam, principal, corporate development officer at NetApp; Bill O'Such, strategy partner at Momenta Partners; and Anthony Woolf, VP corporate development at Imperva.
Since each of the panelists had experience working with PE firms, we started things off with the simple – but loaded – question: Should a corporate consider private equity a friend or foe? The short answer? It depends. Bill O'Such noted that PE firms can move fast so when a corporate wants to divest part of the company that is no longer strategic, a PE buyer can be a good solution.
A convergence of competition
The general consensus was that PEs are shrewd, focused and driven to generate returns for their investors. Tom Carhart talked through Polycom's experience with Siris Capital (full disclosure: Siris Capital are former owners of Intralinks). Siris specializes in taking companies with a legacy position through a transformation. They can protect cash-generating assets while identifying growth areas. Siris really drove the Polycom transformation and that resulted in a fantastic return for Siris in under two years.
Anthony Woolf made a further distinction between PE and corporate buyers. PEs have a strong financial focus to any deal they look at. They are rational and have little or no emotional attachment to a deal. Corporates are additionally focused on pressing strategic factors and that can impact the buying rationale and process.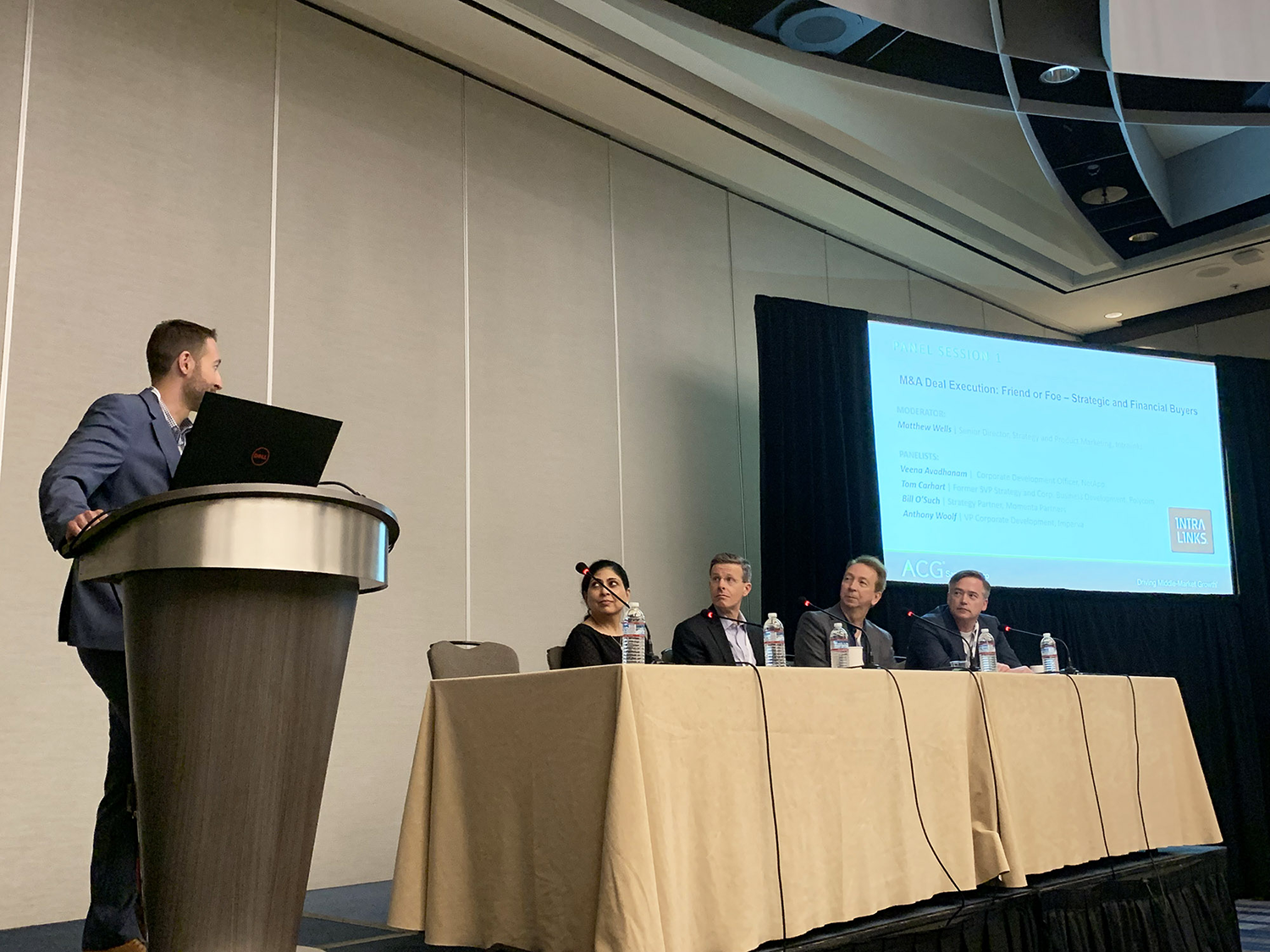 (L-R) Intralinks' Matt Wells joined by panelists Veena Avadhanam, Tom Carhart, Bill O'Such and Anthony Woolf
Veena Avadhanam focused on whether, as a corporate, you would sell to another strategic/corporate buyer or a PE firm.  A strategic buyer is more likely to be long term invested in the acquired business, and hence the Seller can expect a "safer home" but there's also an underlying risk of corporate politics. For corporate buyers to create synergies from an acquisition, they may need to risk cannibalizing an existing product, which they may not be willing to do for emotional reasons. PE firms are more cut-and-dry due to their rational and focused approach. As a seller to a PE firm the argument can be made that you are more certain of what you are getting.
The discussion also centered on the current market environment. We've been through a period of consistent increases in valuations. That has been accompanied by huge amounts of dry powder in the market. This has led to a convergence of PEs and strategic corporates competing for the same assets and naturally the concern is whether PEs can create enough value to justify the acquisition.
The panel pointed again to the discipline and rationality of PEs. Unlike a lot of corporates PEs have the ability to separate themselves from emotion. They can make hard decisions and rarely procrastinate. Even though corporates might hold a competitive advantage as they have established go-to market channels and expertise, they may lack the PE DNA. That DNA includes being able to set aside emotion and hold hard conversations on a continual basis. As Tom noted, there's a reason PE firms consistently outperform.
Veena came to the defense of corporates by noting that not all PEs are created equal in terms of execution, indicating that corporates can leverage their brand equity and distribution clout to create deal synergies that could allow them to outbid the PEs. She also suggested that PEs have been able to enjoy and exploit the favorable macroeconomic conditions of the last several years.
PEs have also become better at leveling the playing fields on the synergy front. The panelists agreed that PEs are now employing more combinatorial strategies, working in concert with the whole portfolio.
The cultural divide
For the final part of the panel discussion the attention turned to cultural differences between PE firms and corporates. The overarching sentiment was that people typically know what to expect with PEs. There is an acceptance that PE ownership brings financial discipline, a constant focus and often a three- to five-year time horizon. The incentives are structured to bring everyone in line with objectives that might fit the lifecycle of PE ownership. It's a highly driven culture where PE firms lean on their financial and business transformation acumen. While a publicly held corporate needs to focus on quarterly results, PE firms can make harder decisions that might seem radical in the short term but drive long-term results.
I walked away from the panel with the impression that we are living in a bright moment for private equity. While there are more dollars chasing certain opportunities, the macroeconomic environment is still very favorable for dealmakers. In a disruptive world where the lifespan of a public company is ever shrinking, the clear vision, tight ownership cycle and unemotional focus of a PE firm may be winning over.
Additional reporting by Intralinks' Torben Rankine
Matthew Wells
As Intralinks' vice president, product marketing, Matt Wells is a key member focused on the development and go-to-market strategy for Intralinks' M&A business which includes our virtual data room and deal lifecycle solutions. Matt joined Intralinks in 2012 upon the acquisition of PE-Nexus, a company he co-founded in 2010 that pioneered the concept of online deal sourcing and buyer identification. Before PE-Nexus, he was a vice president at Cross Keys Capital, a boutique advisory firm, where he focused on middle-market M&A transactions.