Power On: Renewable Energy M&A Activity and Valuations Heat Up in the U.S.
City and state legislation and initiatives, innovation, and a desire by tech and energy giants to enter the market, are driving deal activity and valuations in the sector.
To say that it's an exciting time for the renewable energy industry would be an understatement in light of continual technological advancements and increasing demand from consumers seeking reliable and eco-friendly forms of energy.
As state and local governments in the U.S. continue to incentivize clean/renewable energy and battery storage, the industry will be led first by technology companies looking to lower their carbon impacts, then by mergers and acquisitions (M&A) by both legacy producers wishing to diversify their portfolios and specialized renewables players aiming to bring in partners to accommodate their non-core competencies.
The promise of naturally replenishing energy
Let's define the energy we're discussing. While geo/biothermal and hydro energy certainly play a role in the industry, as shown in the chart below from the Energy Information Agency, the largest and most consistent growth in megawatt hours (the measure of energy output) has been in solar/wind energy; and this trend is projected to continue moving forward.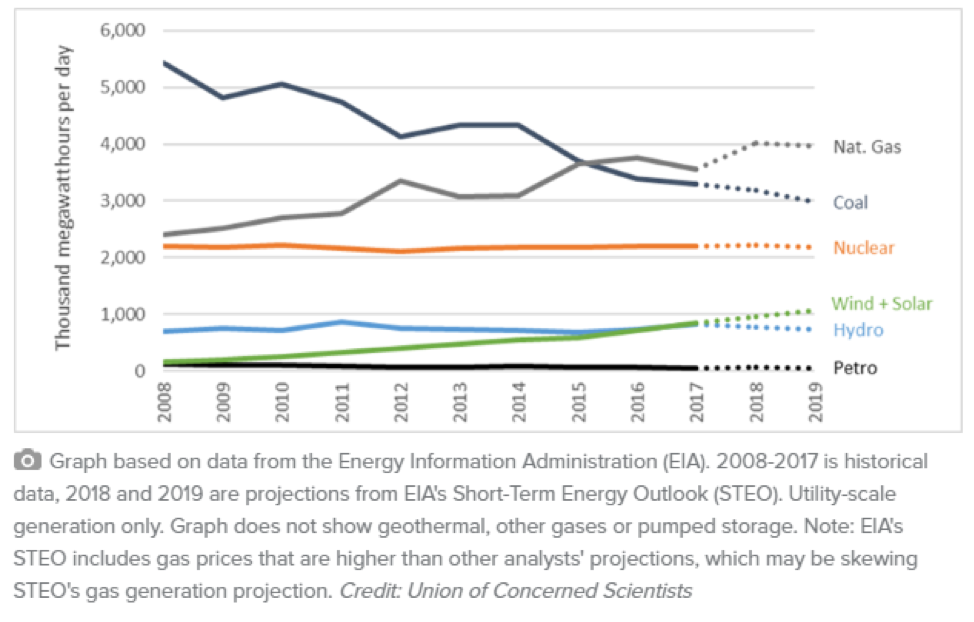 Additionally, battery storage designed to retain and distribute energy from the above renewable projects has become increasingly affordable, with average costs per megawatt hour dropping by 80 percent since 2010. This is mirrored by government regulation incentivizing storage so long as it's coupled with renewables projects (see acts such as the Solar Investment Tax Credit, allowing a 30 percent tax write-off for both commercial and residential projects.
Big tech is disrupting the space
As you might expect, technology has already led the way in renewables investments. In March Microsoft partnered with Chicago-based Invenergy to construct The Wilkinson Solar Energy Center in North Carolina, a project providing a 15-year power purchase to the tune of 74 megawatts. This represents Microsoft's fourth such power purchase agreement and "will bring Microsoft's total renewable energy portfolio to more than 1.3 gigawatts."
Amazon has mirrored this commitment to clean energy — despite not reporting its carbon footprint to the Carbon Disclosure Project — with programs such as its Shipment Zero goal "under which the company aims to have over 50 percent of all deliveries reach net zero carbon emissions by 2030." The company also runs a number of renewable plants itself including a massive wind farm in Scurry County, Texas, aptly named the Amazon Wind Farm, with over 100 turbines creating enough energy to power almost 90,000 U.S. homes.
With tech companies leading the way, major oil and gas companies are set to follow. As we move further down the hype curve, renewables' risks/returns become clearer, and I believe the energy industry in the immediate future will be led by M&A. Government regulations and incentives will create more palatable returns on renewables investments, bringing historically hesitant majors to the trading table.
We're already seeing utilities companies taking this first step. National Grid, one of the largest publicly owned utility providers in the world, acquired Geronimo Energy for $100 million in March 2019, with additional payments for ensuing solar projects developed by the solar company. National Grid issued the following statement by Badar Khan, president of NGV, about the acquisition:
"National Grid is committed to the evolution and decarbonization of our energy system. Renewable power, such as wind and solar generation, is a core component of the future energy system. Strong, ongoing growth in renewable energy is fueled by robust demand and underpinned by significant reductions in the cost of renewable technologies, often making wind and solar generation among the cheapest forms of energy for consumers."
Favorable political winds
California, New Jersey and New York have already passed legislation/executive orders aimed at 100 percent "clean" energy within the next 30 years. Hawaii has gone a step further by pursuing a 100 percent renewable agenda. Illinois is poised to become the first mainland state to pursue a similar strategy, introducing the Clean Energy Jobs Act early in March 2019.
According to energy consultancy Wood Mackenzie, "The 22 percent return on equity investment for North American onshore projects dwarfs the 5 to 7 percent return on solar projects and the 7 to 9 percent return on wind projects with guaranteed revenue. But renewables can compete with returns on exploration, downstream projects and upstream merger and acquisition investments."
What does the future hold for this industry? Plenty. It's likely that as government incentives improve the bottom line for these projects, we'll see historically hesitant O&G companies put their dry powder to use in joint ventures, partnerships and wholesale acquisitions to extend their portfolios for the future.
Stay IN the know: Sign up for our INsights newsletter for must-read market analysis and thought leadership, delivered right to your inbox.
Kyle Souders
Kyle helps corporate development, legal and finance teams on the West Coast to facilitate and secure their deal sourcing, M&A, and post-merger integration activity. He has experience working with West Coast corporations to build out strategies around big data analytics, distributed systems and machine learning at scale.