Structured Finance, We Meet Again.
Coming off a summer cycle of historic expansion, there was an atmosphere of engagement and open-mindedness at SFIG's annual conference in Las Vegas.
In late February, I — and more than 7,000 attendees at the ARIA Resort & Casino in Las Vegas — had the pleasure of being among the Who's Who of players in the Structured Finance industry.  
SFIG, the Structured Finance Industry Group, is billed as "the world's largest conference for capital markets." Every brand of professional has a presence, from all of the largest global banks to all of the largest global law firms who structure these deals, all the way down to the tech providers like Intralinks who help enable the ecosystem. This year, Janet Yellen, former Federal Reserve Chair, was a keynote speaker. 
What was the mood? While I wasn't in attendance in 2009, it's safe to say the atmosphere years later is like night and day. Back then, it was filled with doom and gloom, as we were coming off of the credit default swap crisis.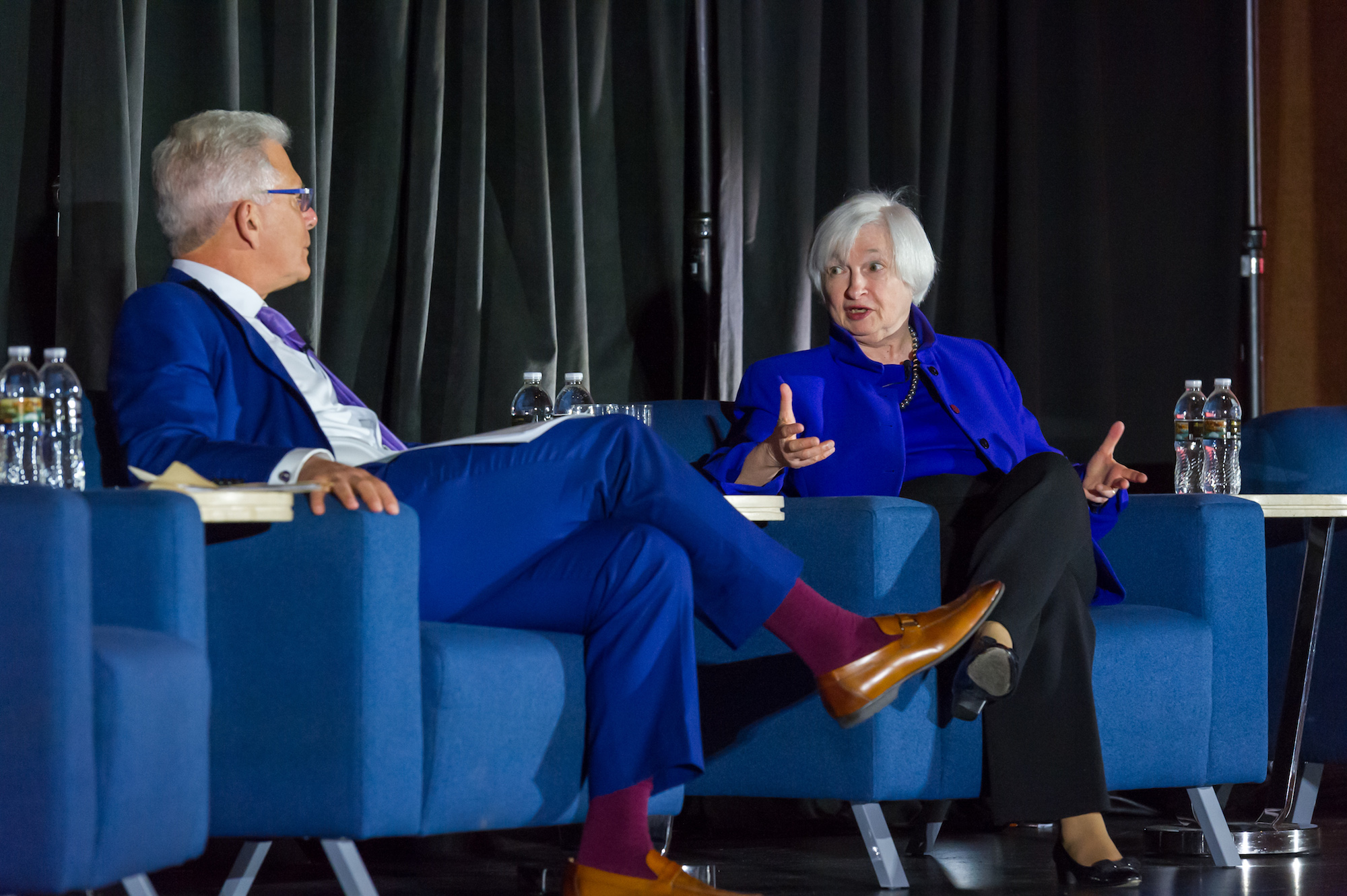 Former Federal Reserve Chair Janet Yellen in conversation with Reed D. Auerbach, partner at Morgan Lewis & Brockus LLP.
Not this time. No "Market's going to crash." No "We're all screwed." Asset securitization is coming off a summer cycle of historic expansion. There was an atmosphere of engagement, knowledge-sharing and open-mindedness.
I'm a technologist at heart so I gravitated toward sessions on how technology will continue to play a significant role across the structured finance industry. I was encouraged to see several sessions focused on how technology is improving origination, underwriting and investing.
As expected, the use of blockchain technologies continues to be a popular subject. It was interesting to hear various panelists' views on how transaction lifecycles are different in a digitized offering. AlphaPoint's perspective on blockchain's benefits for ABS (smart contracts, security tokens, etc.) was a most insightful session.  Opportunities abound, but there are still risks with regard to governance and unknown regulatory postures.
Eric Wiedelman, managing director at J.P. Morgan Securities LLC, spoke with Lending Club CEO Scott Sanborn for "CEO Roundtables" at SFIG 2019.
I got a good glimpse into the current role of big data and machine learning across Asset-Backed Securities (ABS) markets. There are several pros and cons to traditional vs. machine learning approaches to predictive modeling, and it was interesting to hear the debate amongst the panelists and "modelers" who attended the session. The particularly eye-opening discussion expanded the audience of those who need to consider the tradeoffs. It's not just modelers – machine learning is important for analysts, traders and portfolio managers to be involved as well.
For Debt Capital Markets (DCM), I saw the many different types of assets that they're securitizing in structured finance. And, appropriately enough, there were lots of sessions on each at SFIG. 
This is where it gets exciting for us at Intralinks. We're actively investing in data analytics and artificial technology right now.
Intralinks for M&A's customers are already realizing the benefits of this investment with our M&A Insights Dashboard which helps them quickly assess potential buyer activity and focus in the right places. 
We have a strong culture of innovation and have already had ideas, designs and prototypes specific to applications of blockchain come through our labs. It's exciting to think about how our investment here will help our customers in the structured finance world as we bring these ideas to our Intralinks for Banking & Securities portfolio and help companies Be a Better Borrower.
I left SFIG with a sense of optimism. There's great opportunity for technology to keep building a strong ecosystem for structured finance. Everything I saw and heard indicated that technology solutions not only remain important in areas like DCM, but all across the capital markets community where bankers and corporates continue to look for innovative ways to do business. 
Images courtesy of SFIG
Stay IN the know: Sign up for our newsletter for must-read market analysis and thought leadership, delivered right to your inbox.
Todd Partridge
Todd Partridge is Vice President, Product Marketing at Intralinks. He has broad industry experience in the enterprise information management (EIM) space, with deep expertise in all trends and technologies related to information governance, enterprise content management, document management, web content management, business intelligence, team collaboration, e-mail management, and enterprise records management practices. In his previous role at OpenText, Todd held several global positions ranging from sales, marketing, product management, positioning and strategy.