M&A Conference 2019 Panel Recap: "Dealing with Leaks … Leaking Deals"
Leaking information about a transaction is a big no-no. While our research shows that leaks are in decline, some sectors and regions remain leaky. Intralinks' Matt Porzio discussed the topic with a panel of M&A industry veterans from Salesforce, Square and Broadcom at Wharton San Francisco.
According to lore Jeff Bezos famously threatened to nix Amazon's $13.7 billion acquisition of Whole Foods if news of the transaction leaked. It didn't. While many subscribe to the notion that if you run the right process you shouldn't have to leak a deal, those of us in mergers and acquisitions (M&A) will likely find ourselves wrestling with this conundrum and asking the age-old question: Why do deals leak?
At the Transaction Advisors M&A Conference held in March at Wharton San Francisco, I had the pleasure of moderating "Dealing with Leaks … Leaking Deals," a lively panel discussion featuring M&A industry veterans Shahzia Rahman, governance and securities counsel lead at Square; Didier Vandenbroeck, director M&A Security at Salesforce; and Connie Chen, head of M&A legal at Broadcom.
Intralinks' recent research conducted with the M&A Research Centre at Cass Business School in London looked at M&A transaction data for announced deals during the period January 1, 2009 to December 31, 2017. Overall, the data indicates that by country and sector leaks are on the decline globally. However, certain regions like APAC and sectors such as technology are "leaky."
Figure 1. Percentage of worldwide M&A deal leaks, 2009-2017. Source: 2018 Intralinks Annual M&A Leaks Report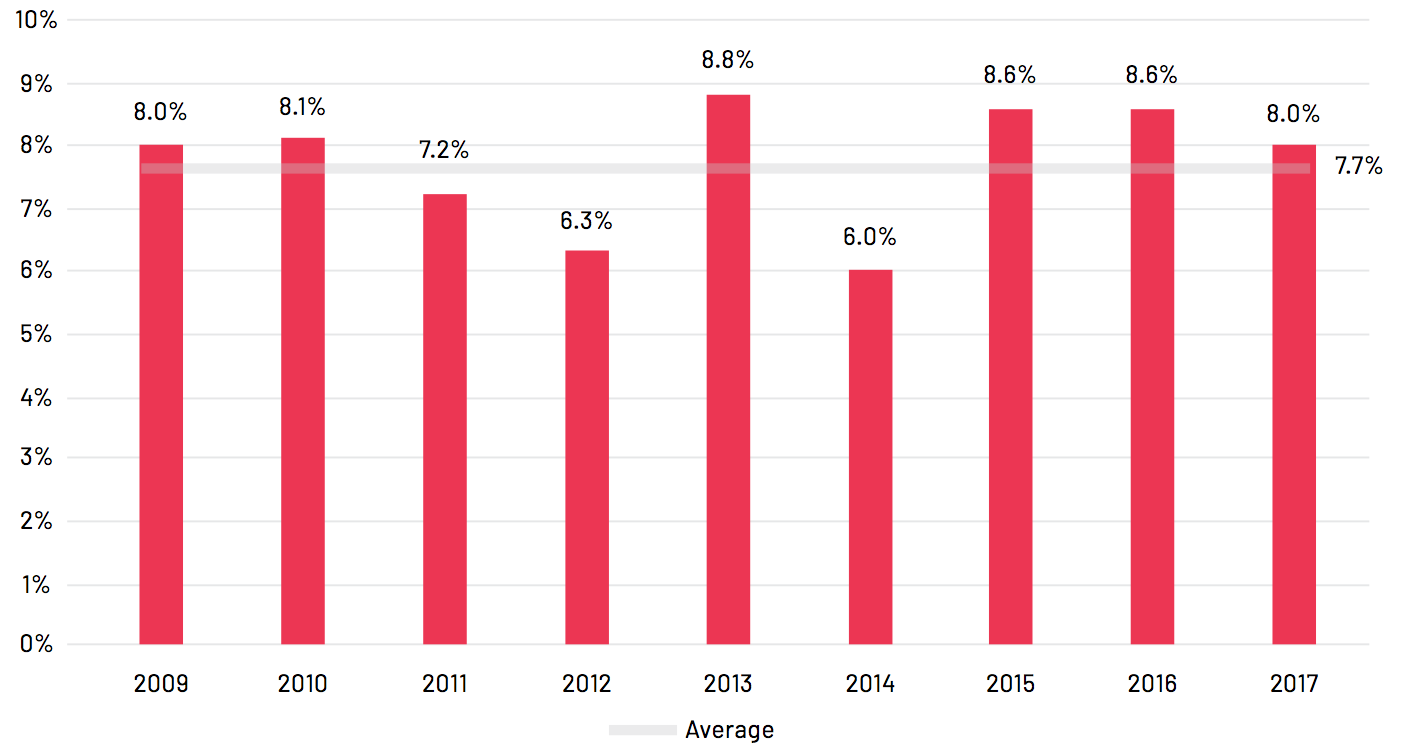 Unintentional vs. intentional leaks
Shahzia Rahman, whose company's robust pipeline of acquisitions include food delivery service Caviar and eCommerce website Weebly, began by sharing an anecdote about having a potential leak toward the end of the process of a transaction earlier in her career. Fortunately, it didn't affect the outcome and "drove us to get to the finish line."
Didier Vandenbroeck said he sees leaks within the industry in the later stages of a deal, often after the term-sheet. The M&A group at Salesforce is large — about 70 to 80 people — and he said that great pains are taken to keep transactions quiet.
All of the panelists utilize controls to prevent unauthorized leaks from happening. 
Didier noted that unintentional leaks offer the risk for the most exposure. His advice is to limit the size of the deal team to prevent the accidental sharing of information.
Shahzia relayed a myriad of ways in which information about a deal can be unknowingly gleaned — everything from a personal assistant who has access to a dealmaker's emails to a deal team's behaviors. Pro tip: Remember that meeting room calendars can be viewed by the entire organization so don't block out time for the deal team to meet about Project X.
Social media is often a channel for unintentional leaks, namely posts on a business trip with geotags on photos. Didier shared the example of traveling with a large team to Berlin when his company doesn't have an office there. This could raise suspicion and fuel rumors.
"Is [a social media post] enough to break a deal? Probably not," Shahzia said. "But it's enough to put together a bigger picture. I think people need to be thoughtful about their [digital] hygiene." All of the panelists agreed that this is where advisors can be of particular help.
Figure 2. Percentage of M&A deal leaks by region, 2009-2017. Source: 2018 Intralinks Annual M&A Leaks Report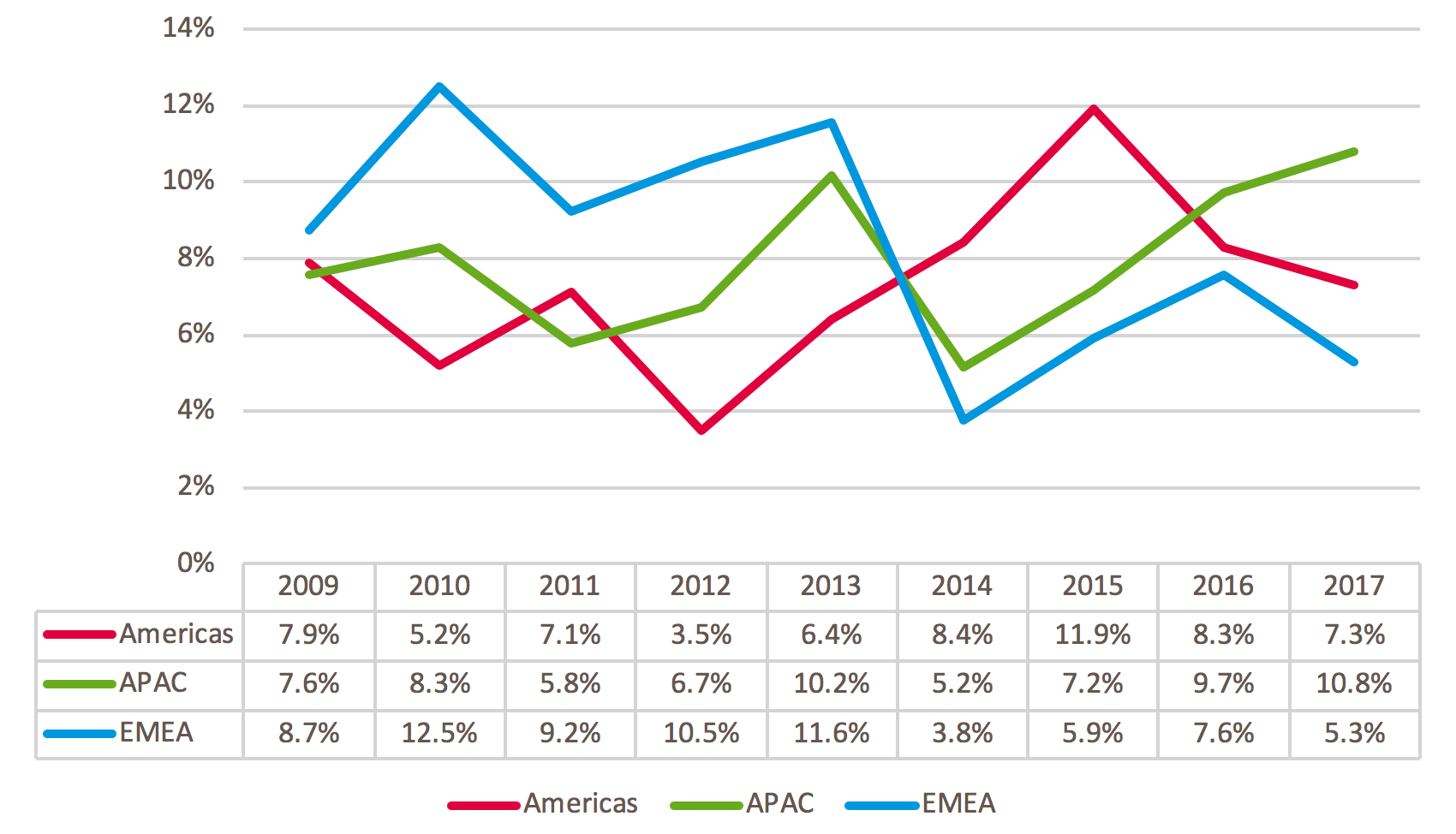 Risk and consequences
Those on the buy- or sell-side who intentionally leak to drive up the deal price, expedite a transaction, or create competitive tension to raise the valuation can face a rude awakening. Bankers have been fined by U.K. regulators for leaking M&A deals. The overriding consensus of the panelists and attendees is that leaking information isn't worth the reputational risk.
The audience even chimed in and brought in an amazing new perspective, relating how some companies are attempting to curb the bad behaviors of overzealous advisors and their deal counterparts as well. These confidentiality-focused corp dev teams are stipulating in the engagement letters and NDAs that parties must not leak deals or face possible penalties, reduced fees, lower purchase prices and specific legal actions.
One other learning is, that if a deal in progress does become public, saying "no comment" is the best course of action, especially when it comes to public deals.
My sincere thanks to Shahzia, Didier (watch the video of our brief post-panel chat below) and Connie for an illuminating conversation. I invite you to learn more about our research by downloading Intralinks' leaks report here.
Stay IN the know: Sign up for our INsights newsletter for must-read market analysis and thought leadership, delivered right to your inbox.