Recap: "Why M&A Deals Get Leaked?" Presentation at Mergermarket Japan M&A Forum
Intralinks' Yusuke Kurihara discusses his presentation to Japanese dealmakers about key findings from our recent research on global M&A deal leak trends.
Earlier this month I spoke at Mergermarket's Japan M&A Forum 2019 about Intralinks' latest research on global mergers and acquisitions (M&A) deal leaks. The one-day event of panels and networking held at Conrad Tokyo in Shiodome was attended by about 300 M&A professionals. In Japan alone, thousands of M&A deals are conducted every year, so the attendees were intrigued by the topic. Interesting fact: According to Intralinks' findings, Japan was among several countries — including India, the U.S., Australia, the U.K., France, Germany and South Korea — where M&A deal leaks declined in 2017.
I began my talk by presenting an overview of the 2018 Intralinks Annual M&A Leaks Report, a study Intralinks conducted with the London's Cass Business School, where researchers reviewed global public M&A deals announced in the nine-year period from January 1, 2009 to December 31, 2017. The results were that an average of 7.7 percent of the 7,201 deals sampled during the period were suspected of being leaked, indicated by signs such as unnatural stock price movements prior to the deal's announcement.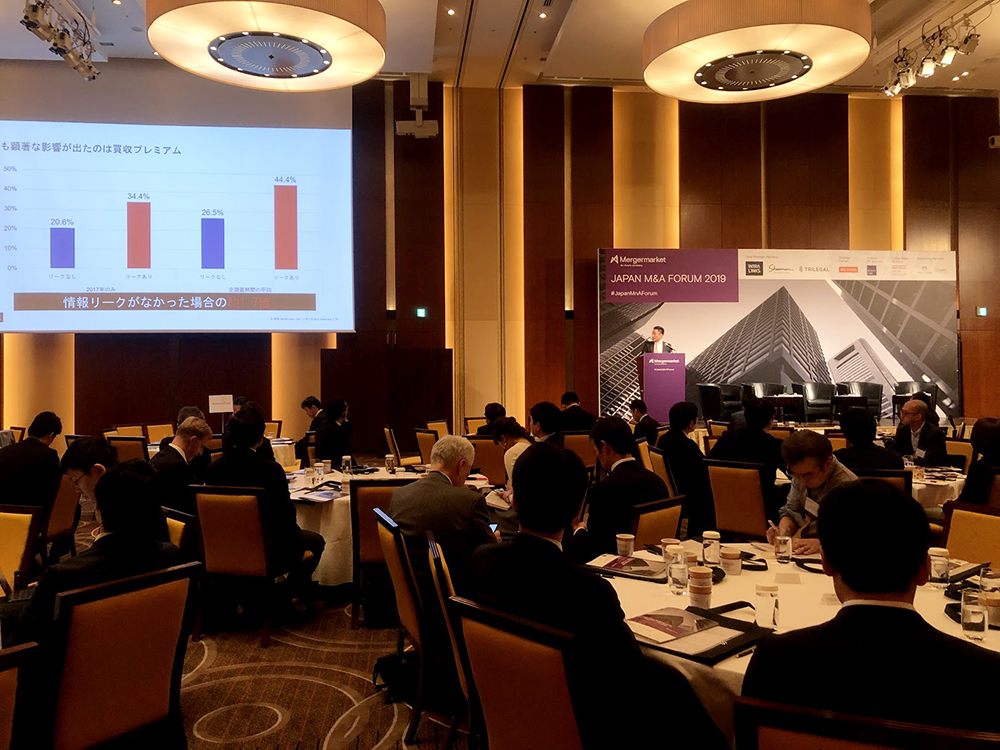 Sellers always want to expedite a transaction and have it close at the highest price, and many believe deal leaking can increase competition among buyers and drive the price up. But deal leaks are considered market abuse that can expose those involved to legal risk and consequences. Plus, news of deal leak can damage a company's image and market confidence.
To weigh if leaking a deal provides benefits that outweigh those risks, we used four indicators and compared leaked deals and non-leaked deals:
Does it generate a higher takeover premium?
Does it attract more potential buyers due to rival bids among companies that are considering acquisition?
Does it shorten the lead time from deal announcement to completion?
Does it contribute to higher deal completion success rate?
Overall, the dealmakers in the room appreciated the research, commentary and perspective in the report. You can download your copy of the 2018 Intralinks Annual M&A Leaks Report here.
Stay IN the know: Sign up for our INsights newsletter for must-read market analysis and thought leadership, delivered right to your inbox.
Yusuke Kurihara
Yusuke Kurihara joined Intralinks in 2014. As a sales representative, he works with major foreign investment banks and promotes Intralinks' SaaS solutions to enable the exchange, management and control of documents and content between organizations securely and compliantly, maximizing productivity of deal professionals. He was promoted to the Japan Sales Team Lead in 2017. Prior to joining Intralinks, he was a sales representative at Bloomberg. He has nearly 10 years of experiences in software industry, working in Japan and Australia.