At Last! Dealmakers Can Now Market Their Next M&A Deal Without Doing Tedious, Time-Consuming Manual Work
Announcing a single solution that will transform and streamline your deal-marketing process.
Bringing an M&A transaction to market is simultaneously one of the most exciting and daunting milestones of the mergers & acquisition (M&A) lifecycle. Attracting potential acquirers can't be done without taking the foundational steps of sending out teasers, managing the non-disclosure agreements (NDAs) process, distributing confidential information memorandums (CIMs), and tracking every step of the process.
Having worked on the sell-side I can attest that putting together the initial email blast of teasers can take hours to assemble and launch. It entails crafting and sending a similar message to a list of select recipients and re-sending emails that have bounced back. After the email is deployed there are always those nagging questions that arise almost immediately after you've hit the send button. Did that target get my email?
What's more is that you're performing these time-consuming and repetitive tasks manually and they're inherently error-prone since they rely on a human-based process. As efficient and reliable as investment bankers are while working long hours under stress, mistakes – hopefully ones that aren't big enough to sink a deal – are bound to happen. And if there's anything I've learned it's that time and surprises kill all deals.
To help reduce friction for dealmakers during the deal marketing stage of the pre-due diligence process, Intralinks is bringing a tech-based solution to the market. It offers efficiency and transparency for the deal team while maintaining the high-touch elements we cherish in M&A.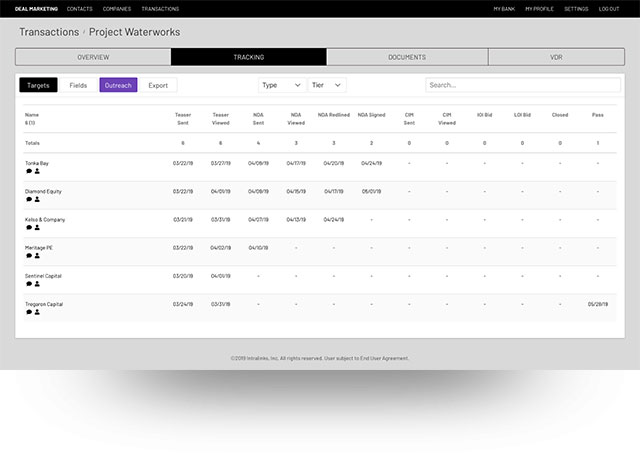 (Above) Intralinks' Deal Marketing platform helps you organize and manage distribution of teasers, NDAs and CIMs — and opens a clear path to your best buyers.
By keeping key parts of your current process ­– everything from personalized outreach and sending communication from your current email platform to sending process documents from initial launch through transaction close – we've removed the potential for costly human error. Now your team have more time to focus on what's most important during the crucial early days of a deal.
How it works
When documents are sent through our platform it creates tracking logs automatically. The benefit is that it reduces the human effort required to comb through emails to update your outreach tracker manually. Additionally, we've eliminated the mystery surrounding document views. By leveraging our platform, you know when a target is engaging with your documents.
Bottom line: Intralinks for Deal Marketing's automation tools will revolutionize how you gauge buyer interest and plan future strategy and tactics.
Future state
This is just the beginning of how our new deal marketing platform will help you drive deals without disrupting your existing workflow, thereby allowing your deal team to focus on more critical tasks, like communicating with the buyers and moving the deal process along. Watch this space for more innovation coming soon.
Stay IN the know: Sign up for our INsights newsletter for must-read market analysis and thought leadership, delivered right to your inbox.
Justin Nowicki
As Senior Manager of Product Marketing, Justin Nowicki is focused on the development and go-to-market strategy for Intralinks' deal marketing solution. Justin joined Intralinks in 2019, previously he was owner & founder of BankerBox where he focused on solutions for M&A deal marketing and management. Prior to that, Justin was a vice president with North River Capital Advisors. He started his M&A career with The Forbes M&A Group and Headwaters MB (now Capstone Headwaters).