2 minutes
Finally, a Usage Dashboard That Gives Virtual Data Room Managers Transparency in M&A Due Diligence Storage
1 August 2019
Say farewell to storage-related headaches and surprises.
eAre M&A dealmakers superheroes? Given the tight deadlines and compressed schedules they adhere to, from performing buyside due diligence to closing deals, they very well might be. In the new normal of deals moving at breakneck speed, every moment counts as teams perform herculean tasks to get across the finish line. With so much going on, issues like unexpected invoices for storage overages induce challenges, as someone on the deal team must now dedicate time to determine why they're being billed since they have no idea how much data they are using.
As part of the Intralinks Insights Hub, the newly introduced Intralinks Data Room Usage Dashboard (pictured below) provides users with complete transparency of data room use and storage. Features such as a usage trend chart show managers and admins a daily breakdown of storage use by participants. There's also a detailed view on billing indicators, so managers and admins can monitor current data usage against contract terms.
At a glance, users can view:
Contract terms – quantity, contract period and billing metrics
Daily usage trends
Detailed billing indicators like 'high watermark' and 'overages'
Current usage levels
Refreshed data every 24 hours
Usage over various time periods
Oftentimes friction arises between advisors – who are expected to give guidance on the necessary level of virtual data room (VDR) storage – and clients due to limited insight in terms of page or storage count remaining in the contract. Now, with the Usage Dashboard, advisors have greater transparency into data room storage so they can inform their clients of any potential overages that would otherwise come as a surprise. Customers are satisfied because they know exactly how they are being billed, and advisors are relieved that they have one less thing to worry about.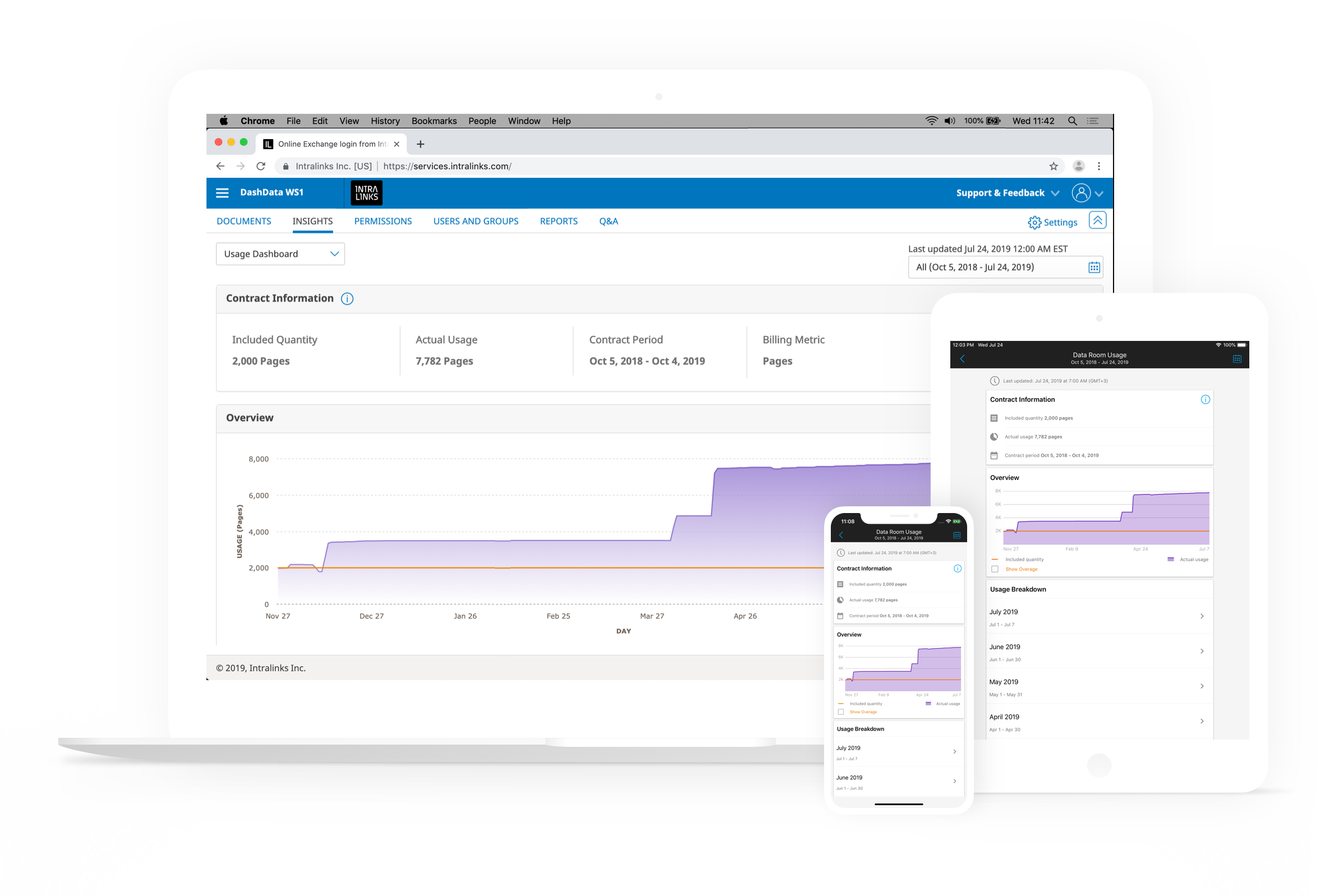 Plus, designated users can access the Usage Dashboard on the Intralinks mobile app, so they can monitor storage even when they're not in the office.
We're continuously working to empower Intralinks' users with the resources they need to navigate the virtual data room and close their deal faster. Our commitment to the customer isn't only limited to functional capabilities; we also want to keep our users well-informed so they can close their deals at record speed, in true superhero fashion.
Catalin Chitulescu
As senior product manager for Intralinks, Catalin Chitulescu is responsible for the development of products that serve the M&A business segment. In his role, Catalin orchestrates the various activities associated with ensuring that a product is delivered to meet customers' needs. Prior to joining Intralinks in 2017, Catalin worked in the e-commerce and payments space at 2Checkout. While at 2Checkout, he expanded payments capabilities by providing localized options to software companies to increase their online sales.
Sign up for our newsletter for must-read market analysis and thought leadership, delivered right to your inbox.