Is the Insurance-Linked Securities Industry on the Verge of Progress as an Asset Class? All Signs Say Yes, But There Are Still Challenges Ahead
Three key takeaways from industry experts revealed at ILS NYC 2020
Pictured above (L-R): "Creating Greater Diversity Within ILS" moderator Tom Johansmeyer with Kara Owens, Michael Millette, and Philipp Kusche
Natural disasters. Longevity. Mortality. These non-financial risks can be bundled into investment products known as insurance-linked securities (ILS). This asset class, which includes catastrophe bonds (or "cat bonds"), typically have little to no correlation to the broader financial markets and can serve as an effective diversifying class for institutional and sophisticated investors.
Having undergone massive losses resulting from the wave of catastrophes in recent years, the ILS industry is on the brink of progress. Experts and investors in insurance/reinsurance, catastrophe bonds and ILS gathered at the fourth annual Artemis ILS event in New York City on February 7 to discuss evolving ILS into a "robust, institutional quality asset class."
While the outlook for the ILS market was optimistic, many – if not all – of the speakers and panelists highlighted issues unique to this emerging asset class. Here are key themes that were apparent throughout the various panel discussions and conversations with attendees.
1. Transparency, governance, regulation
These three topics underpinned the issues facing this "relatively young industry" as described by moderator Luca Albertini, CEO of Leadenhall Capital Partners. During the first session of the day, "Creating More Resilient ILS Operational Structures," panelists emphasized the need to improve transparency and credibility with investors – from independent assessments of valuations and ILS structures; indicating specific terms of collateral release (i.e. more detail than "as soon as practicable"); to regular, post-sale reporting from brokers especially in cases where investors have claims. Panelist Andre Perez of service provider Horseshoe said the ILS market is weaker in corporate governance compared to other asset classes, perhaps somewhat owing to gaps in transparency.
Regulation remains widely divergent across the major markets. Bermuda, the largest market, is a "center for excellence" with regulations around "clawbacks" and collateral rollback. The U.K. market is not as vibrant as market participants may hope, potentially since regulators are seen as stumbling blocks. Some panelists suggested educating regulators on the nuances of and opportunities in the market may help change that negative perception.
Pictured above (L-R): "Creating More Resilient ILS Operational Structures" moderator Luca Albertini with Jonathan Malawer, Andre Perez, Jutta Kath and Tom Libassi
2. Innovation needed across the board
Innovation was a major theme, not just in terms of technological tools but also in operational structures and processes and risk transfer. During the session "Innovating Towards More Responsive Risk Transfer," moderator Joanna Syroka of ILS fund manager Fermat Capital Management guided the discussion to tackle a broad range of innovations in "…new products, new triggers, new coverages, new options, new data, new technologies, all with the aim of growing this market and making it deeper and more resilient."
Alex Kaplan, executive VP for alternative risk at AmWINS Group, said the "… (ILS) market is generally innovative on the backend but not in terms of solutions." He said that the inequality of wealth and the risks in society progress much faster than the solution the ILS industry is developing. Co-panelist Peter DiFiore, managing director from Neuberger Berman agreed, saying the industry is not creating enough solutions fast enough.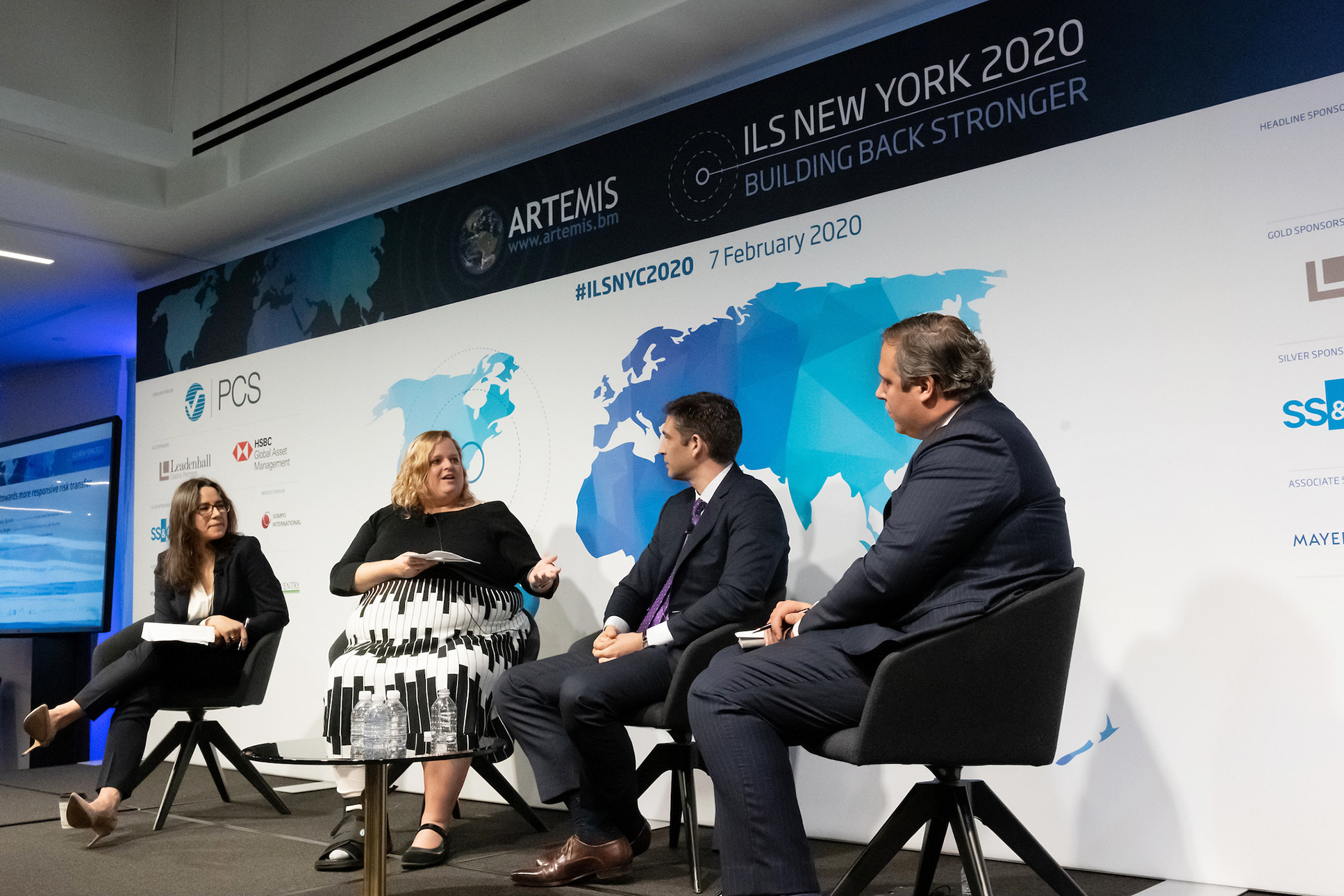 Pictured above (L-R): "Innovating Toward More Responsive Risk Transfer" moderator Joanna Syroka with Cory Anger, Alex Kaplan and Peter DiFiore
In terms of actual technological innovations, panelists at the earlier session (on "resilient operational structures") mentioned the need for tools to efficiently address the multitude of questions from and answers to investors; enable real-time portfolio management; deal with operational risk management; and make transactions faster. However, it may be that only through broad-scale adoption will the industry make strides in technology – panelist Andre Perez said "… (a lot) of our counterparts are still dinosaurs" and that it's difficult to fully utilize technologies if the dinosaurs don't follow suit.
Barney Schauble of Nephila Advisors, moderator of a subsequent session, highlighted the important role of technology tools and analytics in helping risk capital expand into and incorporate climate and weather-related exposures, which segues to the third theme.…
3. Responsible investing
Panelists at "ILS to Build a Better World" agreed there was enormous potential for the industry to improve the way of life of ecosystems and populations around the world. Michael Bennett, head of derivatives and structured finance at the World Bank, mentioned innovative ILS products in development – including one involving the conservation of rhinoceroses by modeling reproductive habits – but also noted the challenge was to convince governments and other institutional investors about the benefits of investing in risk, saying "it's very difficult psychologically to get people to invest in insurance and do it regularly."
Andries Hoekema, global head of insurance at HSBC Global Asset Management, suggested that the ILS community help this effort by "finding areas where wealth is being built such as Asia" and areas where there is enormous flood risk brought about by massive infrastructure development because "that's where insurance will be in demand... that's where the opportunity is for ILS."
Pictured above (L-R): "ILS to Build a Better World" moderator Barney Schauble with Elizabeth Yee, Jay Koh, Michael Bennett and Andries Hoekema
Conclusion
As the ILS industry attempts to bounce back from the recent period of losses – which were plagued by a wave of catastrophes and trapped collateral – there's an opportunity but also significant challenges.
Many panelists agreed that it's up to the ILS industry to overcome those obstacles while making strides forward. For example, investors need to tell the market what types of instruments they have the appetite for; asset managers need to develop products the buy-side will be comfortable with; regulators and rating agencies need to take notice of climate and other related risks; and so on.
Widespread participation and cooperation will eventually bring the industry to a point of greater tolerance and uptake of risk transfer. At an early session, Peter DiFiore said, "innovation is great, but scalability is also necessary," a sentiment that seems apropos of the entire event.
Click here to learn how our solutions increase efficiency and reduce risk in while executing your 144A transactions, traditional private placements and insurance-linked securities.
Images courtesy of Artemis
Peter Keevil
Peter Keevil is sales manager for the banking and securities segment, North America, at Intralinks. Prior to this role, he managed Intralinks sales teams covering banking and securities and investment banking for the EMEA (Europe, the Middle East and Africa) region.