General Partners Who Embrace Enhanced Reporting and Analytics Over Spreadsheets Are Future-Proofing Their Organizations
Even though technology advances have permeated most aspects of alternative fund management in recent years, the global investor community remains largely conservative in its approach to sourcing and performing due diligence on investment managers.
The 2020 SS&C Intralinks Survey produced in association with Private Equity Wire found that fewer than one in four LPs currently use proprietary ODD tools, with most still relying on traditional Excel spreadsheets.
Beyond the standard on-line data room access we provide, we typically get customized data requests including spreadsheets with specific financial metrics and additional questions addressing specific issues the LP is trying to address," comments Lucien Cipollone, associate partner at Capstone Partners, a leading global private equity placement agent.
"Some investors ask their existing GPs to submit quarterly reporting information via portals, however, we are not aware of investors asking to use their portal to provide diligence requests on a prospective GP they are evaluating."
This approach needs to evolve over the next few years as asset classes like private equity continue to attract significant investor assets. Last year, for example, private equity recorded USD 555 billion in net inflows, according to McKinsey's Global Private Markets Review 2020.
As investors deepen their relationships with private market GPs, increased scrutiny will be needed, not only at the pre-investment stage but also throughout the resulting investment lifecycle.
Technology tools vary greatly and will depend on the asset class.
Hedge fund managers trading in the deepest, most liquid financial markets are far better positioned to use next-generation technologies, which use machine learning to build trading signals in both traditional as well as alternative data sets. But in private markets, the heterogeneity and fragmented nature of data make these tools less effective –for now. As a result, how investors analyze their underlying managers will also vary, case by case.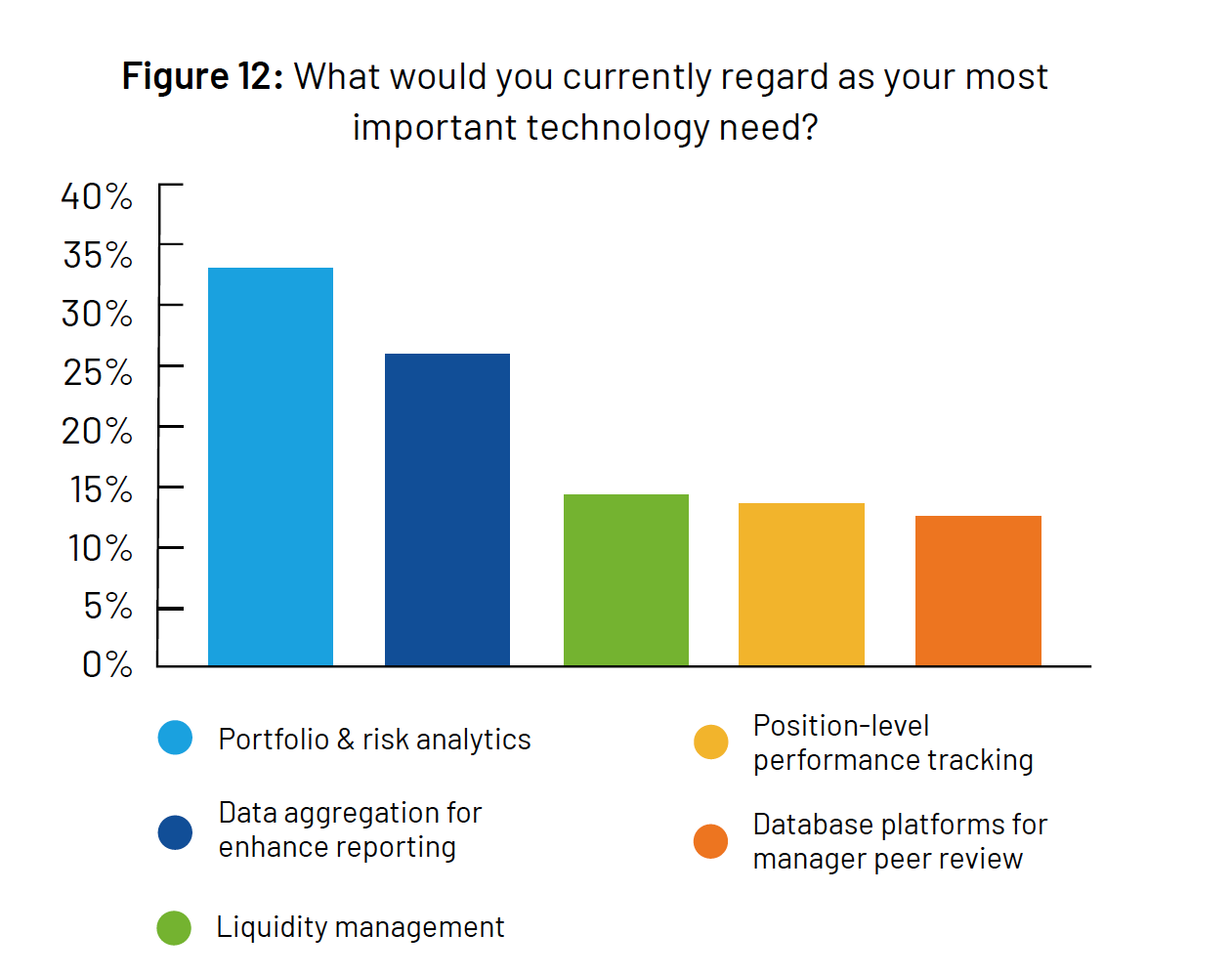 Source: 2020 SS&C Intralinks LP Survey
The 2020 SS&C Intralinks LP Survey found that portfolio and risk analytics is regarded as the most important technology need among LPs, as cited by 33 percent of survey respondents.
This is in line with the overall growth of alternative assets. Access to data to better understand performance and risk management at the individual GP level is well underway, with some investors taking a more proactive approach than others. For example, the Massachusetts Pension Reserves Investment Trust recently said it would be allocating up to USD 500 million to data-driven private equity funds.
Looking Ahead
Dublin-based Abbey Capital is one of the world's largest managers of multi-manager managed futures funds.
For years, it has prioritized the importance of portfolio and risk analytics using proprietary infrastructure to monitor each of the portfolio's underlying CTA strategies, which are held in a managed account format.
"When investors come to us and we show them our technology and how we manage the different CTAs in the portfolio they are always very interested in portfolio management, risk management, and monitoring daily cycles.
"There aren't really any technologies in the market that do what we need to do, which is why we continue to use proprietary solutions," explains CEO Mick Swift.
A fast-changing investment landscape
In the current environment, with market volatility reaching levels last seen in 2008, institutional investors could be forgiven for wanting to better understand the performance attribution of their alternative fund investments, including private equity. Knowing how valuations are being calculated, and what the resiliency of a PE portfolio is to global supply chain stress, are likely becoming a bigger priority today than 12 months ago.
"Tools that can support a clearer understanding of risk will become increasingly relevant for investors, especially as the current crisis will put the spotlight on those that have mismanaged the risk/return equation."   

– Christiaan de Lint, partner and co-founder, Headway Capital Partners LLP

 
How PE firms convey critical information to their LPs in these uncertain times will doubtless test the relationship. McKinsey's report, for example, suggests that only one-third of private market fund managers have adjusted their portfolio strategy "to prepare for a potential recession."
Christiaan de Lint is partner and co-founder, Headway Capital Partners LLP, a PE secondaries investor. When asked if he thinks the need for better portfolio and risk analytic solutions among LPs is a sign of their to desire to know how GPs are protecting their portfolios, De Lint comments:
"That might well be one of the reasons. But more importantly, I believe this is driven by the realization that you cannot ignore the risk when investing in private equity. Investing is about risk/return, and many investors have been too much focused on the return part of the equation.
RELATED: Two Limited Partners Discuss the Ins and Outs of General Partner Selection Criteria
"Focus on the risk side is more recent. And tools that can support a clearer understanding of risk will become increasingly relevant for investors, especially as the current crisis will put the spotlight on those that have mismanaged the risk/return equation."
He adds that at Headway Capital, "We are currently implementing software to track the performance of our funds and their related investments. Risk analytics is an element of the software as well, which is off-the-shelf but with some customization."
In Cipollone's view, if an institution had notional exposure private equity a decade ago, it may not have worried too much about the internal mechanics of PE funds and associated risks.
"As the industry has become more sophisticated, LPs are much more focused on making sure that GPs have institutionalized systems and processes. Day to day management of the firm is a risk that can be largely mitigated by conducting operational due diligence"
"Overall investment teams are pressured to show increased value added to their stakeholders; and perhaps the ability to provide better analytics is a way to achieve that," he suggests. 
The extent to which investors use portfolio and risk analytic tools will depend on budgets and internal resources. Abbey Capital has an experienced IT research and analytics team and because it receives daily data on global futures and FX markets, it has always had the ability to quickly drill down into the underlying strategies.
As Alan Dunne, managing director at Abbey Capital remarks:
"We know what we want so we build the systems ourselves. We don't ever see that changing. At the manager level, we see machine learning becoming more important in line with access to non-price and alternative data sets, which managers can use as inputs for their investment strategy. As a multi-manager investor, it's always a case of asking 'Is the manager doing what we expect them to do?'
"There is also a qualitative side to this understanding the manager and being able to frame a narrative for our own end investors."
The SS&C Intralinks 2020 LP Survey revealed that data aggregation for enhanced reporting was the second most important technology need over the next 12 months.
At Abbey Capital, it has implemented new technology tools onto the platform to perform more factor analysis and principal component analysis on underlying managers, with Dunne noting that machine learning is a key part of this.
"All of these technology tools are a complement to our qualitative analysis," he says. "We would never go down a fully systematic path and rely exclusively on technology to inform our decision-making, but we do use technology to identify correlations and other factors that might impact performance at the manager level.
"Using principal component analysis, we take that data and we use clustering techniques to group together managers that trade in a similar fashion…this often reveals a level of insight that we would not necessarily have had 10 years ago."
Liquidity and the changing market
One finding that stood out that might well have elicited a different response today was that only 10 percent of LPs cited liquidity management as their most important technology need.
"I think that has started to change in recent months," says Swift. "Concerns over recent market events have placed liquidity firmly back on the radar and something investors are starting to think more about."
Over the last decade, quantitative easing has pushed institutional investors to reach for higher yields in less liquid markets. Now, with markets heading south at a rate of knots, will there be a scramble for liquidity? Will LPs really have much insight on the value of their PE/RE portfolios?
And if not, what could the impact be on the funding status of pension funds, for example?
"Everyone is focused on the direct impact on equity markets but the second-order effects from the coronavirus will trickle out into lots of other asset classes, which will only become apparent over time," concludes Dunne.