How Much of the $400 Trillion Financial Products Globally Will Still Be Exposed to LIBOR After December 2021?
It can't be overstated: there's an enormous volume of financial products exposed to LIBOR. A significant proportion is at risk of becoming invalid in less than two years. Unquestionably this will shake up the global debt markets if banks, issuers and other stakeholders don't take action to transition out of LIBOR right now.
In case you haven't heard it enough: there's more than USD 400 trillion in loans, securities and derivatives contracts globally exposed to LIBOR. Even more concerning: at least $52 trillion of those contracts are set to expire after the December 2021 LIBOR transition deadline.(1)
To put that into context, USD 52 trillion is more than the GDP of the U.S. and China combined.(2)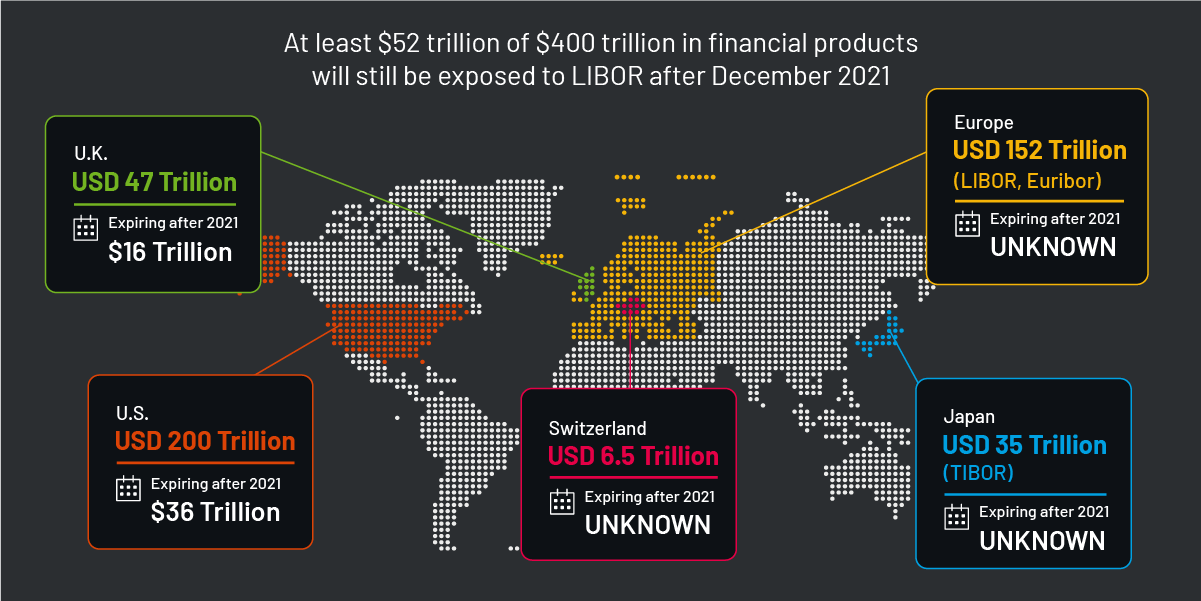 If the deadline lapses without addressing this USD 52 trillion (potentially even more – data is unavailable for much of Europe and Asia Pacific), the debt markets face enormous risks. For borrowers, their loan terms could become dated or faulty.(3) They may incur increased financial costs or experience cashflow fluctuations.
For investors in LIBOR-based debt instruments (including floating rate debt, bank loans, LIBOR-linked derivatives, some asset-backed securities), the value of their investments may become unclear thus harder to sell or trade.(4) And for banks that issue debt or loans they open themselves up to potential regulatory fines, litigation, negative press, reputational damage and loss of business.
Banks and issuers need to act immediately or risk facing dire consequences. There are less than two years to pinpoint which contracts will still be pegged to LIBOR beyond the deadline. Then, those loan contracts will need to be shared with stakeholders, reviewed, assessed, and updated with fallback language or new reference rates.
Our white paper, How to Update $400 Trillion in Loan Contracts for LIBOR Transition, provides guidance around managing the enormous volume of contracts that need to be reviewed and transitioned by December 2021. For large banks, a million or more contracts are not out of the ordinary. Read our white paper to get started on LIBOR transition right now.
Dominic Brown
Dominic Brown is a field technology head at Intralinks in Waltham, MA. Dominic employs his 15 years of compliance and IT experience, along with Intralinks' unique technology, to help organizations address challenges with sharing, distributing, and collecting highly confidential data. Dominic helps organizations understand and change internal procedures to deploy technology solutions that dramatically reduce the risk and expense associated with secure data exchanges. He has spent his career working with the Fortune 1,000 and North America's largest government agencies.