Here's What M&A Activity Might Look Like For Renewable Energy Post-COVID-19
Nicolas Bentz, co-founder of Paris-based Adenfi and seasoned European energy market advisor, says the world will become more sustainable post-coronavirus crisis.
The COVID-19 pandemic has wreaked havoc on the energy sector. Amid a worldwide health crisis that has caused governments to impose lockdowns and travel restrictions to slow the spread of the disease, the one-two punch of a drastic plunge in demand and record-low oil prices have caused a major shock to the system.
With the International Energy Agency (IEA) now predicting a 6 percent decline in energy in 2020, there's unilateral uncertainty about what's next for oil and gas. The renewable energy market (solar, wind and hydro) has been impacted by the health crisis, mostly in the form of delayed construction starts, but the industry has been resilient during the pandemic. In a recently published report, the IEA now predicts the global use of renewable energy will increase by 1 percent in 2020.
To learn more about the renewables energy market, I spoke with Nicolas Bentz, co-founder of global advisory firm Adenfi. Headquartered in Paris, Adenfi provides strategic advisory for the energy market. In his role, Nicolas works on M&A transactions on the buy- and sell-side. During our conversation, we talked about a range of topics, including why he believes we will see an increased focus on renewable energy and sustainability going forward.
SS&C Intralinks: The coronavirus pandemic has brought significant disruption to the energy market, an area your firm specializes in from the standpoint of renewables. In the wake of the OPEC-Russia price war, oil prices have plummeted to record lows and turned negative for the first time. There's been a historic drop in demand across the world due to countrywide lockdowns intended to slow the spread of the disease. What are you seeing from your vantage point in terms of the contraction of the energy market? 
Nicolas Bentz: Oil prices have experienced the same effect as electricity. When demand is very low and there is no real capacity to reduce output, prices can go negative. Politically, the agreement between exporting countries has been counteracted by loss of market share.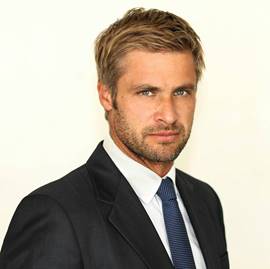 People from the nuclear sector will explain this is not economically acceptable, but we have to consider also renewable's capacity to produce under the pandemic. Plus, human resources are much more important for the development and construction phase than the operational phase.
Moreover, nuclear power plants are running under technical minimums during the current low-demand period. It's quite tricky when these plants are not operating at 100 percent over a long period. We have to add pandemic to the list of risks surrounding the nuclear sector.
From an M&A perspective, there's been consolidation in the energy market in Europe in recent years. At the moment, many M&A transactions are delayed or on pause due to the pandemic. Once valuations become normalized, how do you think buyers, particularly those involved in renewables, will react in the post-COVID-19 world? 
M&A transactions didn't stop from our point of view. The process is just longer due to COVID-19, specifically organizational (work from home, less physical meetings, etc.). Valuations were estimated to be high before the pandemic, but the lack of opportunity will confirm the prices as now a level of consolidation.
Energy firms are seeing declining revenues and are being challenged by the drop in demand and low prices. Are you seeing opportunities for investors to acquire distressed assets, or is it too soon to evaluate? Is the return of consolidation in the energy market inevitable?
This is true for oil and gas companies affected by low crude oil prices under their breakeven, in particular for no conventional oil producer with USD 50-70 breakeven level. The renewable sector hasn't been distressed due to Merit Order and PPA fixed prices that have a warranty and a good level of revenue. The International Energy Agency confirmed a reduction of demand for 2020, but renewable production has dropped by 5 percent (including 12 percent for wind turbines and 16 percent for solar). Nevertheless, renewable producers have been exposed to the pandemic with delays on construction and project permitting, but it's now almost solved. In our opinion, there still will be a trend of consolidation in the energy sector, but the market is limited.
Leading oil producers are promising to increase their investment in renewables and low-carbon businesses. How do you think the pandemic will impact the renewables industry as a whole? Do you envision financing to be difficult to attain? Will governments encourage growth and innovation in the sector as part of stimulus and recovery measures or ESG pressures, or will it be de-prioritized?
If we consider French politics, PPE has been published during lockdown with new goals in renewable market deployment and the European Green Deal is still ongoing. ESG pressure is real in the financial sector and low prices for oil didn't make any new direction. The renewable sector is still supported and prioritized by the market and by politics. Finding and performing financing is always challenging, but we won't expect major difficulties. However, high levels of quantitative easing will make bank refinancing potentially higher than before. As a result, interest rates should be higher than the low rate of 2019 and pre-pandemic 2020.
The current situation is fluid, but I'm sure you've been thinking deeply about the future. As lockdowns are eased and countries begin to gradually open up across Europe, demand for energy — oil, coal, gas, nuclear and renewables — will increase. What are the most likely scenarios the energy sector might face in the next six to twelve months? Where will we see the most change in the region?
If you check the contract for differences (CFD) on the futures market, demand will increase slowly even with the end of the lockdown in most countries. WTI has been negotiated USD 35 for December 2020 and will come back to USD 50, not before 2027. Interest curves come back to positive after 2026. We have to focus on the rate of unemployment … GDP may experience a high level of economic recession in Q2. Many industries will reduce their production. Energy demand will be related to growth but it is never easy to forecast, moreover with the high level of debt in many countries. Post-2008 the crisis has been okay for America due GAFAM. In Europe, Germany has been supported by the industry sector, but Italy, Spain and Greece were suffocating because of high debt level and no strong innovation.
According to a recent report published by Wärtsilä Energy Transition Lab, renewable energy generation in the U.K., Spain and Germany remains at pre-crisis levels. As Europe slowly reopens for business, how will corporate strategies shift in the post-COVD-19 world? What will be the impact on investment in the sector?
We strongly think that the post-COVID-19 world will be more sustainable. 2010-2020 was the decade of renewable deployment. 2020-2030 will be the decade for renewable consolidation and hydrogen development. Clean mobility will be the challenge of the coming years.
Romain Lopez
Romain Lopez is the manager of the French advisory team, in charge of the relationship of financial advisors, law firms and private equity investors. He joined Intralinks five years ago as a sales engineer and previously covered key corporate accounts for three years, with a specialization in the pharmaceuticals and energy sector. He holds a master's degree from Grenoble Ecole de Management Business school and a master of science in entrepreneurship from ESSEC.