SS&C Intralinks Japan M&A Survey: Dealmakers Look Ahead Amidst COVID-19 Uncertainties
Japanese businesses were already struggling before the pandemic. Our survey of M&A practitioners in Japan reveals that volatility and uncertainty will continue to impact the dealmaking landscape for the foreseeable future.
In Q1 2020, mergers and acquisitions (M&A) activity in Japan was off to a strong start. Total deal value grew 60 percent year over year to USD 12.8 billion in the quarter while deal volume remained flat, according to data from Mergermarket. As the impact of the worldwide COVID-19 pandemic started to be felt in Japan by mid-March, a state of emergency was declared by the government on April 7. During this turbulent time, M&A activity slowed down significantly. At the beginning of May, Q2 2020 deal value and deal volume were both trending around 20 percent below the level we saw in Q2 2019.
With Japan's gross domestic product (GDP) shrinking -3.4 percent between the January-to-March period from the previous quarter in real terms for the second straight contraction, the economy has entered a recession – defined as having two successive quarters of negative GDP growth – for the first time in more than four years. Market consensus suggests a V-shaped recovery is unlikely and it will likely take until at least the second half of 2021 for the economy to bounce back to the pre-COVID 19 levels. With Prime Minister Shinzo Abe declaring the country is "in the worst crisis since the end of World War II," it will remain a challenging environment for M&A dealmakers as companies struggle with deteriorating business conditions and liquidity issues.
SS&C Intralinks surveyed Japanese dealmakers from April 23 to April 30, 2020, to learn more about the current uncertainties and sentiment in the M&A market. Here's a summary of our findings from this survey.
1. Breakdown of Survey Participants
We surveyed 145 participants from across the M&A industry in Japan. The breakdown of respondents is as follows: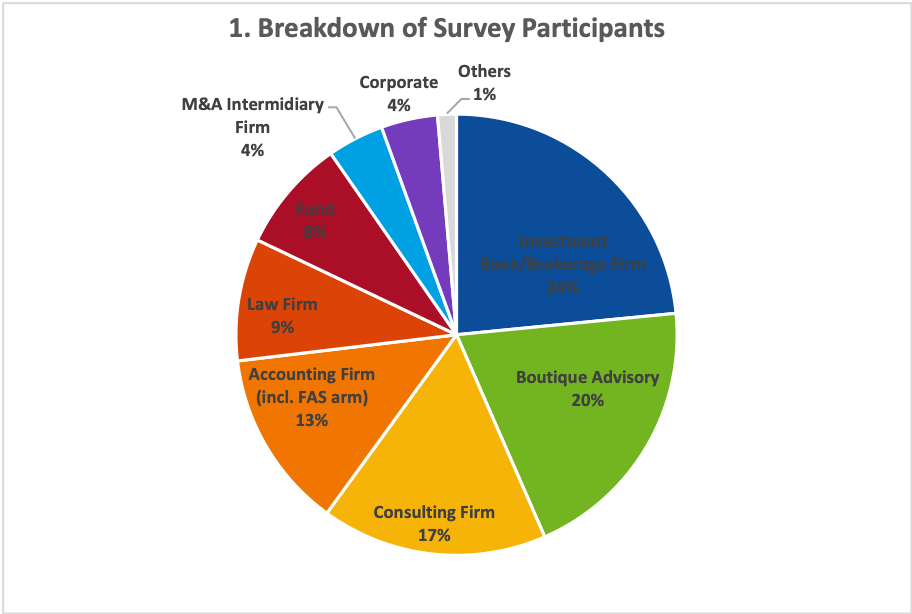 2. Current Work Arrangement
Over 70 percent of participants said they are currently working from home. If you added those that responded that they are mixing working from home with working at their office, over 90 percent of participants are working from home in some shape or form. This number is higher than what is being reported in the media in Japan. This data point most likely reflects the fact that working from home is more widely accepted in the industries (financial services, consulting and other professional services) and geographies (mostly the Kanto region) that the survey participants are concentrated in.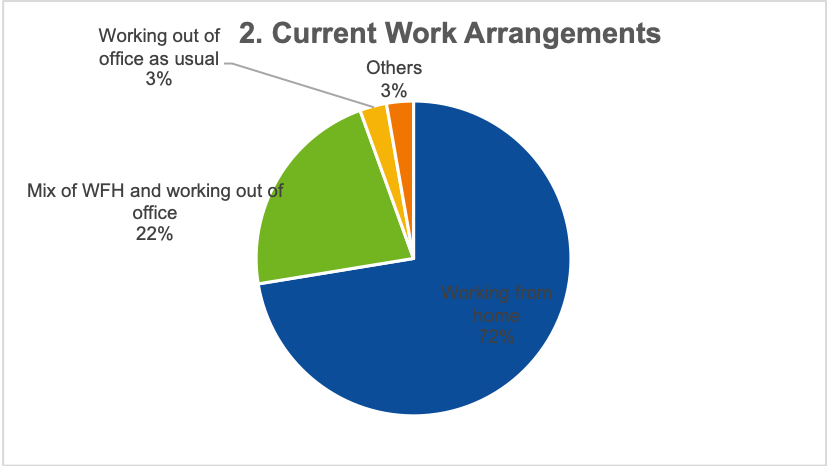 3. The Impact of Current Work Arrangement
We asked survey participants the impact of their current work arrangement in terms of doing their jobs effectively. Seventy percent of respondents answered their productivity has been somewhat impacted by the current situation while close to 30 percent confirmed it has not impacted them in a meaningful way. Only 7 percent of respondents answered they have been severely impacted by their current work arrangement which is surprisingly low and most likely reflects the fact that people have adjusted to working remotely by now and can conduct their jobs relatively smoothly under the circumstance. There was also a response that indicated the respondent (in Financial Services) had not been impacted much but their clients had been impacted more.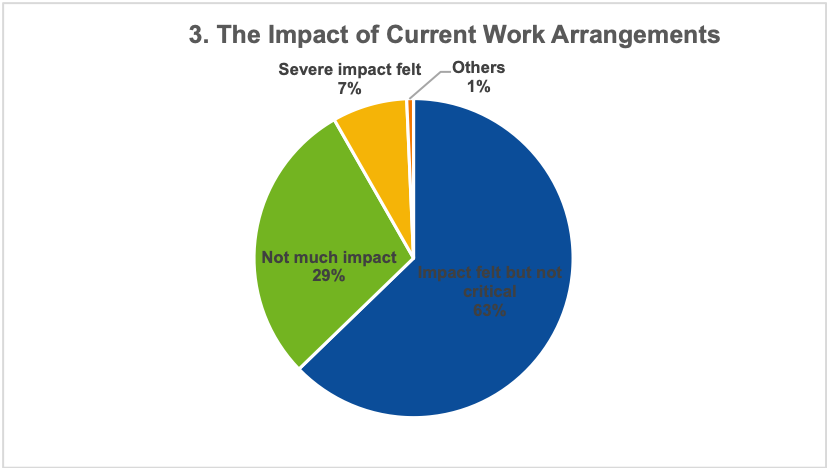 4. Current Deal Flow
Not surprisingly, over 90 percent of respondents confirmed the current environment is negatively impacting deal flow. It is a slight surprise on the positive side to learn that over 40 percent of respondents are seeing an impact on current deal flow but not materially. This suggests that active M&A participants are not holding back and have maintained their strategy to actively use M&A for their corporate strategy even under challenging market conditions. There were also some mentions of restructuring type deals starting to pop up and beginning to increase overall deal flow activity.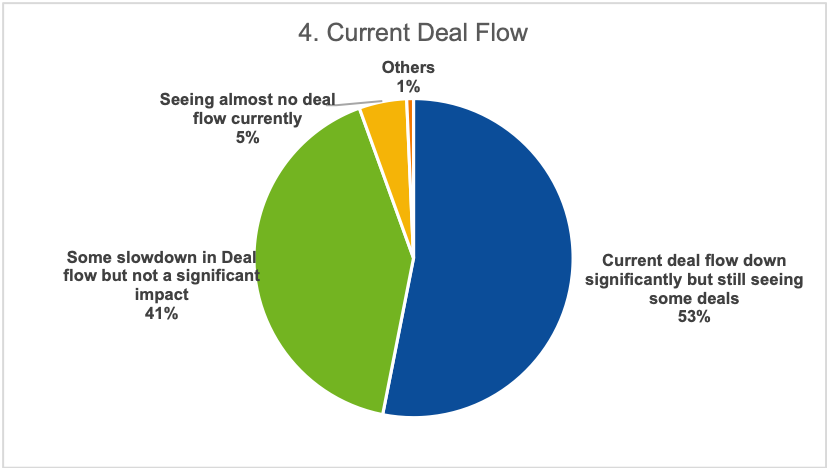 5. Impact on ongoing deals
Over 60 percent of participants confirmed they are witnessing a slowdown in the execution of deals. Close to 30 percent of respondents are also seeing deals being canceled or are facing risks of transactions being canceled while only 8 percent are not seeing any impact on ongoing deals. Multiple respondents are seeing some deals take much longer and other deals being canceled altogether. These results suggest the current market environment is having a more severe impact on ongoing deals compared to deal flow and likely suggests that the sudden and severe deterioration of company fundamentals and cash flow for buyers and/or sellers, changes to the capital raising environment and severe fluctuations in public asset prices and valuation levels are making it increasingly harder for dealmakers to close deals right now.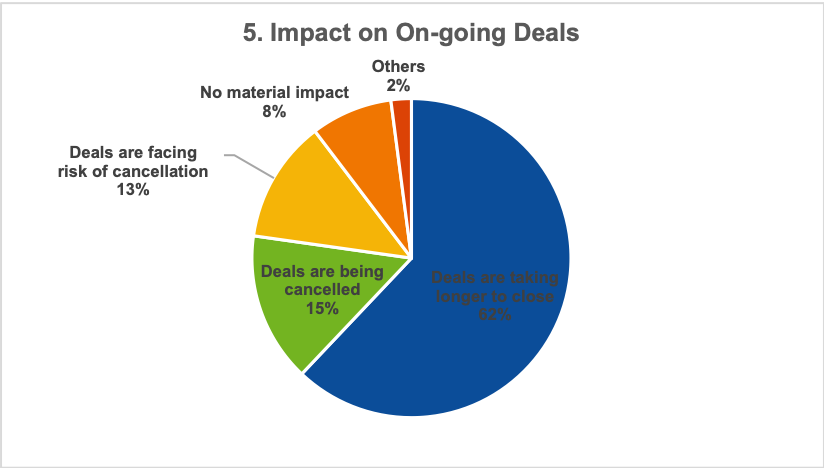 6. When will deal flow come back?
With over 90 percent of survey participants seeing a negative impact on current deal flow, we then asked participants when they think deal flow will start to pick up. Over 40 percent of respondents are currently forecasting a recovery during the second half of 2020. About 20 percent of the respondents are not expecting a pick-up in deal flow until 2021 while over one-third of all participants also responded they did not know when the recovery will likely start, reflecting the overwhelming sense of uncertainty surrounding the market today. While acknowledging this, based on the overall response from our survey participants, the consensus is the recovery in deal flow is likely to be somewhere in the latter half of H2 2020 around the September to October timeframe.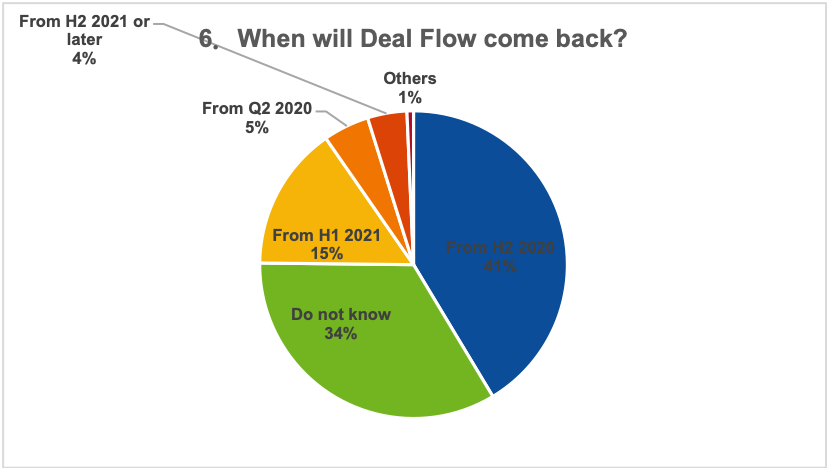 7. What types of deals will likely increase most?
In anticipation of a recovery in deal flow, we asked our survey participants what types of deals they expect to see increase most by choosing from the following options (multiple answered provided):
a. Industry consolidation or restructuring type deals in the industries that have been severely impacted by the COVID-19 outbreak (tourism, restaurants, retail, transportation, etc.)
b. Opportunistic acquisitions by industries that have gained attention with the COVID-19 outbreak and the subsequent lockdown (IT, telecom, pharmaceuticals, healthcare, etc.)
c. Divesting of assets or businesses by large public companies
d. Acquisitions to restructure domestic supply chain
e. Business succession deals
f. Others
Over 90 percent of survey participants are expecting a surge in restructuring or industry consolidation type deals taking place within industries that have been most severely impacted by the COVID-19 outbreak. Companies with weaker fundamentals or balance sheets will likely struggle to keep afloat even with the various government support measures that have been announced.
Approximately 60 percent of participants are expecting an increase in the divesting of assets or businesses by large public companies. The last few years have seen a steady increase in such types of deals with Japanese companies focusing more on maximizing shareholder returns and achieving higher capital efficiencies. This result suggests this trend will likely continue — if not accelerate — in the future.
Some respondents are also anticipating an increase in start-ups seeking exits via M&A as they struggle in their capital raising efforts.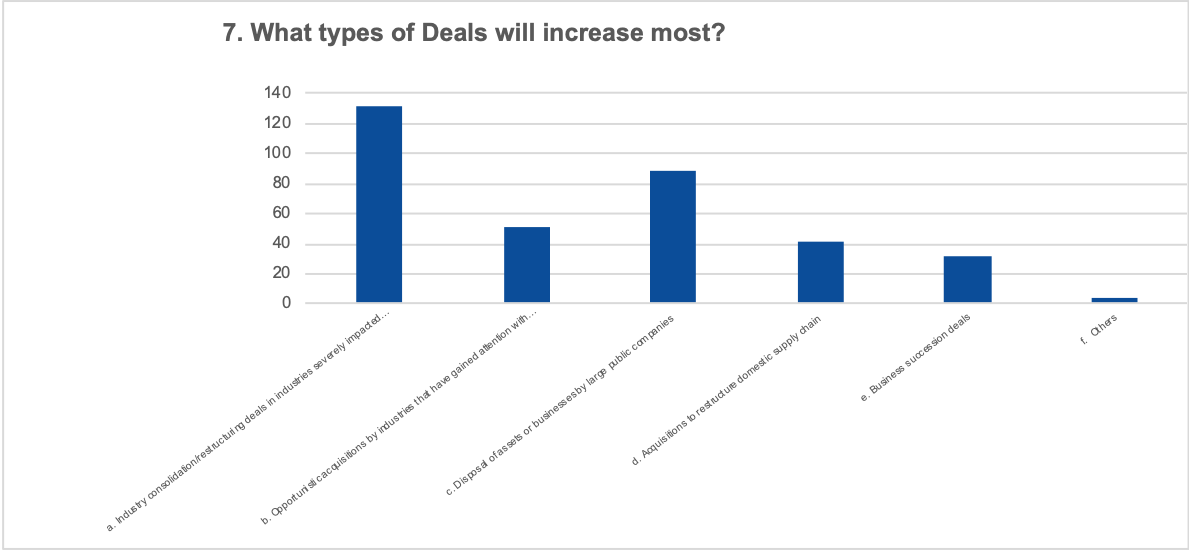 8. Biggest challenges in executing deals going forward
As a final topic of our survey, we asked participants about the biggest challenges they will likely face in executing M&A deals going forward.
We asked them to select up to three challenges they foresee from the list below:
a. To conduct due diligence effectively in a remote environment as travel is likely to be restricted
b. To come to an agreeable purchase price given the volatility in asset prices and valuation of public markets
c. The allocation of risks arising from COVID-19 (such as deterioration in seller financials) between buyer and seller
d. To find suitable buyers
e. To be able to close deals within the scheduled timeframe
f. Others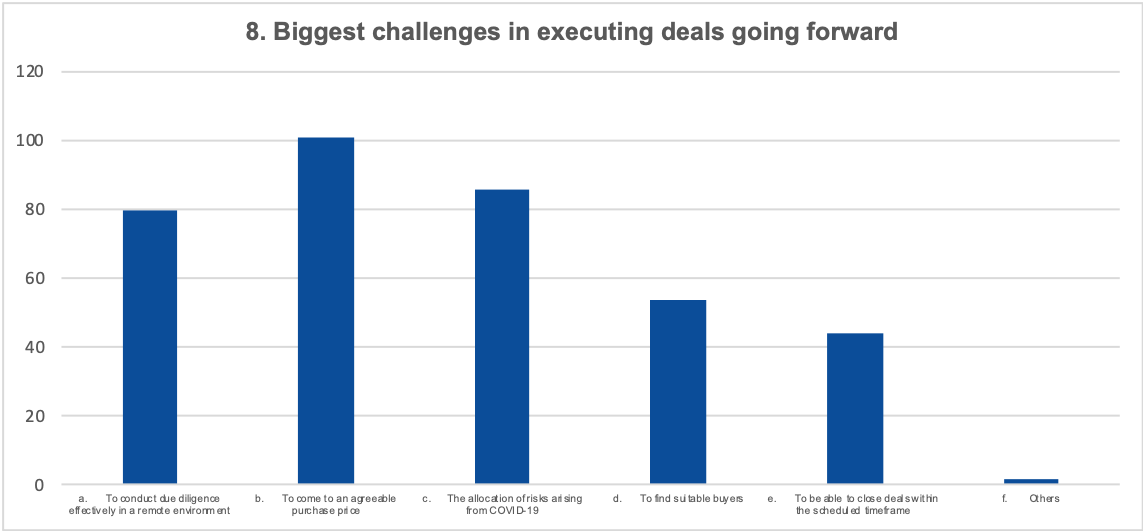 Over 70 percent of our survey participants foresee challenges in buyers and sellers coming to an agreeable purchase price given the corrections we have witnessed in the stock markets and valuation levels globally. The stock market has regained some stability in recent weeks — which is a positive sign — but concerns remain about a possible second dip in the market in the future. In addition, most Japanese companies have opted not to disclose their earnings forecast for their current fiscal year (through March 2021), citing challenges in being able to forecast their future earnings in any meaningful way given the current COVID-19 situation. As such, there is no way to effectively determine how much deterioration in company fundamentals the current stock price levels have priced in already. This means there's a good chance stock prices and valuation levels will go through further adjustments as the situation becomes clearer over time.
The next two biggest challenges respondents foresee going forward in executing deals are how to agree on the allocation of the COVID-19 specific risks between buyer and seller with 59 percent of respondents seeing this as a challenge while 55 percent of respondents also cited being able to conduct due diligence effectively under travel/mobility restrictions as a major challenge. Risk allocation in the COVID-19 era by use of the material adverse clause (MAC) provision, for example, is a topic widely discussed amongst M&A practitioners in other active M&A markets. This survey result suggests Japan is no exception. In terms of managing due diligence under certain restrictions, limitations on conducting site visits or management interviews, for instance, are likely to create significant delays in the due diligence process unless they are conducted online or in other ways going forward.
It is also worth noting that over 40 percent of participants anticipate challenges in finding suitable buyers going forward. This means dealmakers will likely be forced to expand their potential buyer pool — both strategic and financial — compared to before to identify suitable buyers promptly.
Conclusion
Overall, the survey results are not surprising with the murky COVID-19 situation having a negative overall impact on market sentiment. We are encouraged by some of the positive signs, notably in the way people are adapting to working remotely, the resilience in deal flow and the possibility of a recovery as early as the middle of H2 2020.
Challenging times create an opportunity to doing things differently without being constrained by conventional methods. In managing M&A transactions where a lot of communication and sharing of information are required with both internal and external parties, the introduction of new technologies such as secure online communication tools and highly secure document sharing services will not only deal teams be more efficient in their workflow, but it will create a competitive advantage as we move ahead into uncharted territory. Now more than ever, these differentiators will empower savvy dealmakers in an environment that will be volatile until the economic situation normalizes.
Takeaki Suematsu
Takeaki is a sales director and country head of SS&C Intralinks Japan. He brings to Intralinks nearly two decades of experience working at companies such as Morgan Stanley, Dresdner Kleinwort and most recently S&P Global. At S&P Global Market Intelligence, Take served as the country head and head of the commercial team, providing data and analytics solutions to investment and commercial banks, investment managers and corporates in Japan.