SS&C Intralinks Japan M&A Survey: Dealmakers Adapt to Challenges
As dealmakers continue to negotiate the fallout from the economic impact of the COVID-19 health crisis, SS&C Intralinks conducted a second mergers & acquisitions (M&A) survey with dealmakers in Japan.
With over 150 participants providing their views on the M&A market, the survey results show a mix of optimism and pessimism compared to three months ago.
The expected timing of a recovery in deal flow is being pushed back, especially for cross-border M&A, while also showing that dealmakers are adapting to the challenges they face by introducing new tools such as online video communication services within their M&A process.
1. Breakdown of Survey Participants
For this survey, we had a total of 152 participants from across the Japanese M&A industry, with a much larger contribution from corporates (36 percent) and funds (13 percent) compared to our previous survey in April 2020. The full breakdown of participants is as follows: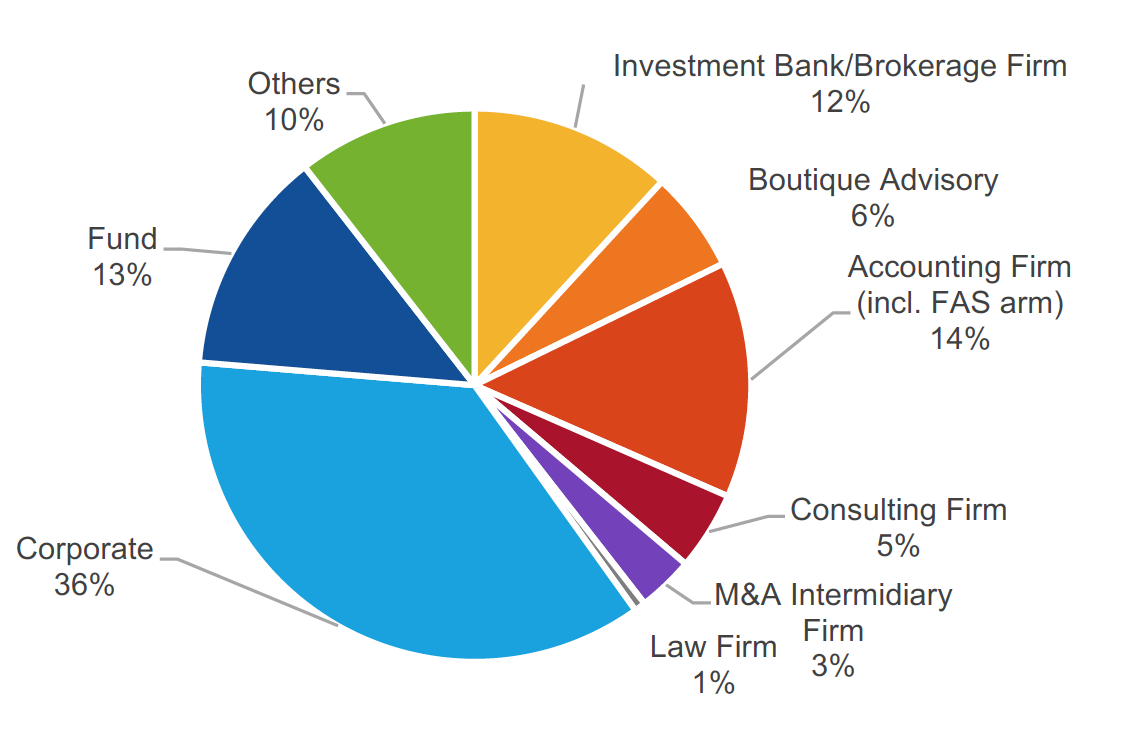 2. Current Domestic Deal Flow
The first question we asked our participants was the current state of the M&A deal flow for domestic deals, compared to three months ago.
For domestic deals, 34 percent of respondents confirmed there was a slight increase from three months ago, while only 4 percent saw a more significant improvement over that period. With close to 40 percent of all respondents combined seeing an uptick in domestic deal flow compared to just 15 percent seeing a decline, we think it is safe to assume the domestic M&A market is starting to show some signs of a recovery.
However, with almost one-third of participants not seeing any material change in the state of the domestic M&A market, the overall state of the current domestic M&A deal flow is likely to be somewhere between flat to up slightly when compared to three months ago.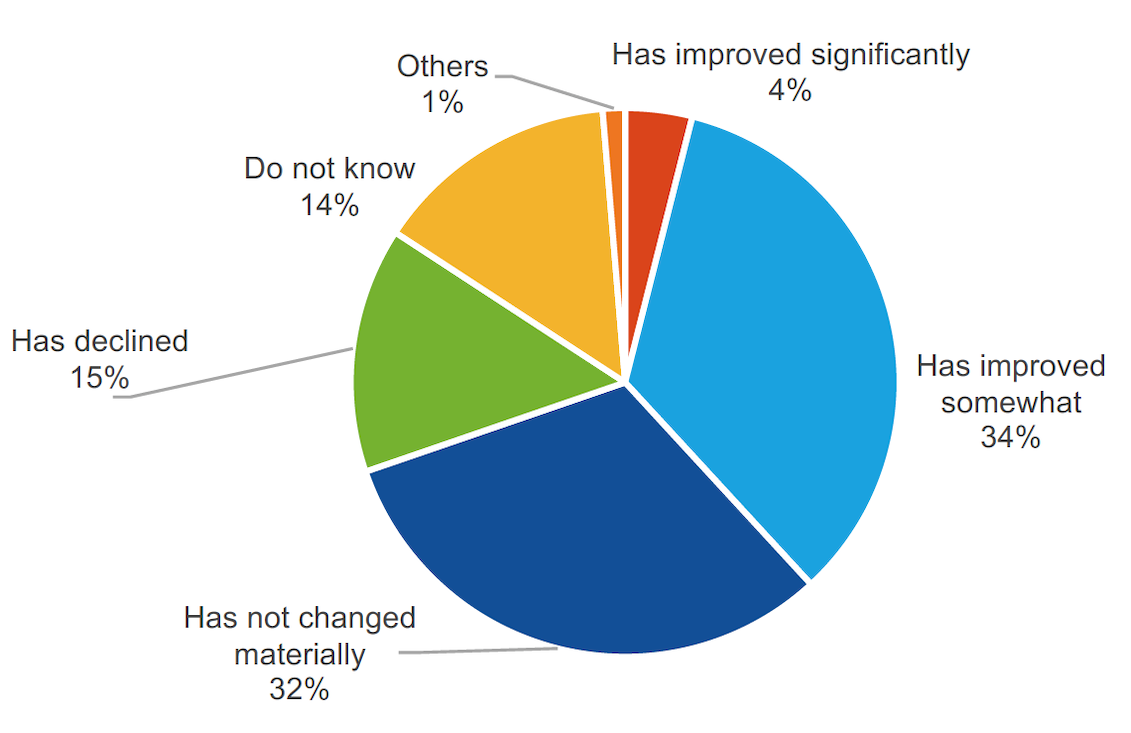 3. Current Cross-border Deal Flow
In comparison to domestic deals, our respondents provided a much gloomier picture when it comes to the current state of cross-border M&A deal flow. This comes as no surprise, given the fact that the continued spread and impact of COVID-19 is relatively well contained in Japan compared to other countries, while restrictions are also much more strict for international travel compared to domestic travel at the moment.
When compared to three months ago, most respondents (32 percent) are not seeing a material change in cross-border deal flow, while there was an almost even split between those that are seeing improvement (20 percent combined) and those that have witnessed a decline (18 percent).
According to data from Recof, in the first half of 2020, while domestic M&A deal volume was down only 7 percent year on year (YoY), cross-border deal volume declined by 29 percent over the same period and based on our survey results, the challenging environment for cross-border M&A we saw in H1 is likely to have continued over into the early part of Q3.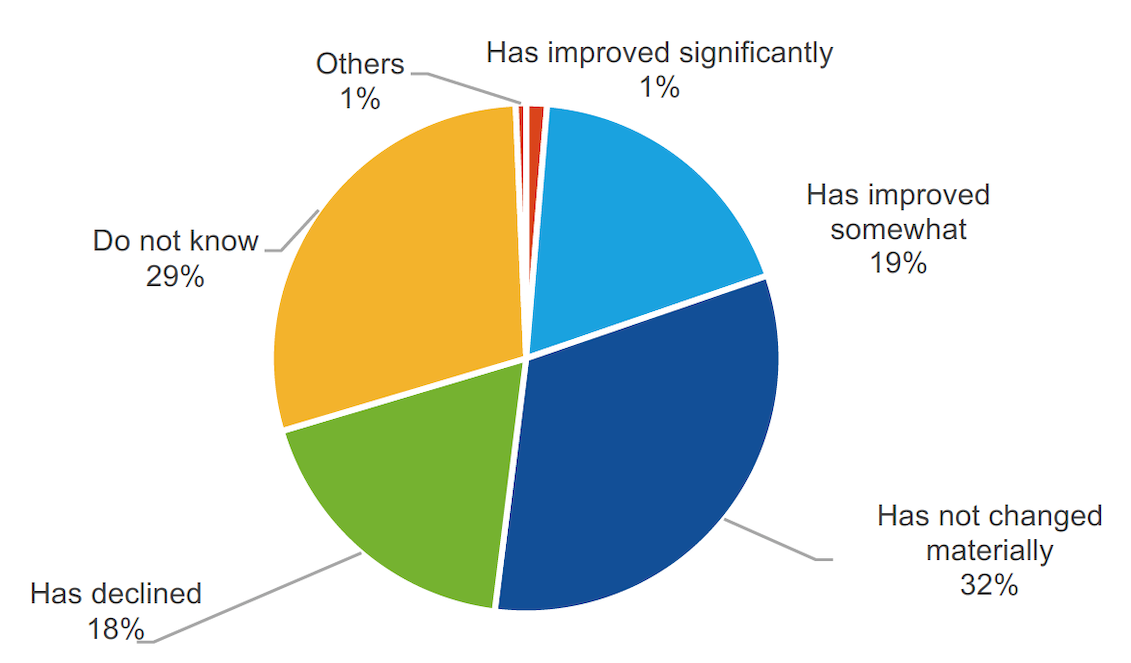 4. What types of deals are driving improvement in deal flow?
As a follow-up, we asked those participants who confirmed they have seen some improvement in deal flow in the last three months about the types of deals that are driving the increase in deal activity. Fifty-three percent of respondents confirmed they are starting to see deals that were put on hold with the COVID-19 outbreak now starting to move again. With the assumption that there will not likely be a drastic turnaround in the COVID-19 situation in the short-term, coupled with a strong rebound in the equity markets and valuation levels, strategic M&A deals that had been put on hold are now likely to have resumed by companies that have strong balance sheets or cash positions. In addition, approximately 46 percent of the same participants are seeing an uptick in deals related to the divesture of assets or non-core businesses. This suggests the strategic intent we have seen from Japanese companies, to improve capital efficiencies by focusing on their core businesses, remains intact – even in these challenging times.
The increase in restructuring and consolidation deals for industries most impacted by the COVID-19 outbreak in the last three months was also confirmed in the survey, with 29 percent of the respondents seeing an increase in such deals. There has been increasing local news coverage of restructuring cases, especially in retail and automotive-related industries heavily impacted by the COVID-19 outbreak since the beginning of July.
While our survey results confirm these types of deals are indeed on the rise, our conversations with clients also suggest a more material increase in these types of cases will likely start later in the year, toward Q4 and into next year, when the positive impact of the government-led support measures start to wear off.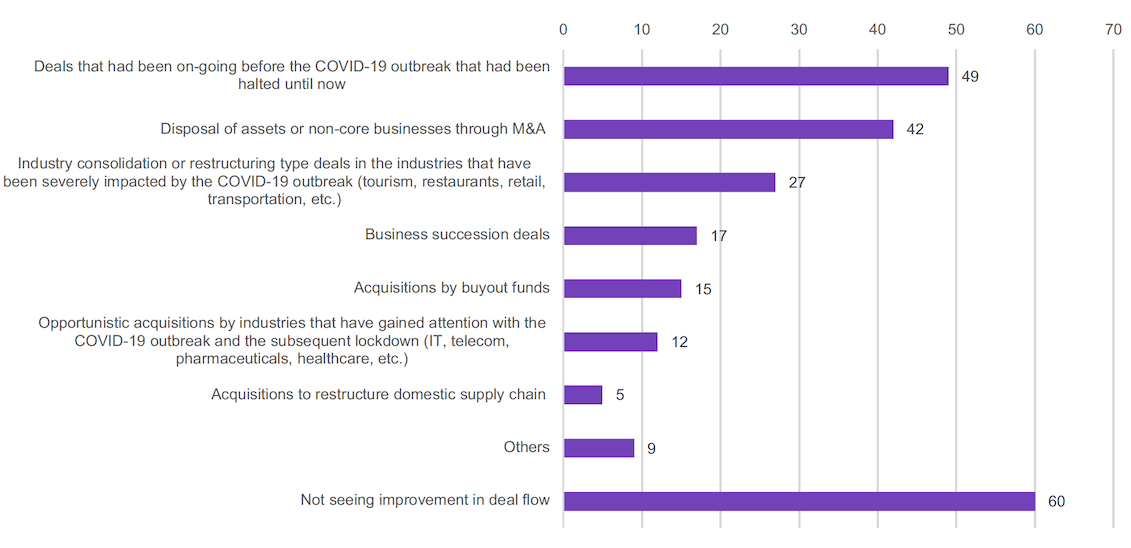 5. When will domestic deal flow start to bounce back?
We then asked our participants about the expecting timing of the recovery in M&A deal flow, which we also asked in our April survey. (Note: in April we made no distinction between domestic and cross-border deals when asking about recovery.)
For domestic M&A deal flow, 39 percent of our respondents expect a recovery from the first half of 2021, while 22 percent did not know when a recovery would likely take place. In our April survey, over 40 percent of respondents in expecting a recovery in the second half of 2020 and approximately 20 percent expecting a bounce back from the first half of 2021. With the COVID-19 impact expanding way beyond the initial market expectations, and with no end in sight at this point, it is not surprising that the expected timing of a return in M&A activity to normal levels has now been pushed back from H2 2020 three months ago, to H1 2021.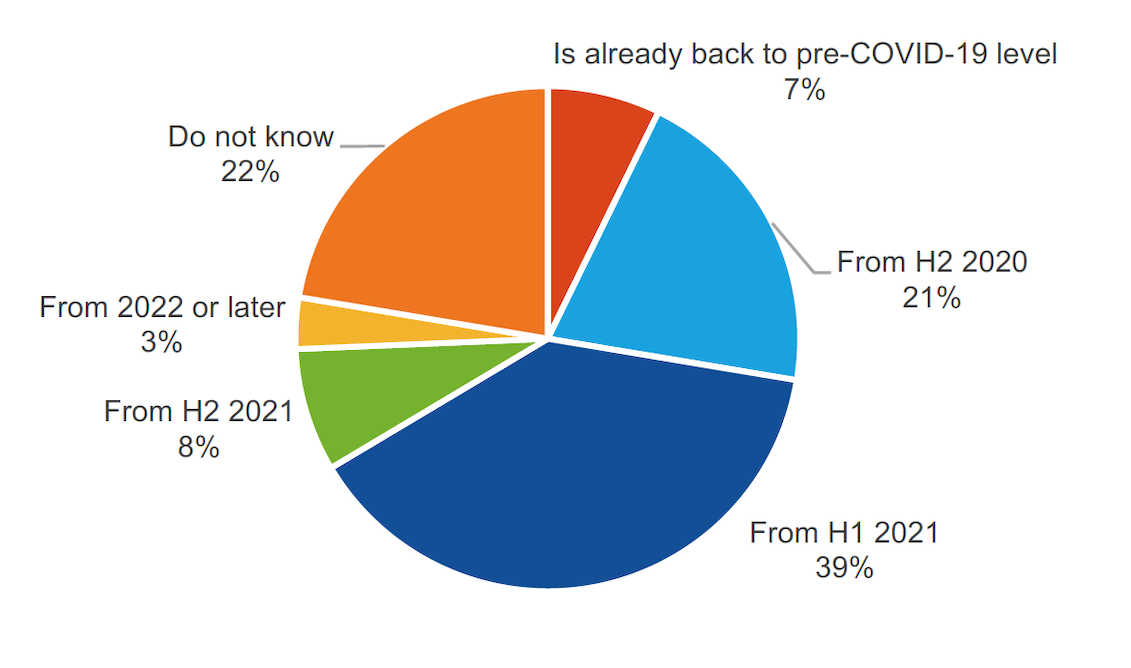 6. When will cross-border deal flow start to bounce back?
Given the state of current domestic deal flow, it's no surprise that the market is expecting an even slower recovery in cross-border M&A deal activity. While 67 percent of respondents foresee a recovery in domestic deal flow by H1 2021 at the latest (including those who answered deal flow is already back to pre-COVID-19 levels or that recovery is likely in H2 2020), only 36 percent of respondents are expecting a rebound for cross-border M&A deal flow in the same time frame.
In addition, over a third of our respondents (37 percent) answered they did not know when a recovery in cross-border deal flow was likely; a significantly higher percentage compared to those who answered the same for domestic deal flow (22 percent).
These results reflect the current market sentiment that drastic improvement in cross-border M&A activity will be difficult to achieve until COVID-19 is contained through the successful development and global deployment of an effective vaccine.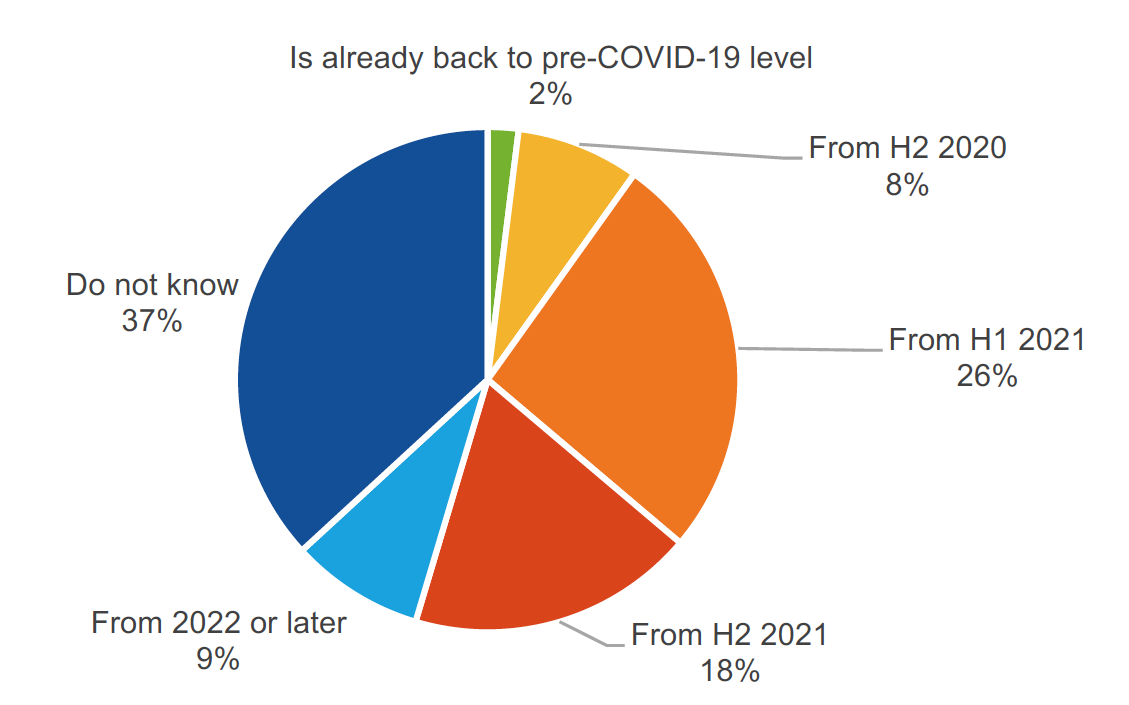 7. Expected domestic M&A deal volume for 2020
Participants were asked to forecast the volume of M&A deals involving Japanese companies for 2020, relative to last year.
For domestic deals, while the aforementioned data from Recof shows deal volume to be down 7 percent year on year (YoY) in the first half of 2020, our participants had a split view about expected domestic deal volume for the full year. A decline of more than 10 percent year on year (YoY) is expected by 30 percent of our respondents, while 26 percent foresee a decline of 5 to 10 percent YoY. On the other side, about a quarter (24 percent) of our respondents expect the M&A market to remain flattish (-5 to +5 percent), while a total of 7 percent of participants forecast an increase in deal volume from last year.
Overall, while the current market seems quite split on how domestic M&A deal volume will fare for 2020, the median view is for domestic deal volume to probably improve slightly in H2, while volume will still be down slightly from 2019 for the overall full year.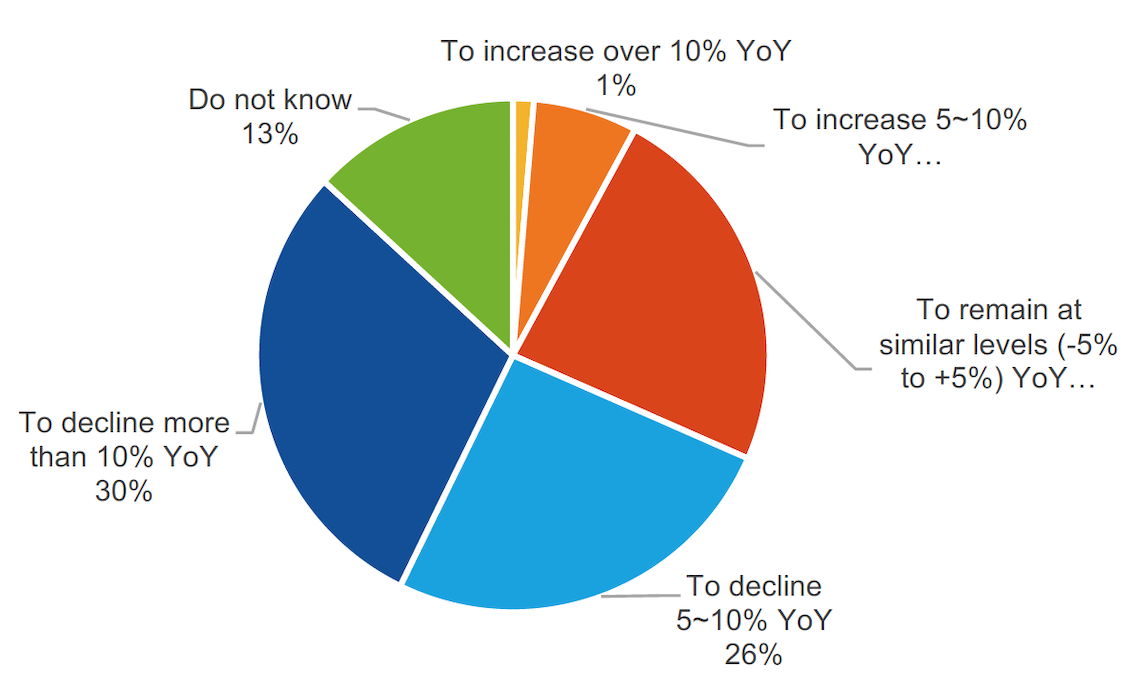 8. Expected cross-border M&A deal volume for 2020
In terms of cross-border M&A deal volume for 2020, close to 40 percent of all respondents expect a YoY decline of more than 20 percent; not surprising given how cross-borders deals slumped in the first half of the year (-29 percent based on data from Recof).
It is also worth noting that, in total, more than 40 percent of our respondents are expecting cross-border M&A deals to end up with less than a 20 percent decline from 2019 (ranging from more than a 5 percent increase to a decline of 10~20 percent).
This does imply a significant share of our respondents are still expecting some uptick in cross-border M&A activity in H2, compared to the first half of the year.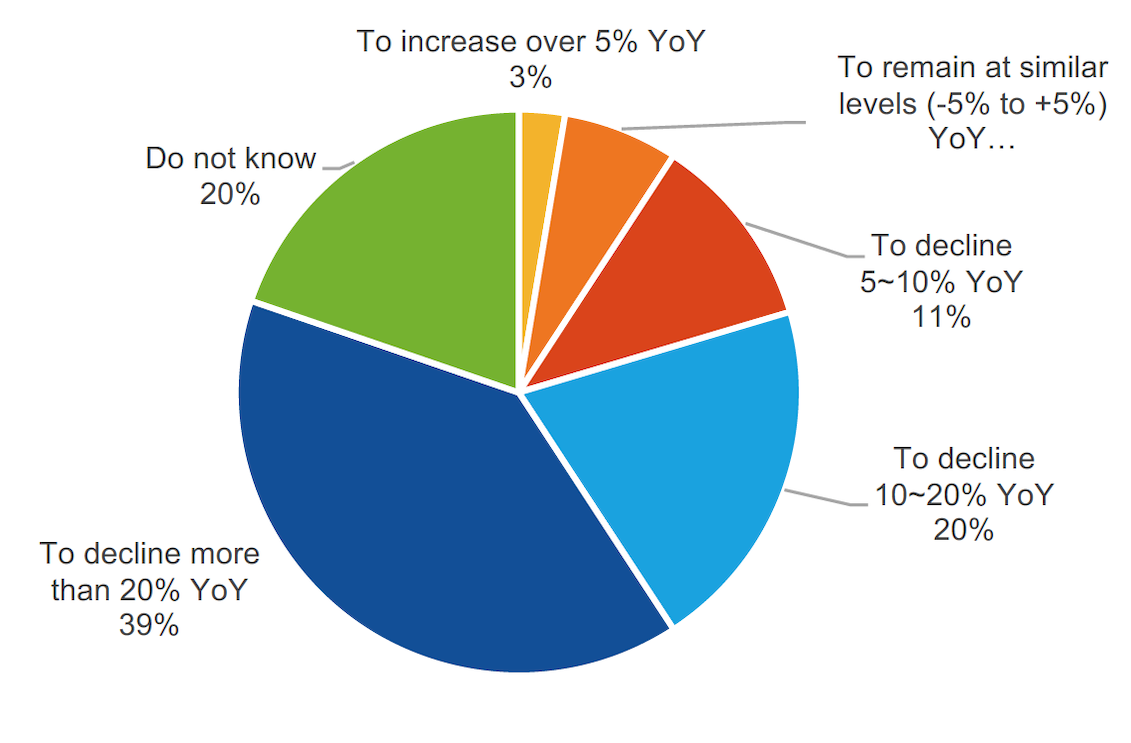 9. Time needed to complete the due diligence process
With the COVID-19 crisis imposing various restrictions on dealmakers, we asked participants whether their due diligence process was taking longer to complete.
Surprisingly, 42 percent confirmed that there have been no significant delays in the process while a slight delay of 1~3 months is being seen by 29 percent of our respondents. Only 6 percent said they are currently experiencing a delay in their process of more than three months.
Based on these results, we can assume that the delays in proceeding with M&A deals we have been hearing about are being caused less by the prolonging of the diligence process, and more from delays in the decision-making process to move forward with a deal and move the deal into the due diligence phase.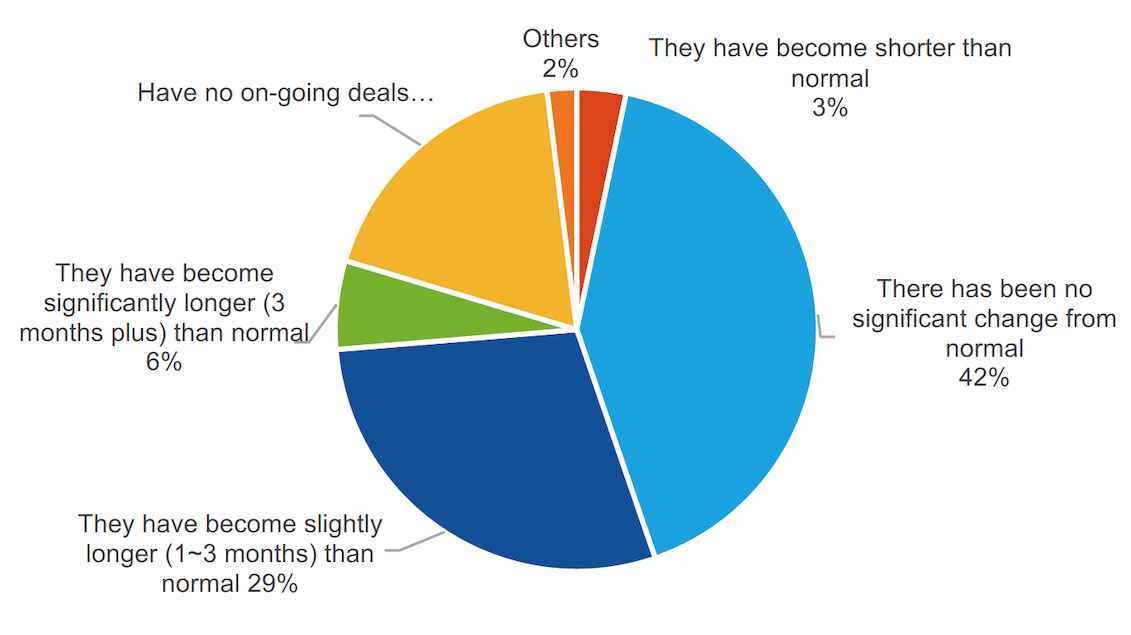 10. Reasons due diligence is taking longer to complete
As a follow up for respondents who confirmed they were seeing their due diligence process take longer, we asked them to identify the causes of the delay. Not surprisingly, the inability to travel and other restrictions are making critical parts of the diligence process (such as onsite inspections to management interviews) harder to conduct.
The fact that more time is needed to assess COVID-19 specific risks was identified as the second biggest factor causing delays in completing due diligence.
More than 70 percent of Japanese companies who submitted their annual Yuho filings by early July disclosed specific COVID-19 risks for their business. Additionally, listed companies who reported their April-June earnings are now publishing their full fiscal year financial forecasts, and over 60 percent incorporated various COVID-19 related scenarios and assumptions. These disclosures have made it much easier to assess COVID-19 related risks at industry level and helped forecast the impact on a company or asset's performance, leading us to believe this should not become a major bottleneck in the diligence process going forward.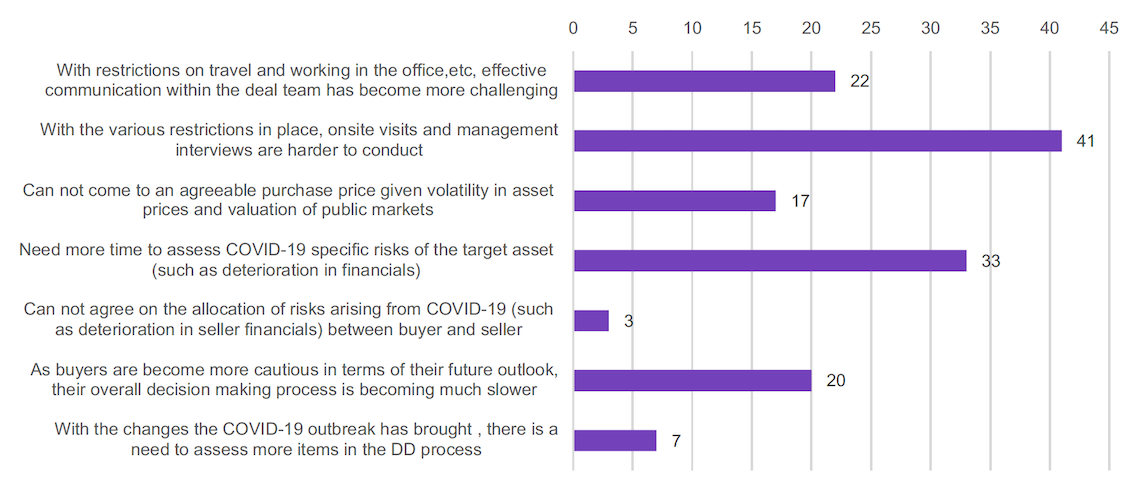 11. New tools or practices already introduced to current M&A process
The last part of our survey focused on new tools or practices deal makers have incorporated into their process or would like to see made available in the future, to help cope with the challenges they currently face in moving deals forward.
When asked about new tools already introduced, 81 percent of respondents confirmed they are using online video communication tools (such as Zoom or Microsoft Teams) for communicating within the deal team. Forty-four percent of respondents are also using these online video communication tools for conducting management interviews. This suggests these tools have now become an integral part of the COVID-19 era deal-making process.
The second most popular response was online tools to replace the traditional email and Excel-based buyer/seller communication and document sharing process, but only 14 percent of respondents confirmed the introduction of such tools; which suggests their limited adoption compared to online video communications.
Earlier in this report, we highlighted the challenges dealmakers are facing in conducting onsite visits. Despite these challenges, only 7 percent of our respondents confirmed they are now using video recordings in place of onsite visits. While the survey results suggest the use of video recordings to be still relatively rare and limited, we believe that going forward, we will likely see wider adoption of such practices as they become commonplace.
We are seeing increasing demand from our global clients to upload and share video recordings of manufacturing sites and other assets to potential buyers in place of physical onsite visits and expect this trend to extend to Japan.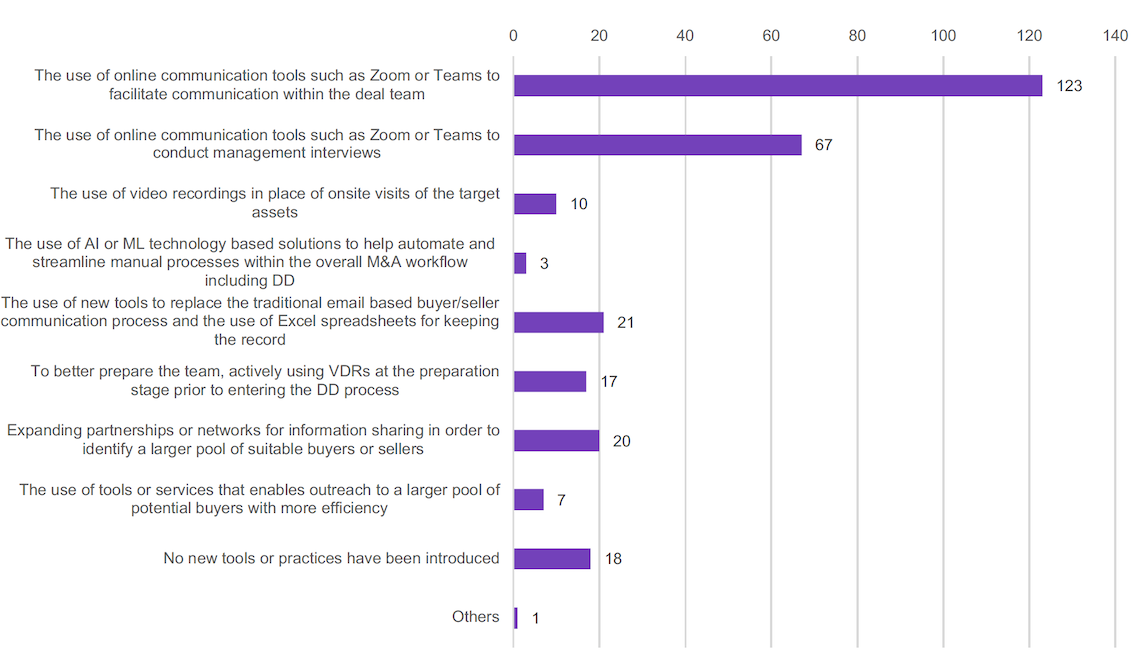 12. New tools or services requested for future M&A process
Finally, we asked our participants what types of tools or services they would like to help facilitate their M&A deal process.
The most requested was the use of artificial intelligence (AI) and machine learning (ML) technology to speed up and automate manual tasks within the due diligence process, such as finding and tagging files and redacting documents; 51 percent of our respondents confirmed they would like to use such a service. This result reflects the current state of the diligence process. There is still a lot of manual entry and checking involved, and plenty of demand to bring more efficiency and automation in the future by using the latest technology.
A good portion of our respondents would also like to see this technology being applied to areas such as synergy or risk analysis within the due diligence process (37 percent) or to assist with future earnings projections or valuation analysis of the target companies or assets (30 percent).
The integration of online video communication tools with Virtual Data Rooms (VDRs) was the second most requested service within our list, with 47 percent of our respondents confirming they would like to see such a service made available.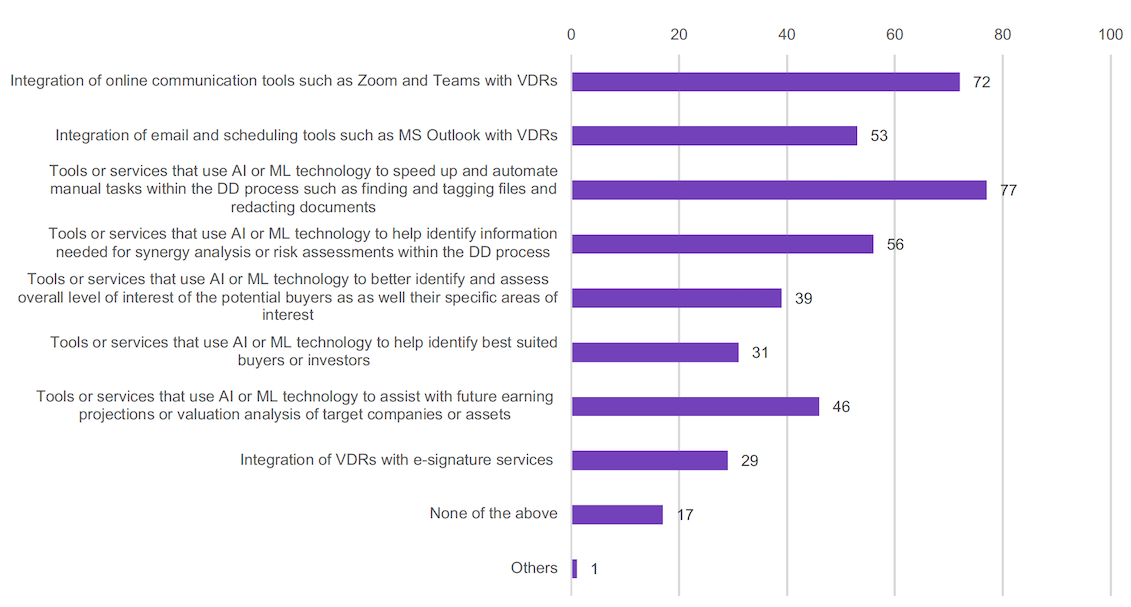 13. Conclusion
With over 150 participants sharing their views on the current state of the M&A market in Japan, our survey results show some signs of optimism for domestic M&A deal flow compared to three months ago. A higher sense of uncertainty remains for cross-border M&A activity, which will likely be the case for the foreseeable future.
We also confirmed the wide adoption of online video communication tools within the M&A process in Japan today, while there is strong demand to bring more efficiency and automaton into the diligence process by leveraging AI- and ML-based technologies. With the wide use of online video communication tools, there is also a strong need from dealmakers to integrate such tools with the secure environment VDRs can provide.
At Intralinks, we are committed to supporting our M&A clients in these challenging times. We're doing so by not only providing continuous enhancements to our core VDR service but also by launching new products. Deal Marketing and DealVision are specifically designed to support our clients within the broader M&A deal life cycle. DealVision, in particular, is a tool that helps the buyside streamline their diligence process utilizing AI technology, and we are planning to expand the use of such technology across our offerings in the future. We also plan to provide these tools in multiple languages, including Japanese. Additionally, we plan to integrate our VDR service with Zoom, currently scheduled for H2 2020.
We believe these survey results suggest that the integration of these services with VDRs will become the critical next step for improving ease of use and to meet the higher security level required.
Takeaki Suematsu
Takeaki is the Sales Director and Country Head of Japan. He brings to Intralinks nearly two decades of work experience combined at companies such as Morgan Stanley, Dresdner Kleinwort and most recently S&P Global. At S&P Global Market Intelligence, Take served as the Country Head and Head of the Commercial Team, providing data and analytics solutions to investment and commercial banks, investment managers and corporates in Japan.