The Short-Term Prospects for Renewable Energy in the Age of COVID-19
Iñigo Varela Knörr, structured finance manager at Forestalia in Madrid, shares his views on the sector's future direction, consolidation in the energy market and financing renewable energy projects.
Forestalia is a prominent Spanish renewable energy developer with a portfolio of over 10 GW in wind, solar photovoltaic and biomass projects. In the past three years, the company closed two power purchase agreements (PPAs) for a total volume of 1,187 GWh/year, and achieved agreements with Copenhagen Infrastructure Partners, Repsol, Lightsource BP and Bruc Management, for the development and sale, at Ready to Build, of approximately 2 GW. The company has also closed project financing for a total capacity of 741 MW, and has begun to build and operate its renewable energy portfolio, in some cases in co-investment with entities with a proven track record in the renewable energy sector such as Mirova, Engie and General Electric.
How do you think the pandemic has impacted the renewables industry? What has been the impact on the Spanish market?
Iñigo Varela: The impact of the COVID-19 pandemic on the renewables industry has been similar across the world. As a result of the different lockdowns, there have been significant contractions in demand, leading to extreme deterioration of electricity prices. Such deterioration has, of course, had negative consequences for operational projects.
Electricity prices are recovering faster than expected. However, to assess if the impact on demand will be short-lived, we will have to examine the time it takes for industrial production to revert to its pre-pandemic levels. It is here that, in comparison to its European neighbors, Spain's prospects do not seem extremely optimistic.
Regarding renewables penetration, in my opinion, the pandemic has accelerated the existing transition toward clean energy and thus, has been beneficial for the industry. Last July, the European Council stated that 30 percent of the expenditure from the MFF (Multiannual Financial Framework) and NGEU (Next Generation EU) should be applied to investments complying with the objective of EU climate neutrality by 2050. Moreover, the Spanish Government identified the renewables industry as one of the country's main drivers to recovery. Together, propitious legislation, the favorable impact of green financing and investments on lenders' and investors' reputations and the increasing attractiveness of alternative investments, are expected to benefit both current and future renewable energy projects.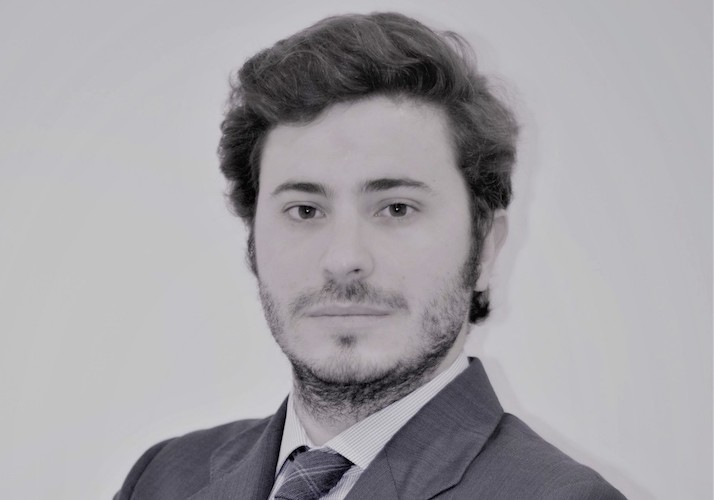 (Above) Iñigo Varela Knörr, of Madrid-based Forestalia, a business group dedicated to renewable energies including wind, photovoltaic and biomass.
What are the most likely scenarios the Spanish energy sector might face in the next six to twelve months? How will the new guidelines set by the Royal Decree-Law (June 2020) impact the future of renewables in Europe and Spain? What are the challenges and opportunities that this might open up?
On June 23, 2020, the Spanish government published a new set of guidelines that will profoundly impact the development of novel renewable energy projects in the country. In recent years, the industry has been characterized by an increasing number of applications for grid access. Considering that many of the projects applying for such authorization were not seeing any further progress in their permit processing, the tremendous amount of applications absorbed the existing evacuation capacity, turned grid access permits into a scarce resource, and restricted future developments. In this context, the new regulation established a series of extremely demanding deadlines for the application and the granting of the main authorizations. Taking into account the size of some portfolios under development and although beneficial in the medium term, this will create an enormous challenge for many prominent promoters.
Moreover, the new regulation also introduced significant limitations regarding modifications allowed to projects initially submitted when applying for grid access and connection. Projects unable to meet the newly approved deadlines will lose both the grid access permit and the guarantee posted in front of the administration when applying for such permits.
"We have closed various M&A transactions since the quarantine in Spain was lifted. We believe the appetite for renewable energy projects will continue to grow."
Additionally, an important novelty of the new regulation is the introduction of favorable legislation for the development and construction of hybrid solar and wind projects. Taking into account both declining costs and the complementary generation cycles of the aforementioned technologies, these new policies introduce a phenomenal opportunity for promoters and investors.
As Europe slowly reopens for business, how will corporate strategies shift in the post-COVID-19 world? What are the main challenges — and opportunities — that an energy company will face in the transition to remote working?
To our surprise, we are having a very positive experience regarding remote working. We have been able to close both project finance and M&A transactions without requiring physical meetings with either lenders or investors. One of our greatest concerns at the beginning of this pandemic was how this would affect our dialogue with the smaller and less-funded local administrations, but even this has proven to be less of a problem than anticipated. It will be interesting to see how this worldwide experience affects eventual work-life balance plans, corporations' office and travel expenses (these will probably exhibit a progressive declining trend), and even maternity/paternity leave policies and future geographical mobility. The consolidation of a part-time remote working system could revert the tendency of increasing population density around main business centers.
There has been consolidation in the energy market in Europe in recent years. How do you think investors' appetite for the energy/renewable sector will evolve in the post-COVID-19 world?
We have not noticed a decrease in investor interest, but the contrary. We have closed various M&A transactions since the quarantine in Spain was lifted. We believe the appetite for renewable energy projects will continue to grow as low interest rates and current valuations and volatility in equity markets enhance the attractiveness of alternative investments. Moreover, infrastructure assets – given their relative inelastic demand and stable cash flows – have always been characterized as defensive assets, meaning the current economic downturn could result in an even better positioning of these assets in terms of investor preferences.
What are the challenges that due to COVID-19, companies are facing to get project financing. Are banks still open to finance the projects? And what is the Spanish and international equity funds´ behavior under the current environment? Are they still interested in renewable investments? What are the main expectations for the future?
Our experience to this day has been positive as we have continued closing project finance structures even after the beginning of the pandemic in Europe. However, regarding challenges caused by COVID-19, it is true that we are encountering less flexibility when dealing with aggressive project finance structures. Lenders have become more conservative when negotiating critical terms such as tenors and debt sizing ratios, and, in comparison to what we had seen in the past few years, banks now require higher margins and commissions.
In my opinion, there is still a huge appetite for the financing of renewable energy projects. Traditional lenders are currently dealing with a profound change in the banking industry. In this context, banks are giving increased importance to the reputational impact of their day-to-day operations and, in line with the Sustainable Development Goals of the United Nations, are strategically shifting their activities toward companies and projects committed to such goals. This, in combination with the perceived profitability of the sector, benefits the financing of renewable energy projects.
In conclusion, we are noticing a growing interest in debt funds. These are increasingly approaching us, proposing very aggressive and compelling debt structures, and thus, it is our belief that these funds will continue to compete with – and sometimes even become a substitute for traditional lenders.
Beatriz Meléndez
Beatriz Meléndez is the account executive on the Spanish team in charge of relationships with energy companies. She joined SS&C Intralinks four years ago and has covered key corporate transactions in the energy sector. Beatriz has also worked with the largest Spanish banks and telco companies. Prior to joining the company, she worked for Santander bank. She holds a degree in law and a master's degree in management and international trade.