2 minutes
M&A Remote Due Diligence: How To Integrate Zoom Videos in a Virtual Data Room
21 January 2021
Dealmakers can now easily import, organize and protect their video files in an Intralinks VDR with just a few clicks.
The COVID-19 pandemic has impacted us on so many levels, including the way we interact professionally. With the severe disruption to in-person meetings and physical events, technology adoption has stepped up in significant ways to assist the way deals are done.
But let's consider how this shift has affected the mergers and acquisitions (M&A) and alternative investments industries. Facility tours, operational due diligence, management presentations or Q&A with key stakeholders are all key events that had to be readjusted according to the new work paradigm due to travel bans and lockdowns instituted to prevent the spread of coronavirus. All of a sudden, the remote work environment has become the new normal across organizations.
Dealmakers have been particularly impacted by the new environment. Many of their meetings typically conducted throughout the deal lifecycle required in-person attendance. As companies have swapped in-person meetings for video calls, Zoom has emerged as the leader in modern enterprise video communications.
Introducing Zoom integration with the VDR
With dealmakers now relying on video files as part of the due diligence process, it's critical to have a seamless way to securely store and share these resources. To support this, we've integrated directly with Zoom, enabling clients to quickly and easily upload to their virtual data rooms (VDRs):
Management presentations
Video-conferenced facility tours
Operational due diligence reviews
Q&A and other deal tasks
Importing Zoom recordings is available in the Add Documents flow of the Intralinks VDR. Once clients sign into their Zoom accounts, they're able to select the recordings that they want to add to their exchange. 
Clients can easily import, organize and protect their video files with just a few clicks — without ever leaving their data room. The new functionality is available to all clients.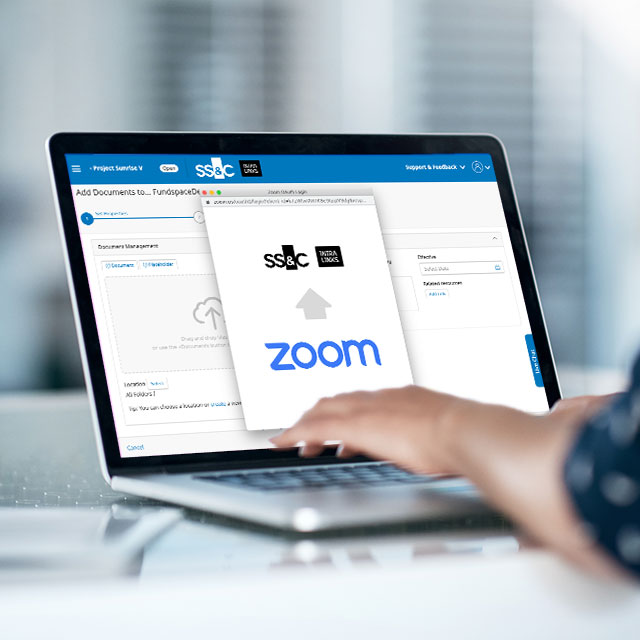 Taking advantage of video files support
Zoom integrates perfectly with enhancements we've added for viewing video files right in the exchange, using the new Viewer solution. Clients who enable the new viewer can preview video files or open them in a new window, without leaving the Intralinks experience.
Since the release of Zoom integration, we've had more than 3,100 clients logging into their Zoom accounts through the VDR. We're excited to see clients taking advantage of the new integration, and we're hoping this will ease the communication challenges that buyers and sellers are currently facing.
Cosmin Deftu
Cosmin is a product manager for mergers and acquisitions at SS&C Intralinks. He is responsible for bringing to market initiatives that have clear outcomes for clients. Prior to joining in 2020, Cosmin held product management roles at fintech companies 2Checkout and Finastra, where he was involved in developing solutions for the online payments and student lending industries.
Sign up for our newsletter for must-read market analysis and thought leadership, delivered right to your inbox.