How Oil & Gas Has Fared Since the COVID-19 Outbreak
Persistent demand challenges and permanent shifts point toward needed changes for the industry's survival.
A year ago, Oil & Gas was about to face its deepest crisis since the oil shocks of the 1970s. Much as the events of 1973 and 1979 reshaped the industry, today's coronavirus pandemic, as it tears through country after country and locks down economies, could portend another restructuring on the horizon, which Intralinks first explored last spring.
Even before then, as the world ground to a halt following government-issued shelter-in-place orders, the Oil & Gas industry found itself face to face with a reality in which consumer, commercial and industrial demand for oil had plunged to their lowest levels in recent memory. Indeed by April, such anxieties culminated in the price of WTI crude going into negative territory for the first time on record, helped by a dearth of storage and on a macro level by the COVID-19 pandemic. The Saudi-Russian oil price war also didn't help matters.
Looming in the background were also environmental, social and governance (ESG) criteria and the growing relevance of renewable energy, the result of deep concerns over increasingly acute climate change consequences. All seemed to spell doom for Oil & Gas which, for more than a century, has been arguably the world's most dominant industry.
Lockdowns and working from home greatly shift demand
Flash forward to the beginning of 2021, and much of the world has remained under lockdown, with many employees still working from home – and projected to do so for the foreseeable future. This has led to drastically less demand for energy overall as people cease commuting to the office or traveling anywhere at all as much as they used to.
In fact, throughout the past year, several top firms have leaned into such new realities by announcing permanent work-from-home policies. Business travel for nearly all industries has for the most part been indefinitely suspended. Factory demands and demand overall from China has also fallen significantly.
However, many firms also remain committed to returning workers to office buildings once it becomes safe to do so. While a more flexible hybrid model of working from the office as well as from home may become somewhat of a norm, demand for energy for transportation and general travel purposes is unlikely to disappear entirely. The question then becomes one of how energy companies will continue to adapt to these emerging hybrid models, and what kind of innovations they will employ as behaviors shift.
Recent international plays: different countries, different strategies
Such a "new normal" has been playing out via different strategies around the globe. In Europe, driven by a new European Commission law in line with the Paris Agreement, oil majors have already begun committing to more sustainable strategies. The U.K. and Netherlands' Royal Dutch Shell, France's Total and Norway's Equinor have all pledged to achieve net-zero emissions by 2050, joining Spain's Repsol and the U.K.'s BP which had been the first to do so.
Meanwhile, following their oil price war last year, Russia and Saudi Arabia came to an agreement, albeit an unusual one, in which the latter agreed to lower output to allow for price appreciation while the former did not. The compromise, a delicate one which could still give way to the tensions that were already rearing their head in 2020, seemed a "good will" gesture on Saudi Arabia's part given Russian demands that output be increased to head off losing market share to U.S. shale producers. Side note: As prices have appreciated recently, Saudi Arabia has signaled its desire to again increase production.
In the U.S., oil majors have not yet joined their European counterparts in setting cleaner energy goals over the next few decades. In fact, Exxon Mobil and Chevron reportedly held talks last year to discuss a merger, though such discussions now appear to be off. With the Oil & Gas industry hemorrhaging ever since the outbreak of the pandemic, the two U.S. oil behemoths had purportedly reached a point where they were willing to discuss a deal despite likely antitrust challenges. Both companies are descended from John D. Rockefeller's Standard Oil, which was broken up in 1911.
However, one area where the U.S. has seen progress on the clean energy front is in the auto industry. Tesla, after years of production and investor confidence issues, reached the milestone of having manufactured one million vehicles in 2020. In the meantime, after an executive order signed by President Joe Biden on climate change in January, General Motors pledged to cease selling gas-powered vehicles by 2035. Not long after, Ford announced a similar pledge, though only in the European market. Last year, the state of California announced that it would phase out the sale of gas-powered vehicles by 2035, with Massachusetts following suit last month. The implications for the Oil & Gas industry stand to be enormous.
What shale we do? The U.S. shale industry ponders its future
Much has already been written about the U.S. shale industry and the many challenges it has faced during the COVID-19 pandemic. Given recent events and moves made by governments and business leaders, it remains to be seen how the fossil fuels industry will adapt to these new realities. The recent deep freeze in Texas has underlined the effects of climate change and the need for energy preparedness. The Lone Star State found itself under scrutiny with electricity outages leaving millions of people without power, water and heat during one of the coldest spells ever to befall the state.
Even beyond these recent challenges, Oil & Gas was already in deep trouble. In data from Refinitiv, the number of bankruptcy and restructuring deals in the U.S. Oil & Gas industry reached a record high of 52 transactions in 2020, nearly 2.5x the count of the previous year and 18 percent higher than the previous record set during the energy consolidations of 2016. The largest of last year's debt restructuring transactions was that of Oklahoma-based Chesapeake Energy Corp. in a deal worth USD 2.3 billion.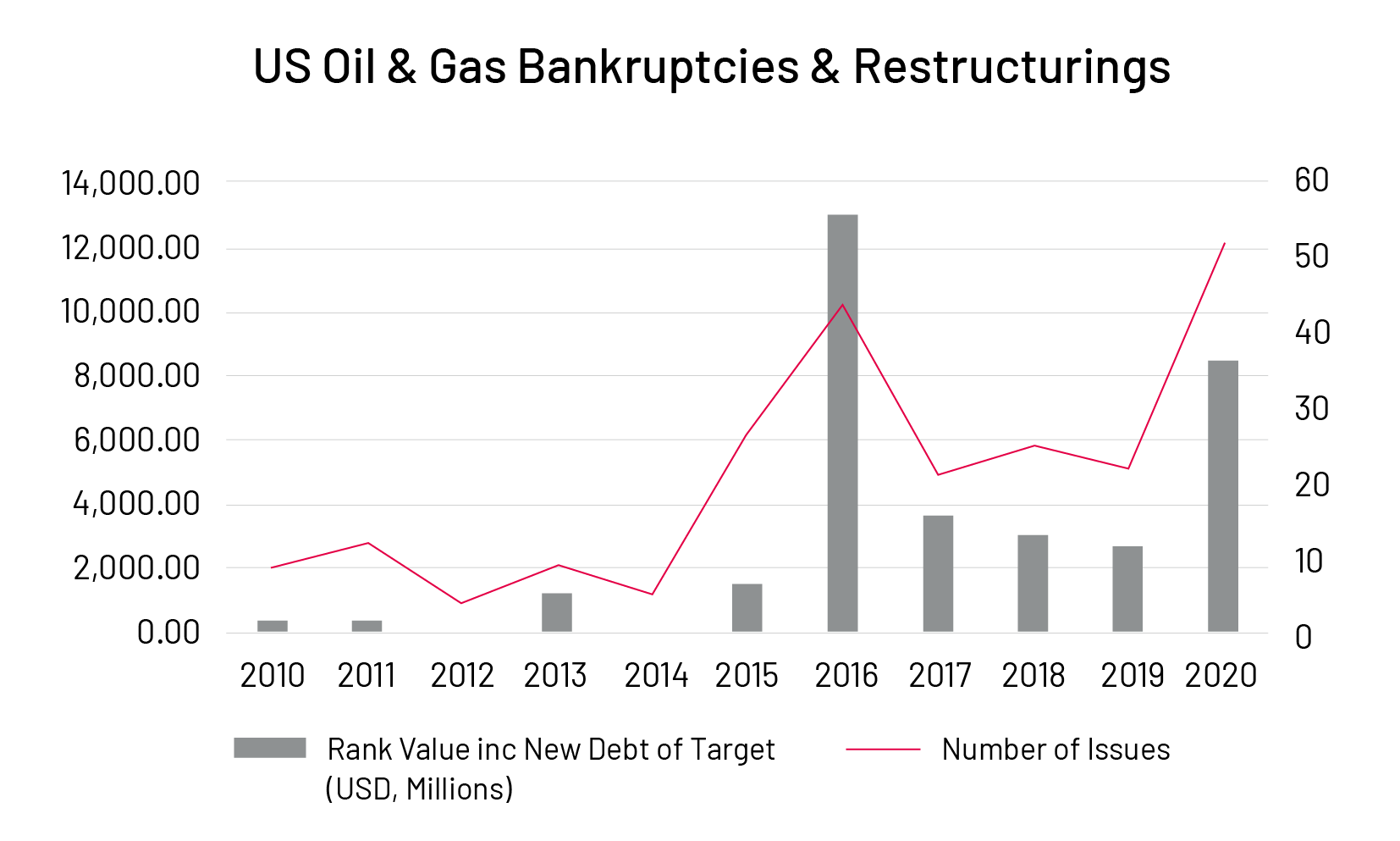 Source: Refinitiv
Have we reached peak oil? Where do we go from here?
Earlier this month, Shell claimed that it had hit peak oil, part of its motivation to seek adaptive alternatives as it moves away from fossil fuels and increases its investments in cleaner energies such as wind and solar. As discussed, much of Europe has begun moving in a similar direction. China has also pledged to go carbon-neutral by 2060 after reviewing estimates of its own peak oil in the next several years. And as the U.S. moves slowly in hodge-podge style toward new climate goals, inevitably questions will arise over how it will get there.
For the moment, it seems that a mix of some government incentives and some hint-taking by the business sector is all that is determining what the U.S.'s energy future will look like. If there's one lesson to be learned from the COVID era, however, it's that companies that refuse to adapt are due to face even more challenges down the road. To survive, they will have to find ways to innovate in the "new normal."
Elizabeth Lim
Elizabeth Lim is a senior market intelligence analyst and part of Intralinks' Market Insights & Analysis team.