4 minutes
Survey: What's on Dealmakers' Minds in India?
3 February 2021
We asked professionals working in M&A advisory, corporate development and alternative investments where dealmaking in the country will go in the next 12 months.
Survey Overview
In 2020, despite concerns about the COVID-19 pandemic, a sobering macroeconomic outlook and travel restrictions, mergers and acquisitions (M&A) and private equity (PE) activity in India recorded a total of 1,268 transactions worth USD 80 billion. November 2020 saw the highest number of deals in terms of volume with a total of 149 PE and M&A transactions recorded including three deals over USD 1 billion each, and 11 deals valued above USD 100 million each.
According to the Global Investment Trends Monitor issued by the United Nations Conference on Trade and Development (UNCTAD), India and China were the only two nations recording positive growth in Foreign Direct Investment (FDI) in 2020. India recorded a growth of 13 percent. "Government policies and reforms have made India a preferred destination for foreign direct investments and inflows grew at the fastest rate among top economies," said Piyush Goyal, commerce and industry minister.
The lockdown in India severely impacted most sectors. Small and medium-sized businesses in various sectors struggled, creating many consolidation and expansion opportunities.
To learn more about the current sentiment among dealmakers in India, SS&C Intralinks surveyed regional industry professionals from December 17, 2020 to January 7, 2021. Respondents shared their feedback on ongoing and upcoming opportunities in the region and the climate for M&A and fundraising activities. Here's a summary of our findings.
Survey Results
Breakdown of Survey Participants
We surveyed 70 participants from across the M&A and fundraising industry in India. The breakdown of respondents is as follows: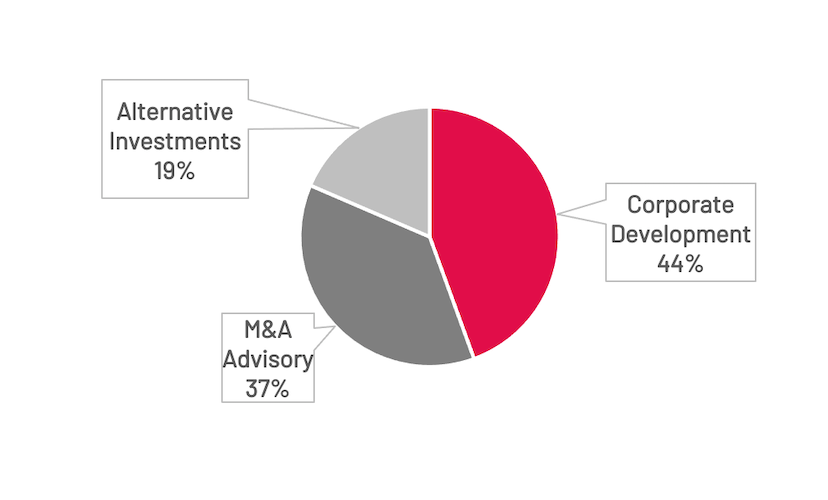 How has the approach to new deals changed since the COVID-19 crisis began?
It came as no surprise to see the majority of respondents state that they are actively focused on new deals. This is supported by a recent virtual panel discussion that SS&C Intralinks held in conjunction with The Economic Times where a senior industry professional had mentioned the crisis having given private equity firms the opportunity to assess the strength of their portfolios, thus the search for value and liquidation events. A plausible explanation of the 30 percent who answered "no change" can be attributed to another large camp that believes that the core underwriting philosophy stays the same pre-COVID, during-COVID and post-COVID.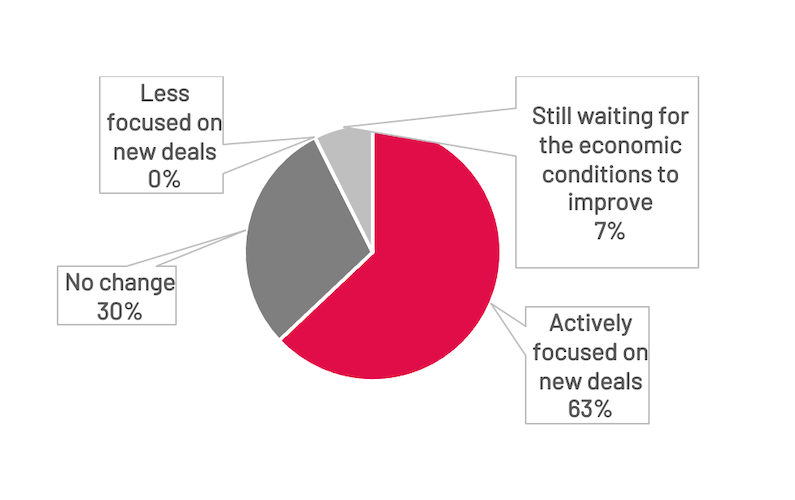 What are the challenges in the dealmaking process in the current business environment? 
The lack of in-person meetings due to lockdowns and travel bans has led to longer due diligence timelines in the overall deal cycle. This was a concern shared by 37 percent of respondents. Technology solutions providers such as SS&C Intralinks have embraced this new reality and developed an integration with Zoom to provide an entirely virtual due diligence process. Video-enabled virtual data rooms (VDRs) can shorten a transaction's timelines and help teams close deals more rapidly.
Another 37 percent listed the decrease in asset valuation as a growing challenge. Increasing debt and non-performing loans (NPLs) threaten to extend the global recession in some parts of the world.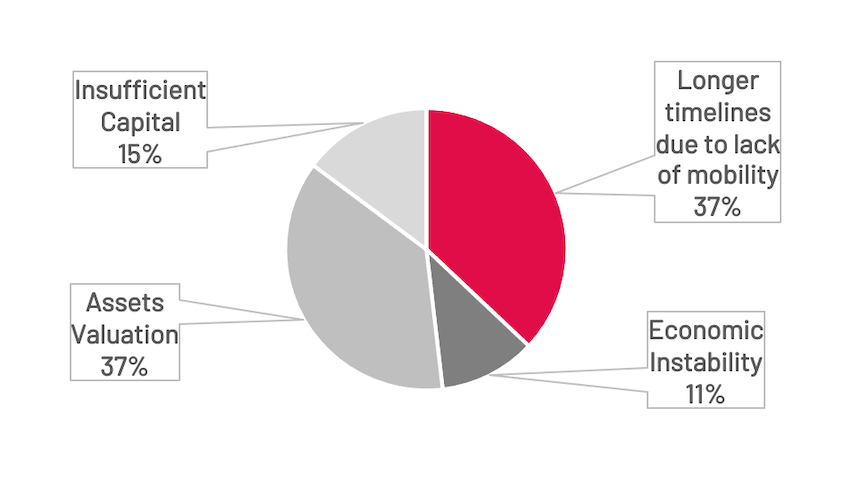 Please rank the most active sectors in the terms of M&A activities in India.
The Indian life sciences industry has grown consistently over the last three decades. The sector is now the third-largest contributor to reducing India's trade deficit and generates around USD 10 billion of trade surplus every year. The industry witnessed an extensive expansion overseas as well, primarily driven by the pharmaceutical industry, making life science and healthcare the most active sector in M&A activities in India.
Financial services are ranked as the second most active sector with a compound annual growth rate (CAGR) of 9.9 percent. The global financial services market is expected to grow from USD 20.49 trillion in 2020 to USD 22.51 trillion in 2021.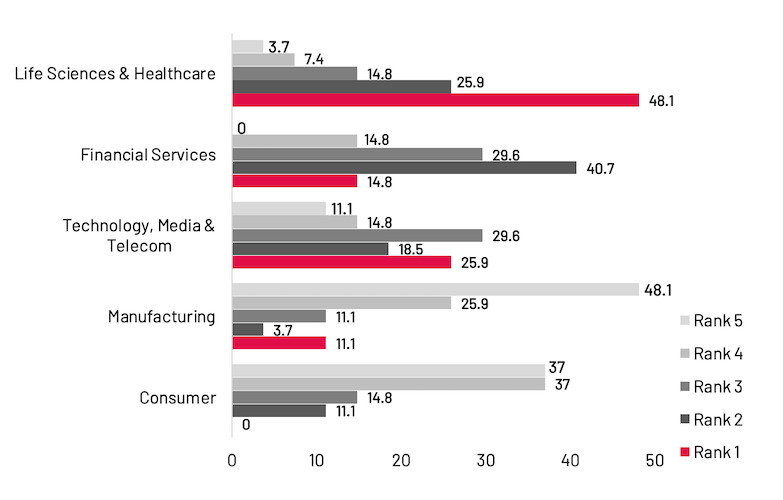 Conclusion
While the ongoing pandemic has created economic setbacks amid the backdrop of a historic health crisis, Indian dealmakers are optimistic. Many are focusing on new deals and value appreciation in previous investments.  
Life science and healthcare will likely continue to be at the epicenter of M&A transactions as the world continues to look for vaccines and therapeutics to stop the COVID-19 pandemic.
Ninotchka Gonsalves
Ninotchka is based in India and heads SS&C Intralinks' marketing activities in South Asia. She has worked for Intralinks for over five years and helps the sales team with revenue generation. She comes from a commerce background with strong business development and leadership qualities.
Sign up for our newsletter for must-read market analysis and thought leadership, delivered right to your inbox.