7 minutes
Does EMEA's M&A Market Have Staying Power in 2022?
15 November 2021
The Europe, Middle East and Africa (EMEA) M&A market has rallied confidently in the first nine months of 2021, the easing of restrictions in Europe in particular corresponding with a return to health for the region's largest economies. In Western Europe alone, which accounts for approximately 23 percent of global deal activity, USD 958 billion was invested across 6,559 acquisitions. The 2021 value total is higher in the first three quarters than in any full year since 2007.
A major catalyst for this rebound has been an ongoing U.K. takeover spree. The country saw USD 178.3 billion invested in the first half, more than twice the deal value of Germany, the next biggest market. Yet, it is not U.K. corporates and financial sponsors that have been responsible for most of this deal flurry. Instead, transatlantic investors have flocked to the U.K.'s shores in droves, motivated by a Brexit-weakened sterling and London's stock market trading on weaker multiples than can be found in New York. U.S. bidders minted USD 108.7 billion worth of U.K. transactions up to the end of Q3, the highest total on Mergermarket record. Some of the largest and most prominent of these deals have included CD&R's GBP 14 billion takeover of Morrisons, the fourth largest supermarket chain in the U.K., and U.S. aerospace and defense company Parker-Hannifin's GBP 9.9 billion play for British rival Meggitt.
Staying power
After such a bountiful opening half to 2021, does the EMEA region have staying power? On this point, sentiment is broadly optimistic, albeit with a caveat. More than half (55 percent) of respondents in our collaborative research with Mergermarket expect a near-term increase in deal activity, including 20 percent predicting a significant jump. But EMEA respondents are less bullish than their counterparts in North America and APAC, where 77 percent and 76 percent, respectively, expect more to come.
Europe is by far the most favored market in EMEA, with 91 percent expecting to undertake deals on the continent going forward. The U.K. appears to be in line for much of that, with more than a third (36 percent) indicating they will transact in the country. Just over a quarter say the same of striking deals in North America, while one-fifth say they expect to execute deals in Asia, excluding China and Japan.
Drivers and challenges
There is nothing like a pandemic and global recession to train the minds of dealmakers. The past 18 months and counting have been a wake-up call for corporates that have been slow to address legacy issues such as over-reliance on customer footfall and weak digital channels. They are now repurposing themselves for long-term growth in a world in which existing themes such as technology, remote working and direct-to-consumer have been accelerated.
Our research shows that the most highly anticipated motivators for EMEA M&A activity are the disposal of non-core units and capturing synergies, both of which saw 17 percent of the vote. This points to a sustained period of companies reflecting on their purpose and using M&A as a means for fast-tracking the realignment of their business activities, product lines and service delivery.

These deals will not be without risk, of course, with threats ranging from new laws, geopolitical challenges and potential tax impacts as governments seek to recover revenues following multiple rounds of record economic stimulus. In EMEA, it is rising scrutiny from regulators that has investors awake at night. This was cited by 30 percent of respondents in our research as the biggest risk to their M&A activity. No other risk accrued even half as many respondent votes.
Notably, authorities in Europe have been increasingly hawkish about inbound foreign direct investment. Even prior to the pandemic, the U.K. and Germany had tightened their antitrust screening criteria to block outside investment into strategically sensitive sectors such as Technology and Defense. Since the pandemic began, the EU has adopted a more protectionist position and authorities are now in some cases even inspecting intra-European deals that they feel will threaten competition and national security.

The COVID-19 effect
Perhaps counterintuitively, the pandemic has precipitated an increase in dealmaking appetite. This is down to several factors, including lockdowns pausing M&A activity and creating a build-up of demand combined with unprecedented economic stimulus delivering vast market liquidity. Financial sponsors have record dry powder to deploy and corporates are under greater pressure than ever to repurpose their businesses.

Forty-three percent of EMEA respondents agree that COVID-19 is responsible for an increase in demand for deals, but they are a little more bearish than investors in APAC and North America; 23 percent say the crisis has led to a decline in dealmaking appetite, and a further 15 percent report a significant decrease.

The outlook on how the pandemic will shape the EMEA M&A market, meanwhile, is also mixed. For example, 19 percent of respondents expect an increase in opportunities for minority stakes and joint ventures, a clear benefit, but 15 percent believe the defining trend will be a rising number of lapsed transactions.

On this point, 12 percent anticipate deals lapsing past their deadlines to be the primary challenge of post-COVID M&A in the region, but it is the complexity of executing due diligence and longer completion times that are expected to be the biggest obstacles ahead, each cited by 17 percent of respondents.

The focus is on ESG
Environmental, social and governance (ESG) issues are a major focal point for regulators in Europe and, consequently, investors are expecting a step-up in scrutiny paid to M&A when it comes to these issues. More than a third (36 percent) predict a significant increase in attention from deal-clearing authorities over the next three years, the largest share of EMEA respondents and far ahead of their peers in other regions.

And it is the 'E' in ESG that is shaping deal decisions rather than social and governance aspects. As much as 47 percent say energy efficiency is one of their primary ESG considerations, followed by carbon and other greenhouse emissions with 43 percent of the vote and water management with 37 percent of the vote.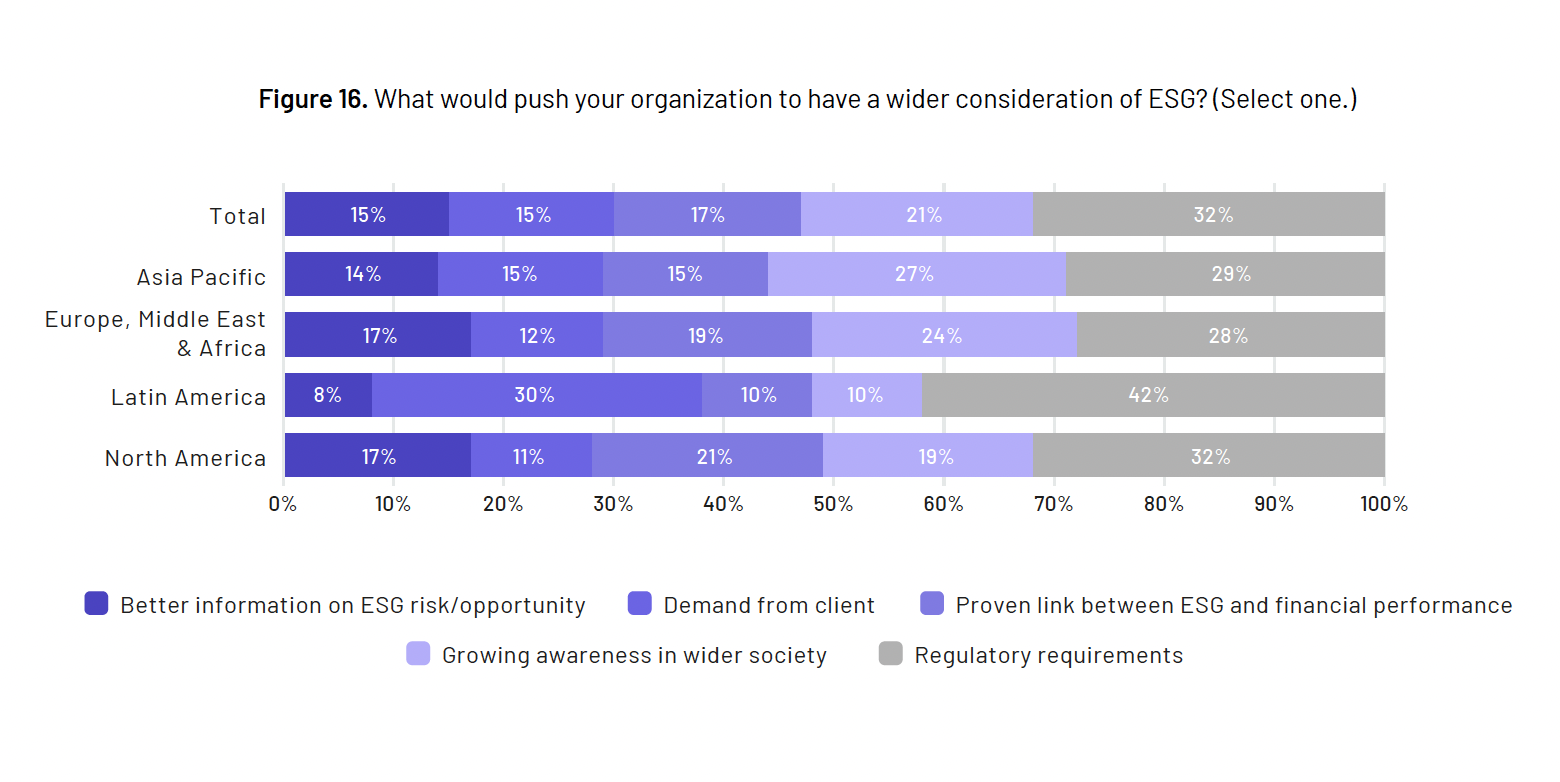 As in other regions, the key challenge that EMEA respondents face when making ESG-oriented investments is the lack or quality of sustainability data (25 percent), an issue that regulators are addressing. As part of a larger sustainable finance package, this year the EU adopted the EU Taxonomy Climate Delegated Act. The law introduces performance criteria for determining which economic activities make a substantial contribution to the EU's sustainability goals, while the proposal of a Corporate Sustainability Reporting Directive aims to improve transparency by standardizing how companies report on non-financial performance.

Unsurprisingly then, 28 percent of EMEA respondents say that regulatory requirements are the major factor that would push their organizations to have a more comprehensive consideration of ESG, ahead of other drivers such as client demand or rising social awareness of these issues. This demonstrates the influence of the ongoing efforts of policymakers in this area.

Conclusion
Dealmakers have had no time for a breather so far in 2021 and there are expectations of sustained activity, at least in the short term. Even so, investors are far from resting on their laurels. Rather than seeing companies focusing on strategic acquisitions as their first point of attention, 24 percent think that risk mitigation will be the order of the day, followed by 16 percent who believe businesses will primarily be concentrating on cost reductions.

Clearly, EMEA dealmakers are as preoccupied with risk as they are opportunity. As they look ahead to the remainder of the year and into 2022, the biggest deal completion challenges on the horizon include protectionist policies and trade conflicts, cited by 17 percent, and the related issue of political instability, on the minds of 13 percent of respondents. With careful preparation and analysis, investors can overcome any obstacle thrown in their path and manage the lingering macro, political and regulatory uncertainty that persists, in EMEA and worldwide.
To get the full picture of what lies ahead for M&A in EMEA and the rest of the world in 2022, download the SS&C Intralinks Global M&A Dealmakers Report 2022 here.
Ken Bisconti
Ken Bisconti is a Co-Head of SS&C Intralinks. In this role, Mr. Bisconti is responsible for the end-to-end management of the organization along with Bob Petrocchi. He formerly served as Chief Product Officer for Intralinks where he developed a very deep and insightful understanding of market needs and strategic opportunities for Intralinks and put those insights to work defining the organization's product offerings.
Sign up for our newsletter for must-read market analysis and thought leadership, delivered right to your inbox.