3 minutes
Report Reveals M&A Disruptors for 2022
10 November 2021
Our exclusive survey of the M&A market, produced in association with Mergermarket, reveals the two key factors that are shaking up the M&A market: ESG and digitalization.
Environmental, social and corporate governance (ESG) is no passing fad. Mergers and acquisitions (M&A) stakeholders are having to adapt to this foundational change, a fact evidenced in our exclusive new report, Global M&A Dealmakers Report 2022, produced in association with Mergermarket.

Governments around the world have recognized that the COVID-19 pandemic represents an opportunity to lead a long-awaited paradigm shift. In the U.S., proposed infrastructure spending is aimed at mitigating climate change. Meanwhile, the European Union, which had previously made climate change a priority, has agreed to its European Green Deal, a set of policies with the overarching aim of making the continent carbon neutral by 2050.

Big, top-down initiatives from global policymakers will undoubtedly influence M&A markets going forward and will force participants to re-prioritize. ESG considerations will have to be baked into calculations as acquirers aim to achieve lasting, sustainable value from their transactions.

Indeed, nearly two-thirds (62 percent) of respondents in our research expect ESG scrutiny in the deal process to increase over the next three years. Dealmakers also acknowledge that this will involve more work from them, with close to half (48 percent) expecting ESG-related due diligence to increase in transactions in the same time period.
Analytical abilities
It is not only ESG that is disrupting M&A and how deal processes are conducted. Technology is having a major impact on the practicalities of getting deals over the line. At a basic level, dealmakers have had to adopt digital tools en masse during the pandemic to maintain their investment flows, from simple videoconferencing software used for management team introductions to more sophisticated tools enabling deeper due diligence than ever before.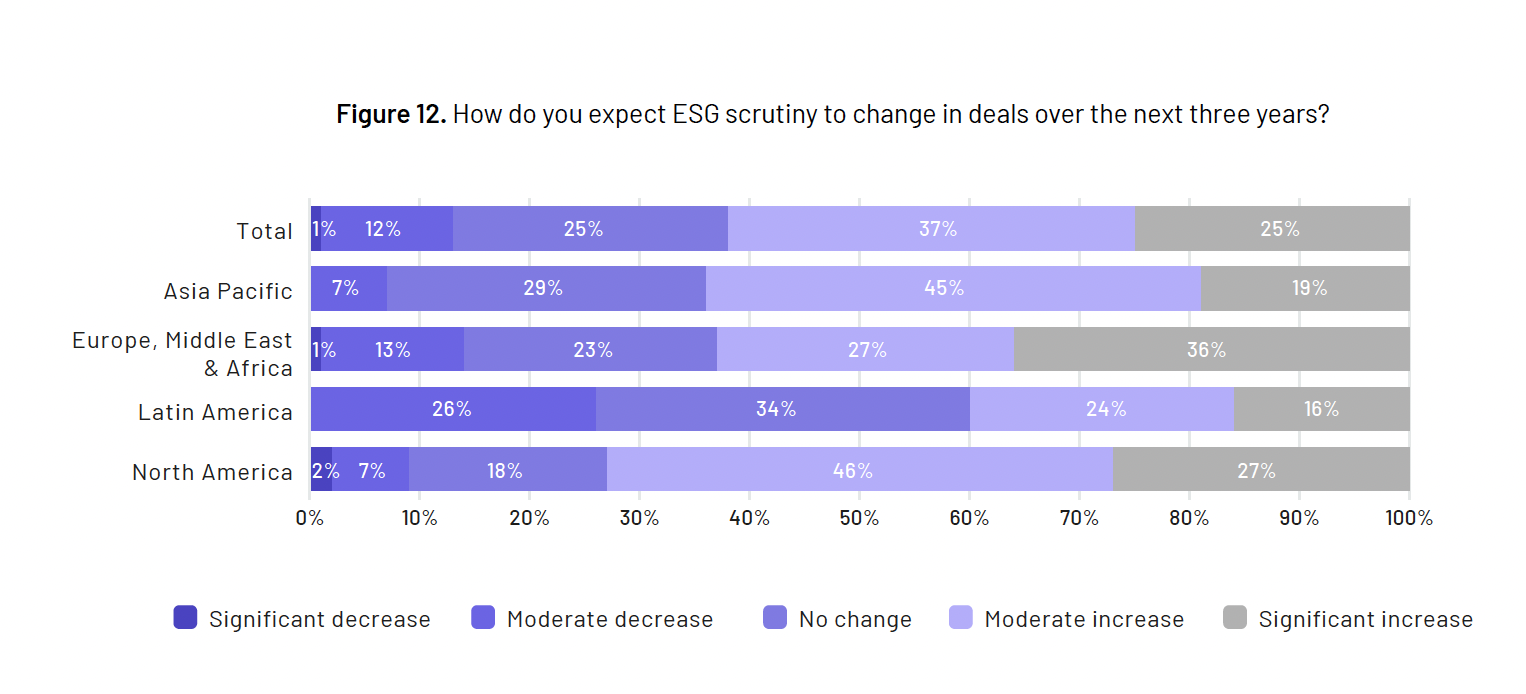 One such tech application is data analytics, which is viewed by 55 percent of respondents as the most disruptive trend set to affect M&A processes. Analytics capabilities can enable bidders to drill down into the inner workings of a business to discover actionable insights. This can help them to confidently build base cases and settle on competitive valuations, potentially giving them an upper hand over their competitors. Well-executed data analysis makes the difference between winning and losing a deal.

On red alert
Cybersecurity is also high on the dealmaker agenda: Fifty-two percent of respondents see this as a disruptive trend that will impact M&A processes. With so much confidential data and potentially sensitive information disclosed in a company sale, both sides of the negotiating table need to be satisfied that these assets and intellectual property will not be leaked. Any breach has the potential not only to jeopardize the deal but the competitive position of the target company.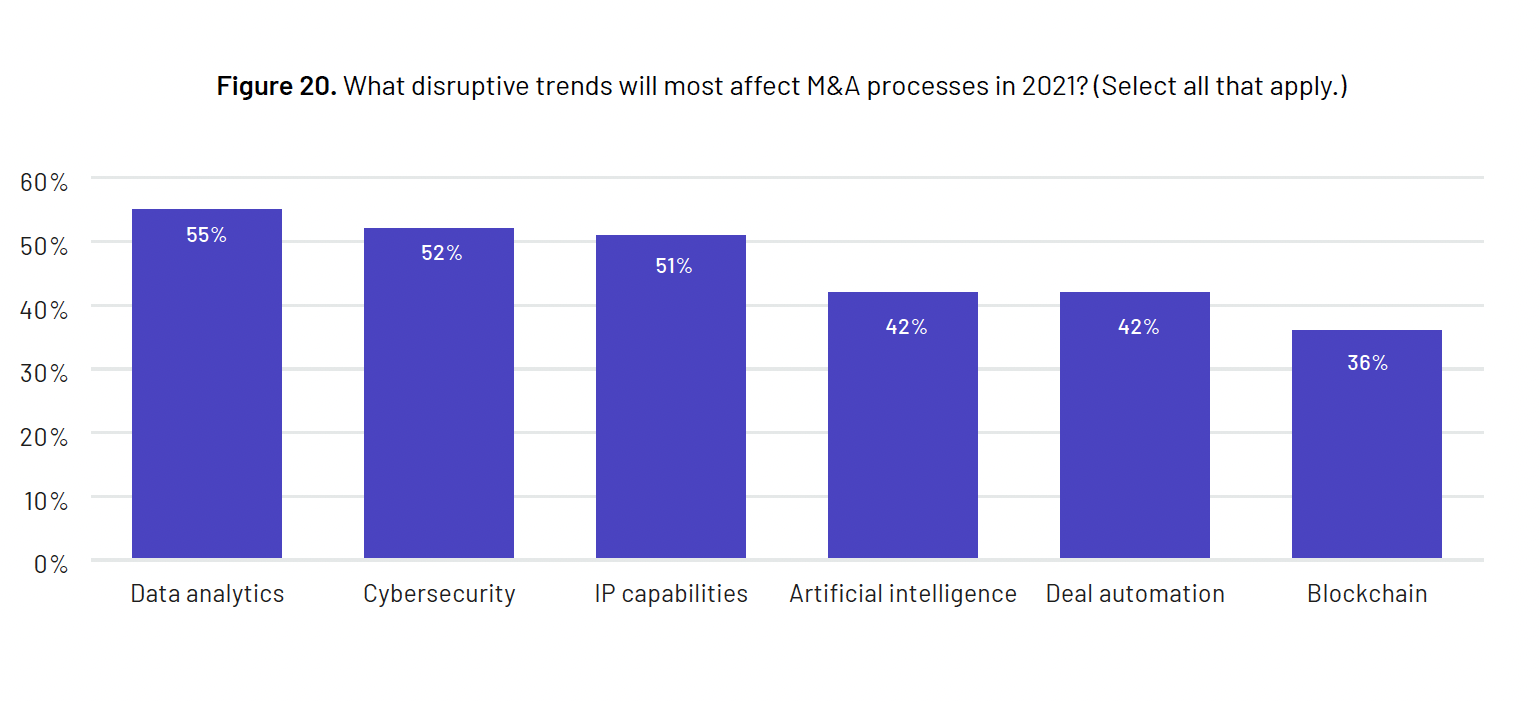 It also stands to reason that, with cyberattacks continuing to proliferate worldwide, strong information security governance will separate weaker and stronger targets. With competition for deals at a fever pitch, investors are actively seeking quality and, in addition to attractive growth rates and long-term strategic potential, it will be businesses with premier ESG and cybersecurity credentials that see the strongest interest from buyers in today's go-go market environment.
Learn more about these two market drivers and where 300 global dealmakers think M&A is heading in 2022 by downloading the SS&C Intralinks Global M&A Dealmakers Report 2022 here.
Ken Bisconti
Ken Bisconti is a Co-Head of SS&C Intralinks. In this role, Mr. Bisconti is responsible for the end-to-end management of the organization along with Bob Petrocchi. He formerly served as Chief Product Officer for Intralinks where he developed a very deep and insightful understanding of market needs and strategic opportunities for Intralinks and put those insights to work defining the organization's product offerings.
Sign up for our newsletter for must-read market analysis and thought leadership, delivered right to your inbox.