3 minutes
ESG, Private Debt and Credit Markets Resonate for Institutional Investors in 2022
28 January 2022
A deluge of debt issuance — sustainable and otherwise — is expected as investors are bullish on DCM assets.
Institutional investors are expecting a surge of debt issuance in the next 12 months. Many of them anticipate increasing their allocations as interest in environmental, social and corporate governance (ESG) begins to resonate within debt capital markets (DCM). More broadly, debt instruments retained their status as a favored asset class among institutional investors, with the average allocations to DCM assets growing from 16 percent to 36 percent. These data points are culled from the 2022 DCM Investor Report, an extensive global survey of 111 seasoned professionals from noted investment firms worldwide, conducted by SS&C Intralinks in partnership with Institutional Asset Manager.
The past year has seen interest and demand for ESG gathering speed across the whole investment industry. This focus is now trickling down to the DCM markets.
However, although this shift is taking place, ESG considerations were only recognized tentatively by respondents to the survey. This year, 35 percent rated ESG as a "significant" consideration in their DCM strategy, followed by 24 percent rating it "very significant."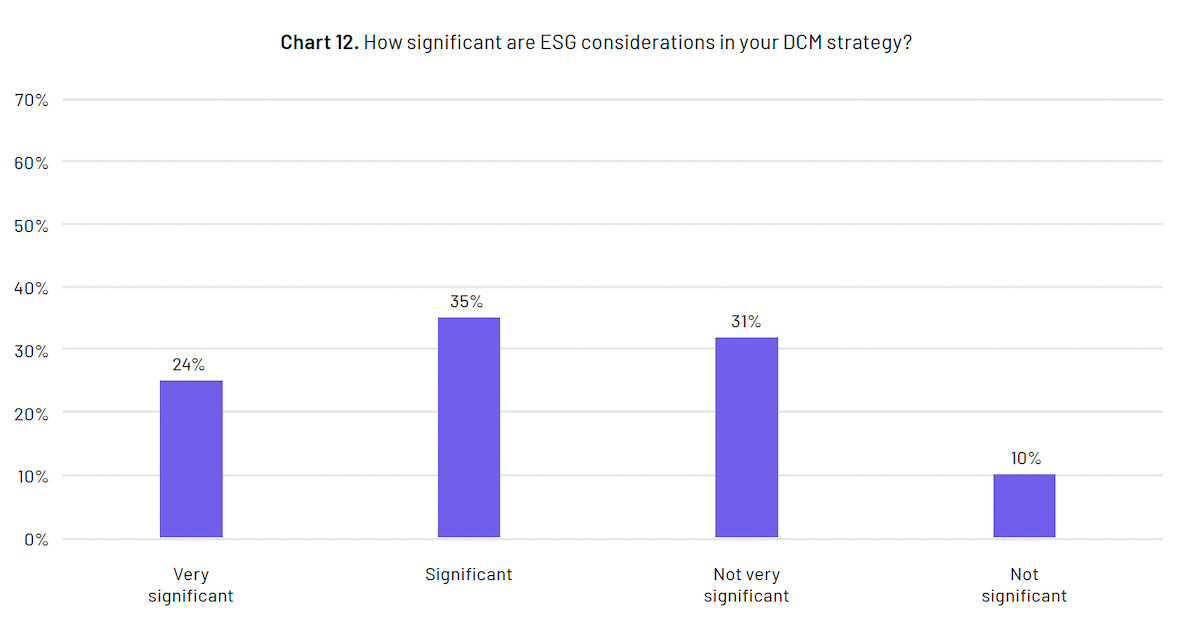 This hesitance is outlined by Ken Atchison, managing director of Melbourne-based asset consulting, investment management and property advice consultancy Atchison Consulting: "Institutional investors in Australia will only invest through groups who have very clear policies in place," he says. "If somebody comes forward with a proposition and does not have a clearly articulated ESG policy, they will not be listened to."
His views are echoed by Jeff Holzmann, COO of Texas-based RREAF Holdings, a privately held commercial real estate firm. "The concept of ESG is here to stay," he says. "We accept that things we do have an impact on the planet or on social concerns. These things are important because we have a responsibility to maintain law and order. We don't want to lose everything that we've already built as a society and see the whole thing go into some kind of dystopia."
Potential tailwinds abound
Beyond the outlook for sustainable investments, DCM investors flag inflation, overvalued assets and excessive financial leverage among their top risk priorities. John Gallagher, a partner at Element SaaS Finance, cites general economic climate change, inflation and other big-picture risks as concerns for the market. He adds, "Market behavior in the credit markets has become loose and those who have not done their homework will be found out."
Despite these expected risks, the 2022 DCM Investor Report finds DCM investors have remained largely bullish in their outlook on and commitment to the debt markets. Reflecting this positive outlook for the next 12 months, 43 percent of respondents expect to increase their allocations to DCM over the year.
The investors, however, show more caution about their valuation expectations of DCM assets. Over four in 10 respondents — 41 percent — expect a significant to modest increase in valuations, mirroring the plans to increase DCM allocations over the next 12 months. Yet this is offset almost entirely by the 40 percent who instead expect a significant to modest decrease in these assets' valuations.
Although investors are optimistic about the prospects of DCM assets, they are also aware of the ongoing turbulence in the debt markets and the as-yet-unknown market and macro risk factors which could impact performance and investor behavior.
Find out more about what's ahead for DCM in 2022 by downloading the report here
Patricia Gatmaitan
Director of Product Marketing, Banking and Securities
Patricia is director of product marketing for banking and securities at Intralinks, responsible for content and go-to-market strategy for the debt capital markets business. Prior to joining Intralinks in 2019, Patricia held senior product marketing and communications roles at global financial services firms including Envestnet, IHS Markit, and Morgan Stanley.
Sign up for our newsletter for must-read market analysis and thought leadership, delivered right to your inbox.