Survey Finds More than a Third of M&A Professionals Believe Online Deal Sourcing Will Revolutionize the M&A Industry
Date: 06/06/2016
New York, NY, June 6, 2016 — Intralinks® Holdings, Inc. (NYSE: IL), a global content collaboration company for high-value content and processes, today revealed the results of its latest Intralinks Dealnexus® survey of more than 700 merger and acquisition (M&A) professionals. The "Deal Networks and the Evolution of Getting M&A Deals Done" global survey sheds light on the growing use of social networks and online deal sourcing communities as a way to improve the close rates and volume of deals, while making it easier for more organizations to promote and compete in these transactions.
In 2013, Intralinks conducted a global survey of M&A dealmakers to understand how technology and specialized deal networks influence M&A deal sourcing. Intralinks conducted a follow-up survey to measure how attitudes towards, and adoption of, these technologies have shifted since the last report. Highlights of the follow-up survey include:
Awareness of the Value of Online Deal Sourcing Is Growing
36 percent of respondents agreed with the statement that online deal sourcing will eventually revolutionize the M&A industry. In 2013, that number was only 23 percent.
Online Deal Sourcing Is Mainstream
More than 31 percent of dealmakers currently use an online deal network to support deal sourcing. Of sell-side M&A professionals using online sourcing platforms, nearly 50 percent have marketed at least one deal online in the last 12 months and 28% have marketed more than five deals online in the last 12 months.
Online Deal Sourcing Leads to Closed Transactions
Among users of deal sourcing platforms, 45 percent of buy-side and 39 percent of sell-side professionals have closed a deal that was sourced on an online network.
Online Deal Sourcing Expands Reach to New and Qualified Counterparties
62 percent of deal-makers agreed that online deal sourcing allows them to identify counterparties they otherwise would not have found.
Conventional Social Media Platforms Are Losing Favor
At least in terms of supporting dealmaking activities, dealmakers are eschewing the larger, conventional social networks in favor of "specialized" deal networks with more customized functionalities, with respondents citing lower daily usage of the former, but higher daily usage of the latter.
Our survey shows that dealmakers are realizing the importance of incorporating online deal sourcing into their broader dealmaking and social media strategies. This is especially the case as online deal sourcing networks continue to gain ground while social media businesses continue to soar. On the buy-side, nearly 85 percent of respondents who use deal sourcing networks reported that they source deal opportunities online and 44 percent reported that their firms source between 11% and 50% of their total deal flow online.
"The most important thing in middle market M&A transactions is to make sure that the buyer or seller receives exposure to as many targets or buyers as possible," said Donald W. Grava, founder and president of Versailles Group, Ltd, a Boston-based investment bank. "Digital tools, such as Intralinks Dealnexus, provide an excellent way to expose a transaction to multiple parties virtually instantaneously. The same type of coverage that Intralinks Dealnexus provides would take an enormous amount of time and resources. Intralinks Dealnexus generated exposure to almost 400 possible buyers for a single transaction we posted. That's the power of a robust tool like Intralinks Dealnexus in the digital age."
"As online deal sourcing continues to go mainstream, it is more critical than ever for M&A professionals to at least gain an understanding of the online deal sourcing landscape," explained Tony Hill, director of Intralinks Dealnexus. "In an otherwise fragmented industry, online deal sourcing networks offer the only true 'gated' communities of any substantive scale where qualified dealmakers can find one another and interact. After surveying members of the largest dealmaker community in the M&A industry, our research proves that the prevalence of social dealmaking within the M&A industry is rising."
To download the full report, click here.
Check out some of the highlights from the report: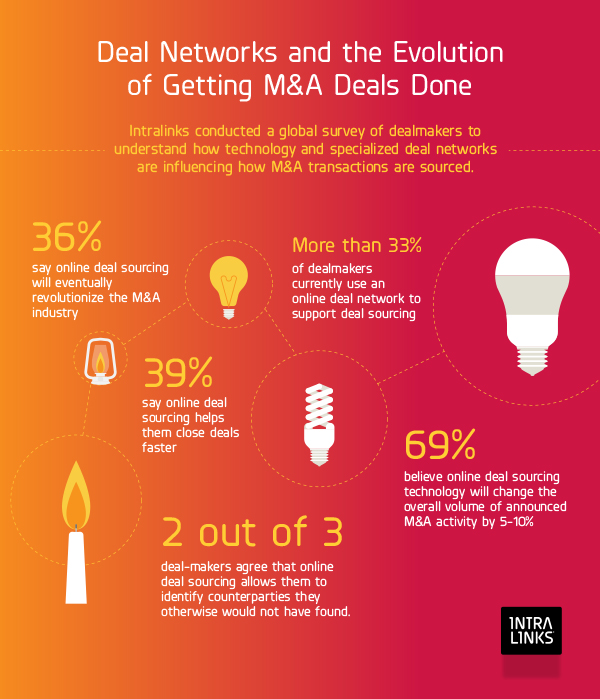 About Intralinks 
Intralinks Holdings, Inc. (NYSE: IL) is a global content collaboration company that provides cloud-based solutions to control the sharing, distribution and management of high value content within and across organizations according to the highest-level of security and the most stringent compliance regulations. Over 90,000 clients and 99% of the Fortune 1000 companies have depended on Intralinks to digitally transform and simplify critical business processes, and secure high-value information. With a 20-year track record of enabling high-stakes transactions and business collaborations valued at more than $28.1 trillion, Intralinks is a trusted provider of easy-to-use, enterprise strength, cloud-based collaboration technology. For more information, visit www.intralinks.com.
Forward Looking Statements
The forward-looking statements contained in this press release are made pursuant to the safe harbor provisions of the Private Securities Litigation Reform Act of 1995. Forward-looking statements are express or implied statements that are not based on historical information and include, among other things, statements concerning Intralinks' plans, intentions, expectations, projections, hopes, beliefs, objectives, goals and strategies. These statements are neither promises nor guarantees, but are subject to a variety of risks and uncertainties, many of which are beyond our control and could cause actual results to differ materially from those contemplated in these forward-looking statements. Accordingly, there can be no assurance that the results or commitments expressed, projected or implied by any forward-looking statements will be achieved and readers are cautioned not to place undue reliance on any forward-looking statements. The forward-looking statements in this press release speak only as of the date hereof. As such, Intralinks undertakes no obligation to update or revise the information contained in this press release, whether as a result of new information, future events or circumstances or otherwise. For a detailed list of the factors and risks that could affect Intralinks' financial results, please refer to Intralinks public filings with the Securities and Exchange Commission from time to time, including its Annual Report on Form 10-K for the year-ended December 31, 2015 and subsequent quarterly reports.
Trademarks and Copyright
"Intralinks," "Intralinks Dealnexus," and the Intralinks' stylized logo are the registered trademarks of Intralinks, Inc. © 2016 Intralinks, Inc.
Watch our video:
Robert Landis of The Riverside Company discusses the value of using Dealnexus for online deal sourcing. "We're constantly finding new brokers that we didn't even know about."
Media Contact
Ian Bruce
508-574-2016
Ibruce@intralinks.com
Investor Contact
Dean Ridlon
617-607-3957
dridlon@intralinks.com