Press Release | Intralinks Dealspace®
New Research Identifies the Best Global Performers in M&A
Date: 05/28/2015
Intralinks and Cass Business School study reveals M&A strategies that lead to highest shareholder value creation
New York, NY, May 28, 2015 - New research, authored by Intralinks® Holdings Inc. (NYSE: IL), and City University London's Cass Business School, has identified the best-performing global businesses in creating shareholder value from mergers and acquisitions (M&A).
The study, Masters of the Deal: Part 2, looks at 20 years of data, the largest ever analysis of shareholder value creation from M&A, and analyzed 265,000 deals and the performance of over 25,000 global public companies. The research identified 1,469 elite global firms that consistently outperformed their peers in delivering above-average total shareholder returns. A complete list of these best performing companies in M&A can be found on the Intralinks website.
The report also found the common M&A strategies employed by these high performing companies, which had a significant influence on their outperformance. The strategies of these companies, referred to in the report as Excellent Corporate Portfolio Managers (ECPMs), included:
Bolder M&A strategies, with greater execution risk – cross-border acquisitions accounted for 38% of the value of all acquisitions by ECPMs versus 28% of the value of all acquisitions by other firms; ECPMs made four times as many hostile acquisitions as other firms
Faster deal completion – 33% of all acquisitions and 33% of all divestments by ECPMs were slow to complete, versus 34% and 39% respectively for other firms
Greater engagement with financial sponsors and public companies – ECPMs engaged in a higher proportion of deals than other firms where the counterparty was a private equity firm or a public company
Greater use of all-cash consideration – 38% of the value of all acquisitions by ECPMs were all-cash, compared to 30% of the value of all acquisitions by other firms
Avoiding large, transformational acquisitions by undertaking smaller acquisitions, relative to their own size, than other firms – the average value of acquisitions by ECPMs was 0.18 times their own sales, versus 0.26 times the buyer's own sales for non-ECPM firms
Making significantly more acquisitions than divestments – ECPMs made 3.4 times as many acquisitions, by value, than divestments, compared to other firms which, on average, engaged in the same value of acquisition and divestment transactions
Making significant timing adjustments to acquisitions and divestments to align with market conditions and take advantage of valuation opportunities – ECPMs reduced the value of acquisitions relative to divestments during periods when M&A markets and valuation levels are increasing strongly, and significantly increased the value of acquisitions relative to divestments immediately following sharp market downturns
The Best Performing Companies in M&A
Number of ECPMs per region:
US: 588
UK: 276
Europe, Middle East & Africa excluding UK: 275
Asia Pacific: 206
Americas excluding the US: 124
The Oil & Gas sector was found to have the highest percentage of firms identified as ECPMs (10.5%), followed by Industrials, Healthcare, and Technology.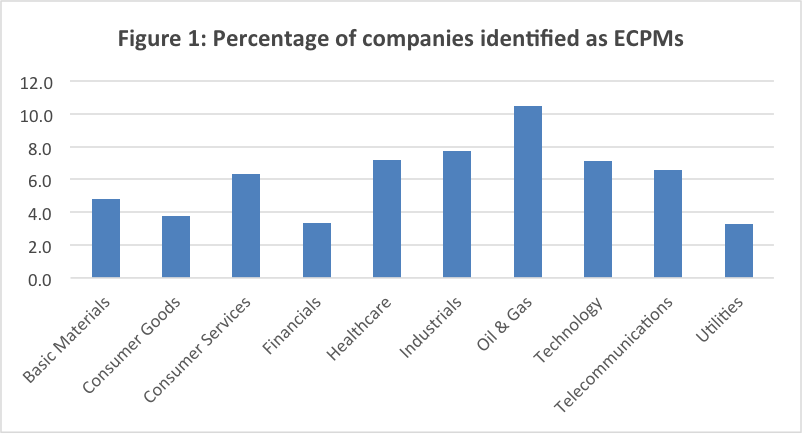 Globally, 6% of all companies examined for the report were identified as ECPMS. Regionally, it was European companies that were more likely to qualify as ECPMs. In fact, 12% of listed firms in the UK and France identified as ECPMs, along with 9% of the listed German companies. Even though the US had the highest number of ECPMs (40% of total sample), the US as a region fell below the global average with only 5% of US firms identified as ECPMs.
Firms identified as ECPMs include:
US: Colfax, Concho Resources, Dana Holding, EMC, EV Energy Partners, FleetCor Technologies, Google, IHS, Monsanto, RigNet, Salesforce.com, Targa Resources Partners, TriMas, Vanguard Natural Resources
Europe, Middle East & Africa: Aberdeen Asset Management (UK), Intertek (UK), Mondi (UK), SABMiller (UK), Aros Quality Group (Sweden), HEXPOL (Sweden), AURELIUS (Germany), MBB SE (Germany), SMT Scharf (Germany), Burkhalter (Switzerland), Eurocash (Poland), Eurofins Scientific (Luxembourg), Nizhnekamskneftekhim (Russia), Jerónimo Martins (Portugal), Econocom (Belgium)
Asia Pacific: Hinokiya Holdings (Japan), Maeda Kosen (Japan), Ancom Logistics (Malaysia), C.I. Holdings (Malaysia), Tiong Nam Logistics Holdings (Malaysia), Austin Engineering (Australia), Corporate Travel Management (Australia), M2 Group (Australia), Mineral Resources (Australia), Silver Lake Resources (Australia)
Americas excluding the US: Alimentation Couche-Tard (Canada), Amaya Gaming Group (Canada), Black Diamond Group (Canada), Canadian Energy Services & Technology (Canada), Constellation Software (Canada), GoGold Resources (Canada), SECURE Energy Services (Canada), Trinidad Drilling (Canada), Mexichem (Mexico), TOTVS (Brazil)
Commenting on their inclusion among the list of best performing companies in M&A:
Matthew Olton, Senior Vice President, Corporate Development, of EMC Corporation, a global leader in enabling businesses and service providers to transform their operations and deliver IT as a service, said: "EMC is honored to be recognized as an Excellent Corporate Portfolio Manager by Intralinks. We take pride in EMC's reputation for transaction execution and our ability to cultivate, protect, and nurture both the culture and identity of acquired assets, which are both central to EMC's growth-centric approach to M&A. We believe this approach differentiates EMC in the market, and is fundamental to creating long-term shareholder value."
Clifford E. Smith, Jr., Senior Vice President, Corporate Development and Acquisition Integration, IHS, said: "Our acquisition strategy and the manner in which we execute on it – with rapid and complete integration of acquired companies – is a strategic differentiator for our company. Delivering value through a balanced combination of both acquisitions and organic growth has allowed IHS to deliver tremendous value to stakeholders. We're pleased to be recognized for delivering superior shareholder returns as a result of our corporate development activities."
Andrew King, CFO of Mondi Group, an international paper and packaging company, said: "Since our demerger from Anglo American in 2007, Mondi has adopted a disciplined, value-focused approach to investment and growth, with the aim of offering shareholders attractive returns over the long term. We are delighted that as a result of this strategy we have been recognized by Intralinks as an Excellent Corporate Portfolio Manager."
Anthony Alford, Chief Executive Officer at Retail Food Group, said: "Retail Food Group (RFG) listed on the ASX in 2006 with the motivation of becoming the principal aggregator of retail food franchise systems, initially within Australia and subsequently internationally. Acquisition activity undertaken thus far has resulted in a substantial increase in outlets and Brand Systems under the Company's stewardship, namely 330 outlets and two Brand Systems in 2006 to in excess of 2,500 outlets and 12 Brand Systems in 2015. In addition, RFG has been able to partake of acquisition activity which has facilitated significant vertical integration and in particular, coffee, roasting, and allied beverage wholesale. M&A remains a key element of the Company's strategic growth platform, as RFG and its stakeholders benefit exponentially from such activity – not only with respect to the assets acquired but the scale and leverage delivered to the Company's existing business units. Successful acquisitive activity fosters unprompted vendor enquiry and ultimately accords RFG 'acquirer of choice'."
The research leads on the Masters of the Deal research report also commented:
Philip Whitchelo, Intralinks vice president of strategy and product marketing, said: "The report released today provides unique insights into the hotly debated topic of whether or not corporate M&A activity actually delivers shareholder value. The findings indicate that excellence requires both risk and the ability to react to market conditions and valuation opportunities, such as those presented by the recent global financial crisis. We hope that the insights will prove valuable in informing corporate M&A strategies."
Professor Scott Moeller, Director of the M&A Research Centre at Cass Business School, comments: "Successful M&A deals are rarely done in isolation, yet most studies (and indeed journalistic articles) look at individual acquisitions and their success as if they were. M&A is hard work. There are risks involved but the potential rewards are huge.
"Think of it like your education. Each class you take — and pass — contributes to your ultimate success, including getting to the point where the university will award you a degree. But some students graduate at the top of their class, just as some companies perform better than others. We wanted to identify how acquisitions (the individual classes) contribute to company success (the individual M&A deals) and the ability for a firm to outperform their peers through M&A (graduating with top marks). We've done that with this study."
Learn More
To download the report, click here.
Intralinks will broadcast a webcast on Tuesday, June 23rd 9:00 am ET, hosted by the research authors, to explore more about the research findings and the strategies all companies can employ to maximize shareholder value creation from their M&A activities. To register, visit Masters of the Deal.
Methodology
The sample of firms in this study comprises the entire global dataset of publicly listed companies with a market capitalization of at least $10m, whose public equity was actively traded between 1994 and 2013. The firms and their associated data were obtained from Thomson Reuters Datastream®. The M&A activity (both acquisitions and divestments) of these firms during the study period was obtained from Thomson Reuters SDC Platinum®, with a restriction on the minimum transaction value of $1m (for US and UK targets only) and the maximum percentage ownership by the acquirer before announcement of 49%. The raw performance of the firms is defined as their total shareholder returns (share price performance plus dividends) measured over rolling three-year periods beginning in 1994 until 2013 (for example, 1994-1996, 1995-1997, 1996-1998, and so on). These raw figures are then adjusted by the equivalent three-year total return index growth for the primary equity market index of the firms' listing location, and the resulting statistic is then expressed as an annually compounded growth rate per three-year period – thus generating a consistent way to compare the performance of the firms on the basis of a market-normalized annual percentage growth in total shareholder return.
To qualify as an ECPM, a firm has to have a high level of M&A activity - defined as announcing at least one new acquisition or divestment in at least 75% of the periods for which the firm is listed in the study. An ECPM also has to have an annual normalized total shareholder return which is above the average of its maturity peer group (defined as the period of time since a firm's public listing) in more than 50% of all the periods for which the company is listed in the study.
About Cass Business School
An integral part of City University London, Sir John Cass Business School is among the global elite of business schools that hold the gold standard of 'triple-crown' accreditation from the Association to Advance Collegiate Schools of Business (AACSB), the Association of MBAs (AMBA) and the European Quality Improvement System (EQUIS). Cass Business School is consistently ranked amongst the best business schools and programmes in the world which, coupled with an established 40-year reputation for excellence in research and business education, enables us to attract some of the best academics, students and businesses worldwide into our exclusive Cass network.
MARC is the Mergers and Acquisitions Research Centre at Cass Business School - the first research centre at a major business school to pursue focused leading-edge research into the global mergers and acquisitions industry. MARC blends the expertise of key M&A market participants with the academic excellence of Cass to provide fresh insights into the world of deal-making. 
About Intralinks
Intralinks Holdings, Inc. (NYSE: IL) is a leading, global technology provider of secure enterprise content collaboration solutions. Through innovative Software-as-a-Service solutions, Intralinks software is designed to enable the exchange, control and management of information between organizations securely and compliantly when working through the firewall. More than 3.1 million professionals at 99% of the Fortune 1000 companies have depended on Intralinks' experience. With a track record of enabling high-stakes transactions and business collaborations valued at more than $28.1 trillion, Intralinks is a trusted provider of easy-to-use, enterprise strength, cloud-based collaboration solutions. For more information, visit www.intralinks.com.
Forward Looking Statements
The forward-looking statements contained in this press release are made pursuant to the safe harbor provisions of the Private Securities Litigation Reform Act of 1995.  Forward-looking statements are express or implied statements that are not based on historical information and include, among other things, statements concerning Intralinks' plans, intentions, expectations, projections, hopes, beliefs, objectives, goals, and strategies.  These statements are neither promises nor guarantees, but are subject to a variety of risks and uncertainties, many of which are beyond our control and could cause actual results to differ materially from those contemplated in these forward-looking statements. Accordingly, there can be no assurance that the results or commitments expressed, projected, or implied by any forward-looking statements will be achieved, and readers are cautioned not to place undue reliance on any forward-looking statements. The forward-looking statements in this press release speak only as of the date hereof.  As such, Intralinks undertakes no obligation to update or revise the information contained in this press release, whether as a result of new information, future events or circumstances or otherwise. For a detailed list of the factors and risks that could affect Intralinks' financial results, please refer to Intralinks Holdings, Inc.'s public filings with the Securities and Exchange Commission from time to time, including its Annual Report on Form 10-K for the year-ended December 31, 2014 and subsequent quarterly reports. 
Trademarks and Copyright
"Intralinks" and the Intralinks' stylized logo are the registered trademarks of Intralinks, Inc. This press release may also refer to trade names and trademarks of other organizations without reference to their status as registered trademarks.  © 2015 Intralinks, Inc. 
Investor Contact:

David Roy
Intralinks Holdings, Inc.
212-342-7690
droy@intralinks.com
Media Contact:
Ian Bruce
Intralinks Holdings, Inc.
(Cell) 508-574-2016
ibruce@intralinks.com