Introducing




Deal

Vision™

The new Intralinks solution for buyside due diligence leverages artificial intelligence to let you quickly:
Organize seller's documents according to your checklist
Assemble your team and assign tasks accurately
Manage your team's progress through a real-time dashboard
Watch how it works
Built for Buyers, by the virtual data room leader
Unlike other solutions, Intralinks' DealVision application is purpose-built for participants on the buy-side of a transaction, designed to match actual workflow needs and providing transparency into the deal team's due diligence activity in real-time. The new Intralinks DealVision solution automates document classification and recommends files from VDRPro (Intralinks' virtual data room) to review based on your checklist items or questions.
<
>
DealVision: Get the Inside Scoop
2020 Big Innovation Award Winner
The Business Intelligence Group has recognized DealVision's game-changing technology and capabilities by conferring its coveted BIG Innovation Award upon this new addition to the Intralinks product family.
---
users from all corners of the globe
---
are closed on SS&C Intralinks each year
---
of financial transactions
Intralinks was secure, reliable and flexible for our needs. We saved considerable time and money.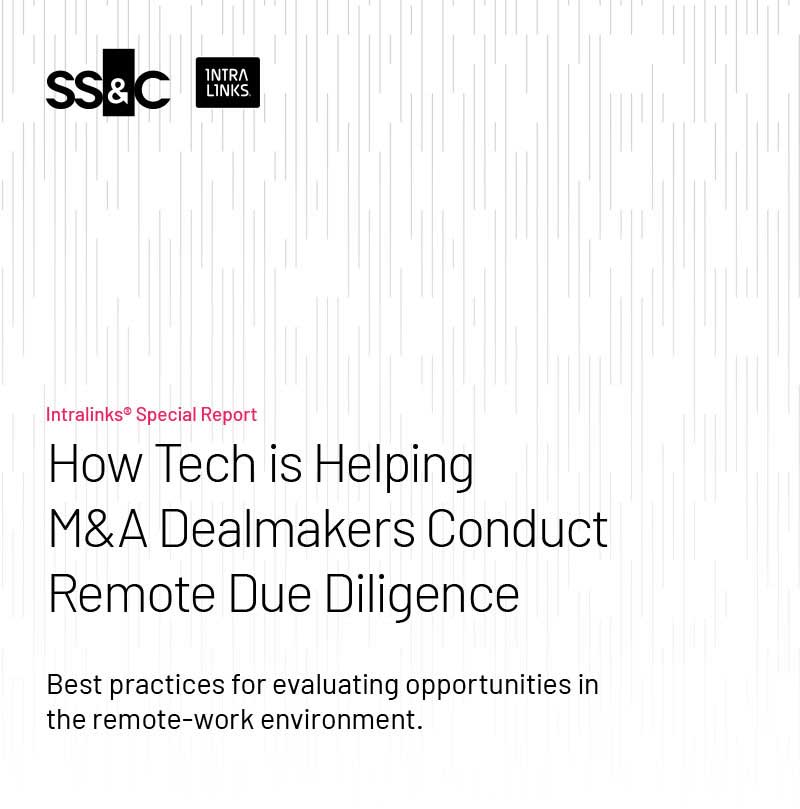 Remote

works

Learn how six leading dealmakers are using today's tech to power their remote due diligence.
Learn more about accelerating your buyside due diligence with DealVision"