Intralinks for Real Estate
In a highly competitive market, maintaining deal readiness is vital for maximizing returns.
In a low inflation environment investors are finding it hard to achieve the rate of return required to satisfy investors and shareholders in the traditional bond and money markets. As a result, demand for EMEA Real Estate has increased, with traditional domestic investors now competing not just with regional peers but also cash-rich international investors. This increase in competition has meant many investors are increasingly willing to step outside their core markets and consider riskier investments and smaller value-add opportunities.
To maximize value in the market, Real Estate professionals and investors are seeking better processes and tools to ensure they are always ready to take advantage of market opportunities. Many are finding the Intralinks Platform the ideal solution for managing their assets in a single, secure, compliant repository before easily transferring assets to a live data room for a transaction at a moment's notice.
Start preparing your deal now
Want to learn how we can benefit you?
"The everyday use of the platform proved to be very smooth. We also noticed that Intralinks is well-known…, we didn't need to explain the system to our external partners"
Cromwell Property Group
Cromwell Property Group was struggling with multiple deal processes that created inefficiencies in execution as well as disjointed marketing efforts. In this video, Rob Percy, Cromwell's Transition Manager, reveals how his company used Intralinks to consolidate deal data, add speed and security to transactions, and create a unified "one-stop shop" look and feel for their organization.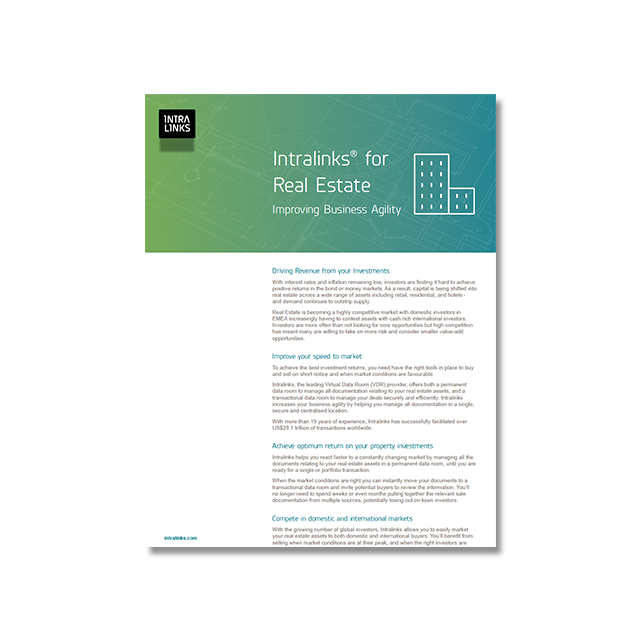 Intralinks for Real Estate: Improving Business Agility
Intralinks supports the most valuable Real Estate deals with feature-rich Workspaces for storing asset information, preparing for deals, streamlining processes and executing quickly and compliantly on transactions.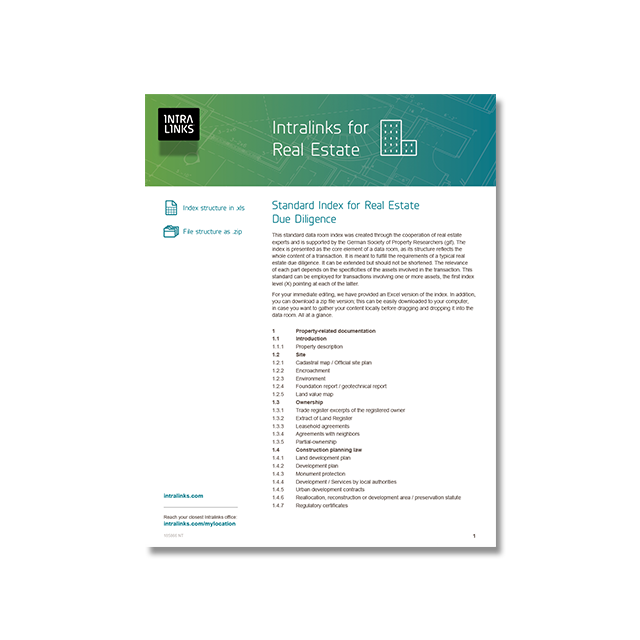 Standard Index for Real Estate Transactions
Move seamlessly through due diligence using this standard index for Real Estate transactions. Created by experts, this folder structure reflects the expectations of a typical Real Estate bidder, and is scalable and flexible.
Want to learn how we can benefit you?