Baker Group & Celerity Partners
Intralinks Dealnexus® facilitates majority recapitalization of Arizona-based physical therapy chain

Situation
In M&A's vast, fast-moving mid-market, finding the perfect buyer and/or investor for a deal – and vice-versa – is often a time-consuming and, sometimes, even fruitless task. It doesn't have to be that way. Just ask Baker Group M&A Consultants and Celerity Partners, two firms that connected within hours of Celerity Partners' posting a buy-side mandate on Intralinks Dealnexus®.
Los Angeles-based private equity firm, Celerity Partners, executes management-led buy and build strategies in a variety of industries, including transportation, manufacturing and healthcare services. Celerity identified physical therapy as an area of focus and used Intralinks Dealnexus as a new source for investment opportunities.
Corey Reishtein, an analyst at Celerity, explains: "Our strategy focused on entrepreneurial companies with dominant market share, consistent earnings growth and visible growth opportunities but none of the opportunities presented to us through our typical channels matched our profile."
Meanwhile, Baker Group M&A consultants with expertise in a variety of medical segments, had been retained by 360 PT Management, a multi-location sports medicine and aqua rehabilitation treatment provider in Arizona, to evaluate the sale of the company or find the right strategic partner in a recapitalization. 360 PT Management's owner was exploring options but Baker Group wasn't getting any traction in the local market or with the usual players in the physical therapy space.
H. Sonny Crumpler, Managing Director of Baker Group's physical therapy outpatient division, recalls: "Most of the buyers looking at the Arizona market just weren't coming up with valuations compelling enough for the owner. And those that did just didn't align with the owner's business philosophy and goals."
Solution
Both Baker Group and Celerity registered with Intralinks Dealnexus, the world's largest global online deal sourcing solution.
Reishtein explains why Celerity signed on with Intralinks Dealnexus: "We have an extensive database of intermediaries we cover, but Intralinks Dealnexus offered many more contacts beyond our own network. We saw the opportunity to connect with new intermediaries as key to identifying new platform investment opportunities."
As one of his first actions on Intralinks Dealnexus, Reishtein broadcast a buy-side mandate communicating Celerity's target acquisition criteria in the physical therapy space. In less than two days, Baker Group responded to the mandate and informed Celerity that it was in preliminary talks with a physical therapy business that matched Celerity's specific criteria.
Crumpler notes: "We kept in regular contact with Celerity while we continued to negotiate for our client. Once we secured a mandate with the seller, we formally presented 360 PT Management to Celerity, and after the standard three to four months of due diligence, we closed the deal."
"In a market so large, the ability to connect both sides of a deal so quickly through Intralinks Dealnexus is nothing short of amazing," Crumpler remarks.
Benefits
Intralinks Dealnexus matched Baker Group and Celerity with a high-quality deal that advances their strategic goals. Equally important, it enabled both firms to expand their network of relationships to uncover additional deals.
"Through Intralinks Dealnexus, we've created a number of worthwhile relationships with new intermediaries," says Reishtein. "The value goes well beyond seeing one-off deals here and there. It's gaining those relationships that really exceeded our expectations."
Buy-side and sell-side alike, Celerity and Baker Group can easily set parameters within Intralinks Dealnexus to automatically identify and manage relevant opportunities. For example, Celerity filters for smaller companies with EBITDA (Earnings before Interest, Taxes, Depreciation and Amortization) of at least $2 million in a range of specific industries.
"I get an email every day from Intralinks Dealnexus showing me any new opportunities added to the platform that fit within our wheelhouse," Reishtein notes. "In a three month period we took a hard look at eight new deals through the platform. We increased our network by at least 20%."
He adds: "We also like that Intralinks Dealnexus is extremely efficient to use."
Baker Group also has seen the value of Intralinks Dealnexus extend well beyond the 360 PT Management deal with Celerity.
Crumpler says: "It's not just the quality of a single deal, it's the quality of relationships we've built through Intralinks Dealnexus. We've been extremely impressed with Celerity and how well thought-of they are in the industry. We hope to pursue other deals with them in the future."
Following on the success of the 360 PT Management acquisition, Baker Group has taken numerous other deals to market on Intralinks Dealnexus, via both open and private processes. As a result, the firm constantly identifies and discretely engages with more – and higher-quality – strategic and financial buyers than it would via the standard, time-consuming investment banking process. Many have led to serious discussions and LOIs about potential transactions.
"We receive about eight to ten high-quality inquiries on each deal we market through Intralinks Dealnexus," Crumpler says. "We also find the search tools on Intralinks Dealnexus especially useful for identifying strategic acquirers and add-on type deals. Overall, we've significantly expanded our network."
By enlarging their networks and leveraging Intralinks Dealnexus' proprietary dealmatching engine, Baker Group and Celerity both have realized material gains in efficiency and deal-making success.
Reishtein concludes: "Dealnexus has become an important part of our deal sourcing toolkit – one that we believe will continue to drive success at our firm."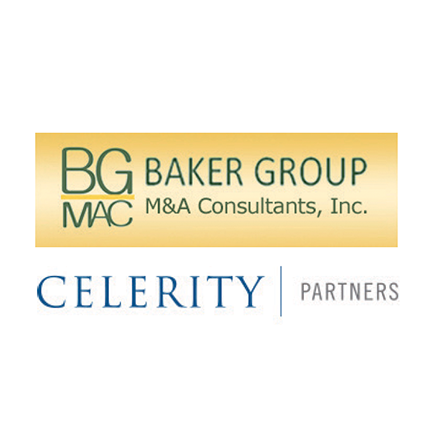 "We easily could have talked to a dozen private equity groups with none of them being the right fit. Instead, Intralinks Dealnexus found us the right buyer at the right time. It was a perfect match."

– H. Sonny Crumpler, Managing Director, Physical Therapy Outpatient Division, Baker Group
"The Intralinks Dealnexus network is all about building more relationships, which are essential for success in our business."

– Corey Reishtein, Analyst, Celerity Partners